Description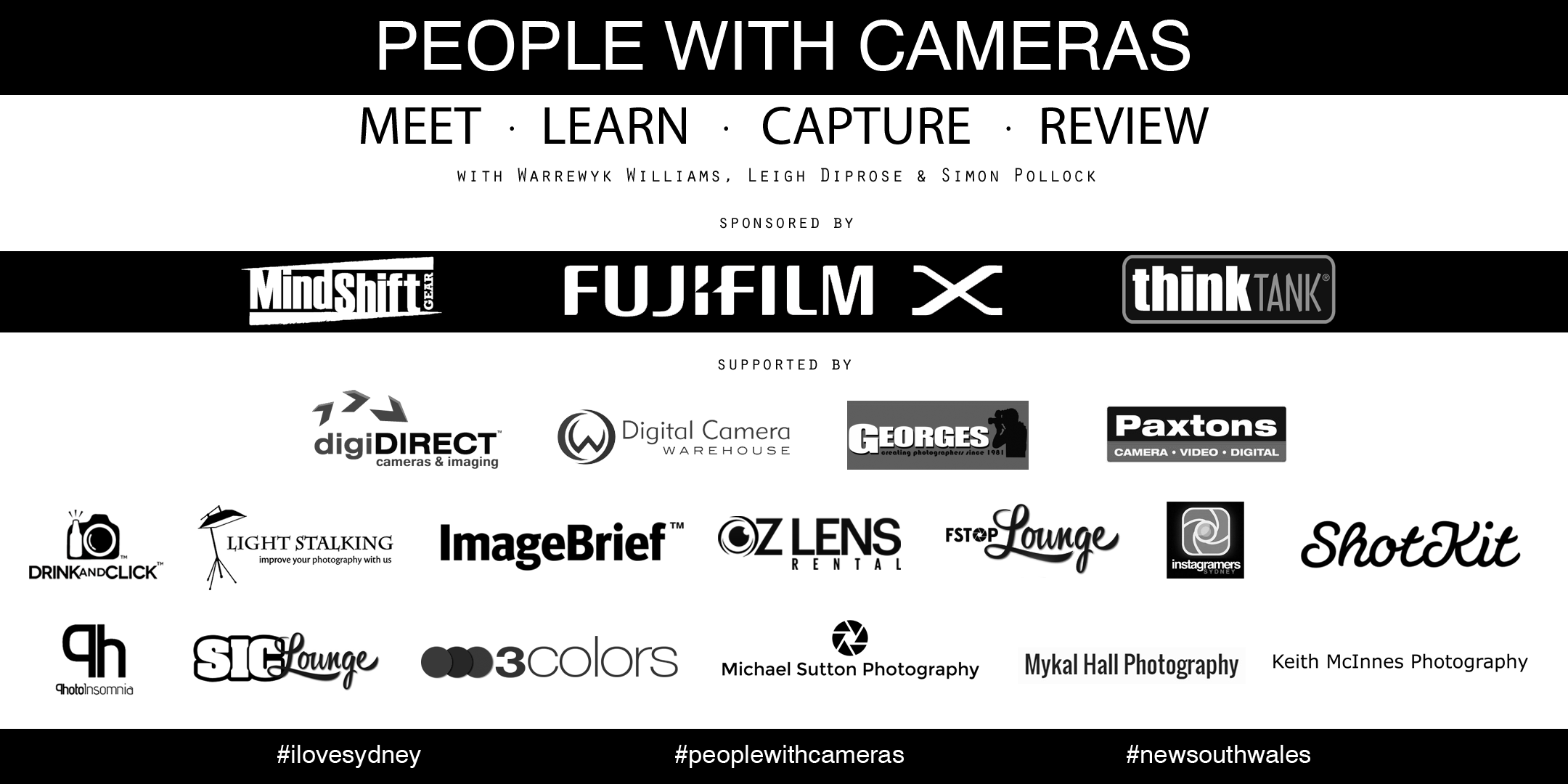 OFFICIAL HASHTAGS
#peoplewithcameras
#ilovesydney
#newsouthwales
#SydneyLocal


'People with Cameras' has been designed for you to meet like minded people in your city. No matter what your skill level is, you'll be challenged photographically to improve your photography skills through this new community. This fun filled afternoon event will also include information regarding X-Series camera equipment, and we encourage anyone to attend no matter what camera or smart device you're using - it's an open community.

During People with Cameras, you'll get the opportunity to join a group to photograph a particular theme within a designated area. To keep things interesting, the photographic theme will be announced on the day, challenging you to connect with one another to create incredible images.
The best news is, if your photo is selected as the winner by the judges, you along with your group will win some fantastic photographic prizes! The prize for the winner and the runner up will also include an invitation to have an all expenses paid dinner with Fujifilm Australia and the sponsors/supporters of the event, on that very evening.
If you enjoy photography, seeing the city, meeting new people and sharing a drink or two then People with Cameras is certainly something you don't want to miss.
The run sheet of the event can be seen below:


3.15pm
Meet at the Archibald Fountain located in Hyde Park, Sydney.


3.30pm
People with Cameras will officially start at 3.30pm sharp with a welcome and introduction of sponsors and supporters by Leigh Diprose from Fujifilm Australia.

Warrewyk Williams, Fujifilm Australia's National Digital Camera Trainer will conduct an informative talk about Fujifilm X-Series cameras, including the new Fujifilm X-Pro2 and X70.


4.00pm
Meet like minded people and join a group with a friend or by yourself (total 5-6 people per group)


4.15pm
Small groups will leave together to take themed photos within a designated area (see map below).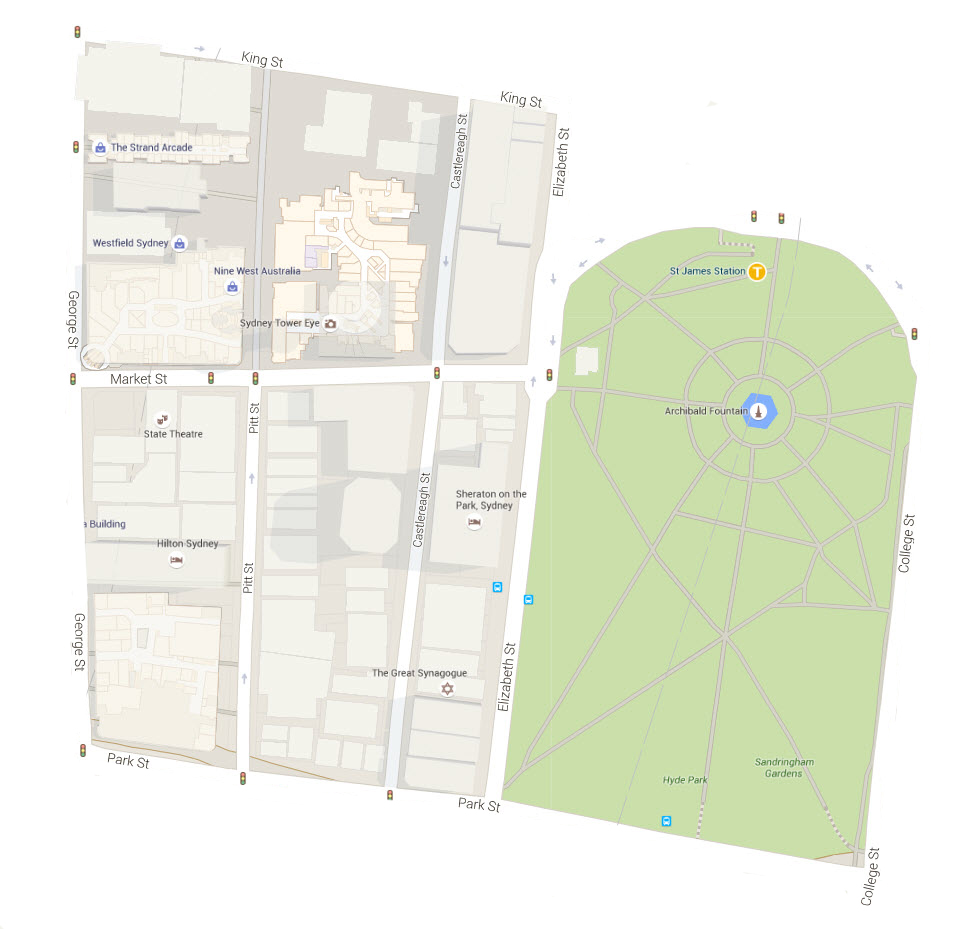 6.00pm
Small groups meet back at the Archibald Fountain.

At this point you'll get together with your small group and elect a winning photo.


6.30pm
Elected winners present their photo on behalf of their small group to the judges.
The overall winner and runner up of PEOPLE WITH CAMERAS along with their small group will be announced.
Prizes will be awarded to the winners and their small group.
6.45pm - 7.00pm
Official close and thank you.
Announcement of 6 unofficial places to drink/eat to catch up with people afterwards.
Please note we can't guarantee reservations.
1) Food Society Bar, Dining & Restaurant
91 Riley, Darlinghurst NSW 2010
Modern Eastern European sharing menu, creative cocktails and top-shelf vodkas in a rustic-chic spot.
or
2) The Owl House
97 Crown St, Darlinghurst NSW 2010
Funky red-lit small bar with exposed-brick walls offering cocktails, inventive bar snacks and mains.
or
3) Red Lily Cocktail Bar
60 Crown Ln, Darlinghurst NSW 2010
Vietnamese street food and inventive cocktails in an elegant, arty space with outdoor tables.
or
4) Love Tilly Devine
91 Crown Ln, Darlinghurst NSW 2011
Funky, cosy bar with eclectic furniture and an extensive wine menu accompanying Italian nibbles.
or
5) Kubrick's Bar
79 Stanley St, Darlinghurst NSW 2010
We are all about making your senses tingle, fresh modern cocktails, small plates of seasonal food with warm quality music in a beautiful setting.
or
6) The Hazy Rose
Upstairs, 83 Stanley Street, Darlinghurst, NSW 2010
Small bar with wooden booths and black wallpaper, for upscale snacks, cocktails and craft beers
8.00pm
The winner and runner up of PEOPLE WITH CAMERAS will join Fjifilm Australia, sponsors and supporters to an all expenses paid dinner at Bodhi Restaurant as part of their prize.

Lower Mezzanine Level of Cook and Philip Park
2-4 College St Sydney 2000
Between St Mary's Cathedral and the swimming pool

Please note: People with Cameras will happen rain, hail or shine :)
What To Bring
Any type of camera or a smart device that can take photos
Memory Card(s)
Charged Battery
Skill Level
Any level
Official Social Media Accounts
Facebook
Twitter

Instagram

PRIZES
Prizes will be awarded by the judges for the individual winning photo and second place.
Participants in the winning groups will also receive an individual prize. All prizes are stated below
PEOPLE WITH CAMERAS Winner will receive over $850 worth of prizes:
- 1x Fujifilm X-A1 with XC16-50mm
- 1x MindShift Gear FirstLight 20L Backpack
- 1x Fujifilm Instax SHARE SP-1 Printer
- 1x Fujifilm Instax Mini Film 20 Pack
- 1x All expenses paid dinner at Bodhi Restaurant with Fujifilm on the eve of the event
- 1x Fujifilm X-Series Lens Cloth
and
Each participant in the winner's group will receive:
- 1x Mindshift Gear House of Cards Memory Card Wallet
- 1x Fujifilm X-Series Lens Cloth
PEOPLE WITH CAMERAS Runner up will receive over $550 worth of prizes:
- 1x All expenses paid dinner at Bodhi Restaurant with Fujifilm on the eve of the event
- 1x Think Tank Urban Approach 15 Backpack
- 1x Fujifilm Instax SHARE SP-1 Printer
- 1x Fujifilm Instax Mini Film 20 Pack
- 1x Fujifilm X-Series Lens Cloth
and
Each participant in the runner up group will receive:
- Think Tank SD Pixel Pocket Rocket Memory Card Wallet
- Fujifilm X-Series Lens Cloth