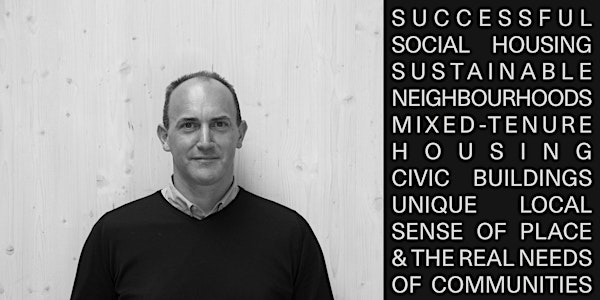 Paul Karakusevic: Successful social housing & sustainable neighbourhoods
Location
Tusculum
3 Manning Street
Potts Point, New South Wales 2011
Australia
Description
FREE PUBLIC TALK BY LEADING UK SOCIAL HOUSING ARCHITECT
Sponsored by

Attend this free talk to hear from leading UK architect Paul Karakusevic.
Co-founder of Karakusevic Carson Architects, which was established to improve the quality of social housing in London, Paul's focus is the delivery of successful and sustainable neighbourhoods, mixed-tenure housing and civic buildings that reflect both their unique, local sense of place and the real needs of the communities involved.
He has pioneered an approach to consultation that is meaningful and sensitive, creating a climate of trust and openness with clients, resident groups and delivery teams that enables projects to progress successfully with the highest quality outcomes. His contribution is strategic insight, architectural design lead, a rigorous approach to masterplanning excellence and an in-depth knowledge of housing and design.
In addition to his nationally and internationally recognised experience with the practice, Paul is a Design Advisor to the HCA/GLA, Urban Design London and Design Council/CABE and lends his experience to audits, critiques and review and awards panels of major initiatives and projects across the UK. Paul has been selected as a Mayor's Design Advocate, joining a panel of architecture and design experts who have been selected by the Mayor of London to provide design guidance to City Hall and local councils.
WHO SHOULD ATTEND?
Architects, architectural students, community and social housing providers, local council representatives, planners, developers, and anyone with a personal or professional interest in housing and communities
THIS IS A FREE EVENT OPEN TO THE PUBLIC
REGISTRATION IS ESSENTIAL – BOOK NOW!
Please note: There is no onsite parking at Tusculum House. Please contact the Institute if disabled parking is required.
---