Panel discussion and networking event for alumni and friends in Shenzhen
Description
Registration from 6.00pm for 6.30pm-8.30pm event
Wednesday 21 November 2018

Barcelona Room
InterContinental Shenzhen
9009 Shennan Road, Overseas Chinese Town Shenzhen 518053, China

深圳华侨城洲际大酒店
中国 广东省 深圳市 华侨城深南大道9009号

ANU College of Business and Economics warmly invites you to attend this event for alumni and friends in Shenzhen. You will have the opportunity to connect with your local alumni community, and hear from a panel of fellow alumni and industry leaders.

Panellists will discuss:
Modern Entrepreneurship - Challenges and opportunities in the age of One Belt, One Road
The panel will explore business opportunities in Shenzhen and South China. What traits do modern entrepreneurs in China command? What can entrepreneurs to do make the most of the One Belt, One Road initiative?
Panellists: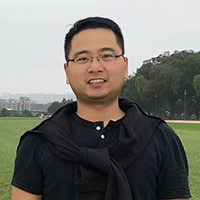 Mr Ben Chanye Ji
Director, Scullin Capital

My hometown is at the north part of China, Shandong Province. I finished my Economics Bachelor degree at Wuhan University of Science and Technology and got my Management Bachelor Degree from Zhongnan University of Economics and Law, then graduated from ANU get my master degree, the IDEC program at Crawford School.
Before I set up Scullin Capital at November 2017, I worked at one of the listed companies at the Hong Kong Stock markets as an analyst for two years, and then engaged as an assistant of Executive Director and handled overseas investment. Scullin Capital is just beginning and for the not so good Macroeconomics scenario, we face lots of challenges.
The core business of Scullin Capital is hospital finance and we do hope find other business opportunities like education and supply chain management, as shown on Wanke General Meeting this year, living first, then worked harder and to be a strong one.
---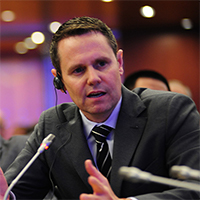 Mr Simon Lacey
Vice President, Huawei Technologies

Simon Lacey is currently Vice-President at Huawei Technologies Shenzhen China, working in the company's Global Government Affairs division on issues of Trade Facilitation and Market Access. He is the lead author of a company White Paper entitled Trade Rules for the Digital Economy and is also the lead analyst on an annual assessment of the company's most important trade and investment policy risks in a number of priority markets.
Prior to joining Huawei Simon (a native of Sydney Australia) obtained a first degree in law at the University of Fribourg in Switzerland (in German and French), before going on to obtain an LLM at Georgetown University Law Center in the United States.
Simon has worked in over 30 countries providing advice to stakeholders in both the public and private sectors on international trade and investment rules. He has served on different country delegations to the WTO. Simon previously spent several years embedded in the Indonesian Ministry of Trade advising on such issues as regional economic integration and WTO dispute settlement.
Simon's professional areas of responsibility include the digital economy, non-tariff barriers, trade in services and investment. Recently he has served as part of a group of experts to the United Nations Committee on Trade and Development in the context of drafting the 2017 World Investment Report, as well as a private-sector contributor to efforts by the World Trade Organization and the International Chamber of Commerce to frame the discussion on a possible agreement on investment facilitation.
Simon continues to publish and speak publicly on the many issues that arise at the interface between technology, trade, investment and globalization.
---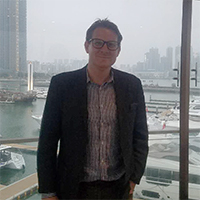 Mr Nick Wilshire
Managing Partner, ZH Recruit
Nick is currently based in the Shenzhen office and visits Guangzhou and Hong Kong regularly. Nick has been living in China for over 15 years and has a sound understanding hot issues relating to finance and investment, property and construction, trade and investment, culture and language. Nick has been successful in developing a number of businesses and initiatives throughout the Region. Part of Nick's success has been in his persistence in achieving challenging objectives in demanding environments.
Nick is a natural leader and draws on his resourceful mindset and creative thinking in order to achieve the best outcome for all parties and stakeholders.
---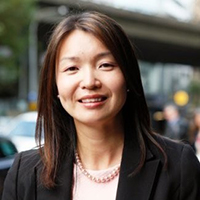 Anna Lin
林英华女士
Trade Commissioner and Consul (Commercial), Austrade Guangzhou
澳大利亚驻广州总领事馆 商务领事
澳大利亚贸易委员会广州 商务专员
Ms Anna Lin is the Trade Commissioner of Australian Trade and Investment Commission (Austrade) in Guangzhou. Prior to her arrival in Guangzhou in September 2014, Anna served as Trade Commissioner and Consul in Dubai, United Arab Emirates.
Anna has over fifteen years' experience working across Asia Pacific and the Middle East serving to advance and maximise Australia's interests internationally. She is a specialist in trade and investment facilitation, and regularly provides business advisory services to Australian companies across multiple sectors in international market selection, international business development and marketing strategies. Anna leads the China Health and Services Team of Business Development Managers across Austrade's China network.
Anna received her Masters of International Business and Bachelor of Commerce from The University of Sydney and has completed the Australian National Internships Program at the Australian National University. She enjoys hiking, swimming and long-distance running, and has competed in one marathon and several half marathons.
林英华女士自2014年9月起担任澳大利亚驻广州总领事馆商务领事,澳大利亚贸易投资委员会广州办事处商务专员。此前林女士曾在阿联酋担任澳大利亚驻迪拜总领事馆商务领事,澳大利亚贸易投资委员会迪拜办事处商务专员。
林女士代表澳大利亚政府在亚太及中东多国工作已超过十五年,在促进贸易与投资方面的有着丰富的经验,她曾为多家澳大利亚企业提供商业咨询,涵盖国际市场选择,业务发展策略及营销战略的制定等。林女士目前负责带领澳大利亚贸易投资委员会中国区健康及服务行业的商务经理团队。
林女士在悉尼大学取得国际商务硕士及学士学位。她喜爱登高、游泳及长跑,并成功完成悉尼马拉松全程及多个半马赛事。