Description
An intuitive art adventure with Cheryle Bannon
Learn to paint an angel
Mixed Media Angel Blessings
Create your personal mixed media angel blessings painting on watercolour paper. Experience this joyful and guided intuitive art process.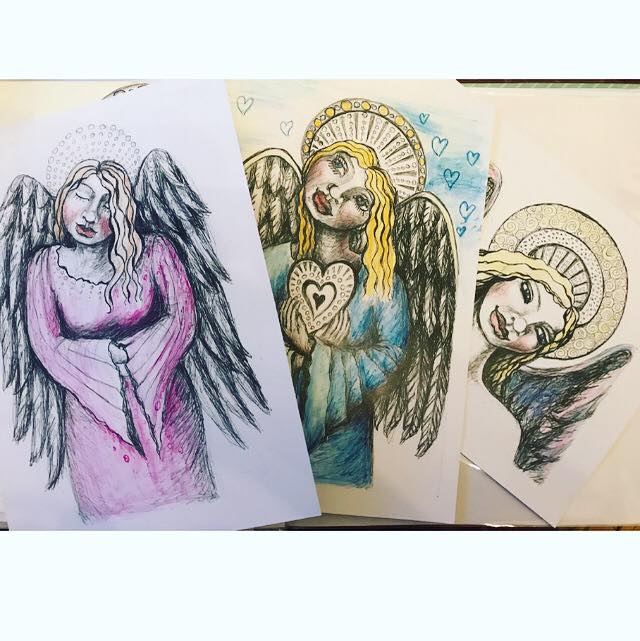 Paint, draw and sketch angels your own angel creation Cheryl will provide all the materials and plenty of enthusiasm as you explore your inner artist using various techniques in watercolour and mixed media.
Cheryle facilitates the creative process using meditation and art exercises to inspire beautiful Angelic art. This not just an art class but therapeutic mindfulness that awakens the creative spirit within allowing students to open-up a free-er and looser way of painting.
I will use different techniques to encourage you to playfully connect and explore your own creativity. All abilities welcome. Give yourself space to create as you dedicate 3 hours of your time to creating something beautiful.
About this Event
Join me and create angels in this intuitive painting workshop as we explore and connect with your angels and guides. Trust your inner guidance and make space to explore your own creativity. Awaken your artist muse through this heart-centred intuitive painting process.
During this 3-hour workshop, you will learn simple ways to create an angel art piece using watercolours, pen, gesso collage papers and more on watercolour paper. You may choose to create original small angel cards as gifts or create a larger angel piece on A3 watercolour paper.
Cheryle will demonstrate her techniques and then guide and support you as you explore this playful process and create your original angel blessing home. These angels may become Christmas cards or frame as small treasured pieces for your home or as unique gifts.
FOCUS: Learn to paint angels as blessings step by step
What you will learn.
How to awaken your intuitive artistic voice
The process of creating smaller pieces first as Christmas card beginnings - then take it to the larger watercolour paper.
Observe demos of the step-by-step painting process
Receive individual instruction as you paint
Learn watercolour wash, layering, pattern play and collaging techniques
Learn easy face and wing painting techniques
mindful, connected art process
Learn simple techniques to connect with your heart centre and inner guidance as you create your own unique angel painting. This is a time to nourish your soul and give yourself space to breathe and find your centre once more as we connect to your angel meditation.
Explore, paint and playfully connect with your angels as you paint, collage and draw your personal angel guide. As we learn to listen and connect to our inner guidance, your angel will take form on your canvas. Let me show you step by step, how you can create your own beautiful angel art painting.
The day will end with a final sharing of our beautiful angels as we celebrate our connection and techniques we have learnt that we can use in our daily lives.
Who is this for?
No art experience is necessary, just an open heart and a willingness to explore something more as we discover new spaces in our lives.
Wild Soul Creativity
All workshops by Cheryle Bannon use the 5 easy step Wild Soul Creativity cycle as we go around the circle steps and connect, play, layer, dreaming and celebration.
What to bring
All required materials are provided
Materials:
watercolour paints
500 gsm watercolour paper ranging from A5- A3 size
gesso
medium and glue
gold paint
brushes,
A3 visual diary,
a selection of collage papers and old magazines, and washi tape
water containers
drawing materials - pens, pencils
embellishments, ribbons, washi tape, pattern paper etc.
a variety of stencils stamps and masques


Cost: $50 due upon registration
A half-day workshop where you will create your own intuitive angel painting using simple techniques.
Time: 1 pm - 3 pm
FAQs
Where can I contact the organiser with any questions?
Email: cherylebannon@gmail.com
FAQs
Beautifully prepared Vegan food and coffee is available at the venue from 12 pm
What are my transport/parking options getting to the event?
Car
Park your car n the rear section of the hotel carpark next door to Lentil as Anything
public transport
The following transport lines have routes that pass near Lentil As Anything - Bus: Bus - 250; Train: Train - SOUTH MORANG; Tram: Tram - 86.
All materials are provided.
A few recommended extras
apron or protective clothing
old magazines, papers and embellishments that you can add to your creation
a personal sketchbook for notes and gathering ideas
any extra painting or drawing materials that you love and would enjoy using
Recommended
apron or protective clothing
old magazines, papers and embellishments that you can add to your creation
a personal sketchbook for notes and gathering ideas
any extra painting or drawing materials that you love and would enjoy using
If for any reason you can't make it, you can transfer your ticket to someone else but please let me know.