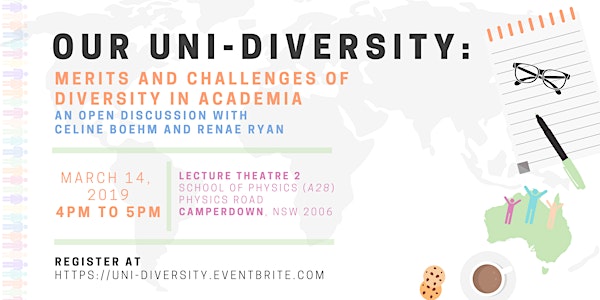 Our Uni-Diversity: Merits and Challenges of Diversity in Academia
Event Information
Location
Lecture Theatre 2
School of Physics (A28)
Physics Road
Camperdown, NSW 2006
Australia
Description
The University of Sydney Early-Mid Career Academic Network (SEMCAN) invites you to an open, honest, informal event to discuss on the merits and challenges of diversity in academia.
The discussion will be followed by a social/networking event with food and drinks.
--
Diversity stimulates inventiveness, inspires innovation, boosts productivity, and increases the overall odds of academic success.
However, some people believe policies that actively ensure diversity do not necessarily reward objective academic excellence, and in some cases even favour a less-qualified minority.
In late 2018, a notorious Italian scientist publicly proclaimed that he was the latest victim of a global anti-male agenda – and had the data to prove it.
Prof. Celine Boehm and Prof. Renae Ryan have some data of their own...
Date and time
Location
Lecture Theatre 2
School of Physics (A28)
Physics Road
Camperdown, NSW 2006
Australia