Our Reef, Our Region, Our Votes- Fight For Our Reef Campaign Launch
About this Event
Join us for an inspirational evening as our FNQ community unites to fight for the future of our Reef, local jobs and region!
The Queensland state election is fast approaching this October and policies that will determine the future of our Reef and region are being decided right now! 
This is our community's chance to ensure a safe, thriving future for both our Great Barrier Reef and local families.
Join dedicated locals and learn how we can seize this moment and send a powerful message to the politicians vying for our votes.
The time for urgent action to protect our Reef and region is now!
What: Fight For Our Reef- Election Launch Event
When: 6-7.30 pm, Thursday 6 August
Where: Peace Lutheran College, 50-60 Cowley Street, Kamerunga (Peace Centre-Main Hall)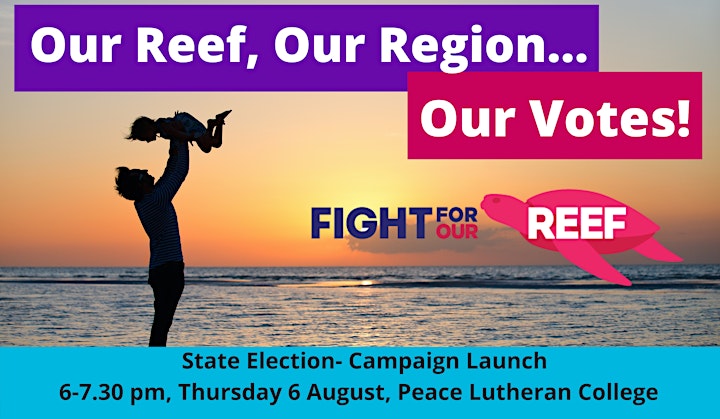 From the upheaval of the pandemic emerges a once in a generation chance to rebuild our economy in a smart, sustainable way that both generates local jobs and protects the long term future of our Reef and FNQ families.
But this only works if we're louder than the vested interests in the fossil fuel industry to stop bold action on climate change. 
Join us as we call on local candidates to take a stand this State Election and fight for our Reef and region's thriving future!
Tickets are free, but numbers strictly limited so reservations are essential... Get your tickets today!
This is a Covid Safe Event, social distancing, hygiene and number restrictions apply. . For more information see the QLD Government Covid-19 website here
Authorised by Elise Springett, Great Barrier Reef Community Campaigner
Australian Marine Conservation Society
27 Greenslopes Street, Manunda, QLD, 4870