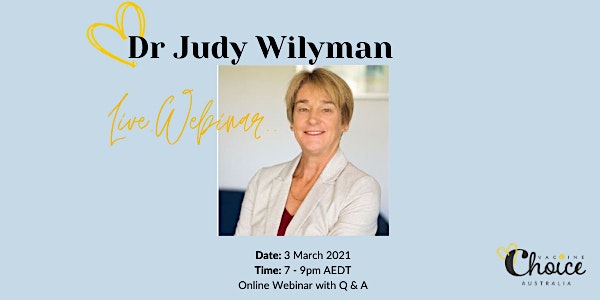 Our Genetics and Coercive Vaccination: This is Genocide
Refund policy
Contact the organiser to request a refund.
Eventbrite's fee is nonrefundable.
It's time for Australia to recognise that our medical freedoms have eroded, how to take them back and secure them for future generations.
About this event
Join us for an evening with Dr Judy Wilyman discussing what we are currently facing in the world today, particularly the Covid-19 vaccine.
This year, more than ever, community is so important so we want to bring together our online community and educate ourselves from one of Australia's leading vaccine voices.
Here's some of the things we'll discuss on the night:
What is meant by a 'case' of COVID19 disease?
Why are healthy people being labelled as 'cases' of disease?
Has a new coronavirus been proven to be causing a new disease called 'COVID19'?
Does the PCR test identify the new coronavirus to prove infection?
Is everyone at risk when they are exposed to a virus or do other factors play a role in disease symptoms? Eg. genetics, environment, lifestyle?
Is the genetically engineered mRNA drug for COVID19 disease actually a vaccine?
All drugs have risks for different genetics so is this a 'crime against humanity'?
Governments promoting coercive vaccination are participating in a medical tyranny using censorship of information.
What you can do to protect your family from the draconian measures.
How together we can stand up for our medical freedom.
And much, much more.
We will open the webinar at 6:45pm for a 7pm start and we expect the event to go for around 2 hours finishing around 9pm depending how many questions we have.
We are asking for a small financial contribution which covers the costs of putting this event on and helps our volunteer teams to keep providing more information and resources on these important issues.
A little more about Dr Judy Wilyman
Judy has been studying the vaccination topic both formally and informally since 1993 when she vaccinated her first child. Like most people questioning vaccines, she has not come from an anti-vaccination position and the debate is not about pro- or anti-vaccination. It is about the safety, efficacy and necessity for each vaccine on the schedule. Are they all safe? And are they all effective and necessary?
In 2015 she completed a PhD at the University of Wollongong answering these questions. Her thesis is titled 'A critical analysis of the Australian Government's rationale for its vaccination policy.' In Chapter 7 she presents a discussion of the claims made by the government about the safety and efficacy of vaccines that are not supported by scientific evidence.
Judy's book that is based on her PhD research titled "Australia's Loss of Health Freedom" is now available to buy.
Read more about Dr Judy Wilyman on her website
We hope to see you on 3 March online!
If you have any questions please email us at - admin@vaccinechoiceaustralia.com.au
Vaccine Choice Australia Team