About this Event
Description
This course will involve getting into a daily habit of drawing in the context of a sketchbook. With a simple kit of materials you can carry with you everywhere, you will discover that you can be drawing in all those incidental times and learn that being opportunistic about drawing can help get us into daily creative habits.
We will run through different drawing exercises and practise our skills in our sketchbooks. This workshop will explore the versatility of pen, ink and watercolour as a fast and fun way to get into a daily drawing habit. We will look at mark making and try different types of ink media in soluble and non soluble forms with the addition of quick watercolour washes and glazes.
We will cover gestural drawing, contour lines, negative space, shading, angles and plumbs in amongst a heap of fun drawing exercises. Our subject matter will include found objects and still life as well as each other!
Two Day Workshop
Saturday 21 March 2020: 9:00am to 4:00pm
Sunday 22 March 2020: 9:00am to 4:00pm
Materials are not included in this class, to view the materials list please click here.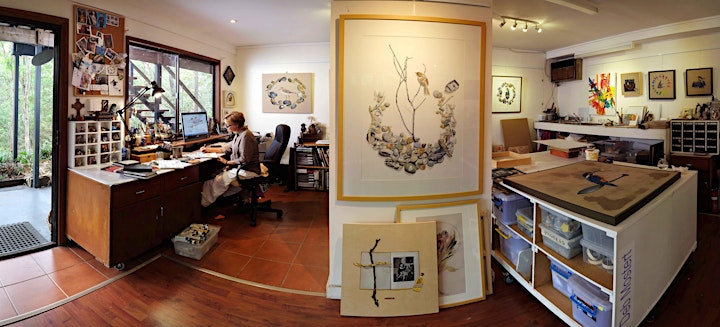 About the Tutor: Deb Mostert
My art practice is 30 years young and involves drawing, painting and some small sculpture and public art. I'm interested in Rhopography (from rhopos, trivial objects, small wares, trifles) and collections in both social and natural history and my artworks use gentle, offbeat narratives and a crisp aesthetic.
I live and work in a home studio on the Ipswich/Brisbane border. I hold a BAFine Art from the Queensland College of Art and have had over 16 solo shows and been involved in more than 60 group shows in both regional and commercial galleries. I have over 15 years teaching experience and run workshops and artist in residencies.
Website: debmostertartist.com.au
Top Image: Current Toolbox
Bottom Image: Lunchbox
MyArt Studio Workshop booking and cancellation policy
The 16 Duggan Street entrance to the classroom will be opened 15 minutes prior to commencement of the class. Students are responsible for their own artists materials unless otherwise stated. A materials list is available for each class and will be emailed to you once your booking is confirmed. Materials lists are also available on our website.Tea and coffee will be provided, and students have access to the kitchenette and toilet facilities. No parking facilities provided. Street parking is time limited and shopping centre parking is at your own expense. Classes with outdoor activities are attended at your own risk.
Fees
Please book into a workshop at least one month prior to its commencement if possible. This will secure your spot in the class and allow us to confirm tutor bookings. If there are insufficient number workshops may be cancelled.
Cancellation of enrolment by you
If you choose to withdraw from a course or workshop up to one month before its commencement, you will be charged a $25 administration fee. The remainder (minus Eventbrite fees) will be refunded. If you choose to withdraw from a course or workshop within 1 month of its commencement, you will be charged a $25 administration fee and the remainder (minus Eventbrite fees) will only be refunded if the position can be filled.
Missed Classes
Once a workshop has commenced there are no refunds. MyArt Studio cannot accept responsibility for changes to students' personal circumstances that prevent attendance. Classes missed are the student's responsibility and are non-refundable. Students are not entitled to a discount or 'make-up' class if they miss a class for any course they are enrolled in.
Cancellations of workshops by us
In the event of a class being cancelled due to insufficient enrolments, a full refund will be given.