Event Information
Refund policy
Contact the organiser to request a refund.
Eventbrite's fee is nonrefundable.
This online version of our Introduction to Beekeeping Course is offered in two 1.5 hour theory sessions and a 1 hour practical session
About this event
Theory content will be covered in two 1.5 hour Zoom tutorials and a one hour practical hands on session provided to consolidate learnings in October. the practical session will include how to correctly open and reassemble a beehive and how to light a smoker. Course materials will be hand delivered(where practical) or mailed out prior to the course.
About Us:
Amanda and Scott have been keeping bees for the past 8 years in both urban and rural settings for honey production and agricultural pollination services.
Scott holds a Certificate Three in Beekeeping from the NSW Department of Primary Industries and Certificate Four in Training and Assessment from the Gordon Institute of TAFE, Geelong. Scott is a member of the State Quarantine Response Team (SQRT) with Agriculture Victoria, foundation member of the Victorian Recreational Beekeepers Association (VRBA) and a member of Ballarat Regional Beekeepers and Geelong Beekeepers Club. Scott has a special interest in biosecurity and training new beekeepers.
In addition to qualifications in Applied Science and Arts, Amanda has recently completed a Graduate Certificate in Agribusiness from Marcus Oldham College, Geelong to progress her interest in agricultural pollination services. Amanda is also a State Quarantine Response Team(SQRT) member with Agricultural Victoria and has completed biosecurity units as part of Certificate Three in Beekeeping with New South Wales Department of Primary Industries. Amanda has a special interest in agricultural pollination services, bee friendly gardens and the social impact of bees.
Amanda and Scott are both Wheen Bee Ambassadors, passionate about urban farming and local food production with their involvement with Made of Ballarat and Eat Drink West and are founders of HiveMind Community Apiary, a community enterprise designed to provide therapeutic beekeeping and horticultural practice to people living with mental illness.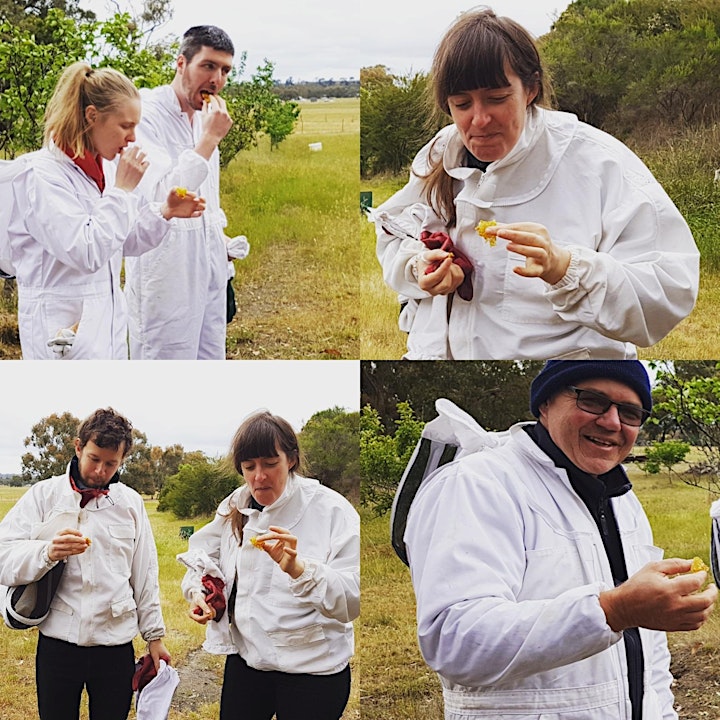 Date and time
Location
Refund policy
Contact the organiser to request a refund.
Eventbrite's fee is nonrefundable.
Organiser of Online Introduction to Beekeeping Course - June
Backyard Beekeeping Ballarat was established in 2015 by local Beekeepers Amanda Collins and Scott Denno. They manage both backyard beehives and a small number of migratory hives throughout Central Victoria and have a special interest in crop and orchard pollination, biosecurity and use of technology in beekeeping. Scott and Amanda are both registered beekeepers, members of the Victoria Apiarists' Association, members of Geelong Beekeeping Club and foundation members of Ballarat Regional Beekeepers Inc and Victorian Recreational Beekeepers Association Inc.
Amanda and Scott became 'accidental beekeepers' when they were unexpectedly gifted a hive from a friend in 2013. This lonely hive sat in their back paddock among the sheep while they frantically researched about how to care for the colony. Since then they have both undertaken formal training in beekeeping, Scott completing Certificate Three in Beekeeping in 2017 through New South Wales DPI and is currently studying Ceritifcate Four in Training and Assessment. Both are Emergency Beehive Surveillance Apiarists with the Victorian State Quarantine Response Team (SQRT), Agriculture Victoria.
Amanda and Scott are beekeepers for the Ballarat Global Iniative for Honeybee Health Project with the CSIRO and Ballarat Tech Shcool. the tag work bees with RFID chips during the beekeeping season to provide data which contributes to the CSIRO project and for Ballarat Tech School students.
The couple are currently working to create a Community Apiary (HiveMind) in Ballarat in partnership with Ballarat and District Suicide Prevention Network and local nursery Spot on Pots and Nursery. Focusing on the use of apiary as a therapeutic intervention the project will focus on providing access to beekeeping for people who are at risk or are living with a mental health condition like depression, anxiety or social isolation.