Family Trivia Night: General Knowledge
About this event
Be prepared for a fang-tactic night because we're bringing back our Family Trivia Night with a spooktacular twist. Haunt us with the frightening amount of general knowledge you know so you can sink your teeth into some bloody amazing prizes. Everyone in the family is welcome to join us for the spookiest night of the year- monsters, witches and wizards included. Join us if you dare for a Halloween scare!
Special thanks to our sponsor, Woolworths Bonnyrigg, for their generous donations of Wookworths Supermarket Gift Cards:
1st prize $150 Gift Card
2nd prize $100 Gift Card
3rd prize $75 Gift Card
Limited spots are available so sign up now!
All participants agree to register for this program being conducted by Fairfield City Council under the following conditions:
This program is open to families residing within the Fairfield Local Government Area. (You must be over 18 to register for on behalf of families, ideally parents register)
Employees (or members of the families or households of employees) of Council or Woolworths are not eligible to register
Registration and participation is free
Only members of the Fairfield LGA can register
Only one registration per family is permitted
The event starts at 7:00pm on Saturday 30th October 2021 and finishes 8:30pm on the same evening.
By registering for this program you agree to Fairfield City Council using your personal information for the sole purpose of this program, for notifying winners and promoting on council social media platforms and for no other purpose
You agree to allow Fairfield City Council to publish winning entries in a local Fairfield newspaper and on Council's website and social media. Only names of winning participants will be published, unless winners choose to send in a family picture.
There will be no correspondence entered into with answers to questions. Judges answer will be final based on the answers recorded to questions.
The winners will be announced at the conclusion of the event on Saturday 30th October 2021 after 9:00pm, this decision will be final.
Prizes – Woolworth shopping vouchers will need to be redeemed at Woolworths Bonnyrigg in person or via online shopping.
You agree that Fairfield City Council shall not be liable for any loss or damage or for any personal injury sustained as a result of participating in this event.
Woolworths Group Limited ABN 88 000 014 675 is the issuer of the Woolworths Supermarket Gift Card, but is not the promoter of the offer, nor responsible for fulfilment of the offer terms. Woolworths Supermarket Gift Cards have no expiry date and are redeemable at participating stores only. For a list of participating stores and full Gift Card Terms and Conditions visit woolworths.com.au/giftcards
DISCLAIMER:
Some workshops may be postponed due to low numbers, or other circumstances outside of our control. If this happens you will receive an email notification. A reminder/confirmation email is sent 48 hours prior to the event to confirm the Workshop is going ahead.
Bookings below are made through Eventbrite, which is an external website. Please read their privacy policy and other disclaimers for how they store and use your information.
You are also able to express your interest in registering by phoning 02 9725 0323 or 0437 733 270 during business hours.
Video Recording: All workshops via Webinar will be recorded for promotional purposes.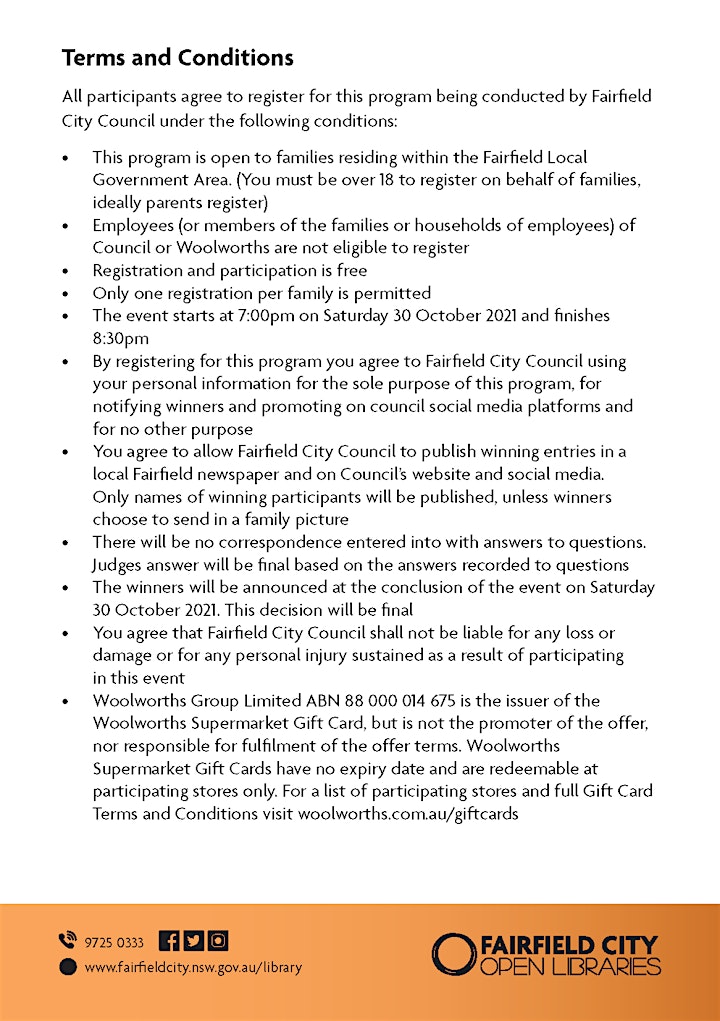 Organiser of ONLINE: Family Trivia Night - General Knowledge
A place to experience virtual reality and the latest tech gadgets.
lab.LX is an experimental media space for inventors, entrepreneurs, and the curious who want to play with and understand the technology or create digital content and products.
lab.LX is located in Whitlam Library Cabramatta and its key features include:
*Virtual reality, coding, and HP Z240 Series gaming PCs
*360° cameras, robots and bots
*Educational and creative classes
*The use of 3D scanner and 3D printer (fees and charges apply)
lab.LX STEAM is a transformed space at Bonnyrigg Library that houses a technology and creative space that provides skills and education for our current and future young workforce. It will be a catalyst supporting trade opportunities in areas such as Innovation, Manufacturing, Robotics and Science Technology.
Fairfield City Open Libraries provides a range of educational and entertaining programming for adults. Please see links below for more Fairfield City Open Library events:
All Events
http://FCOpenLibraries.eventbrite.com
Adult Programs
http://adultprogramsfcc.eventbrite.com
Computers & Technology
http://computerstechnologyfcc.eventbrite.com
Children's Programs
http://childrensprogramsfcc.eventbrite.com
Youth Programs
http://youthprogramsfcc.eventbrite.com
Exhibitions