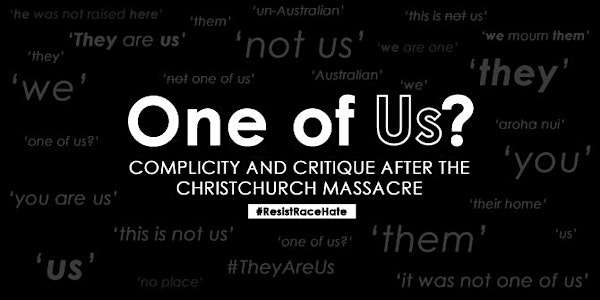 ONE OF US? COMPLICITY AND CRITIQUE AFTER THE CHRISTCHURCH MASSACRE
Location
State Library of Western Australia
25 Francis Street
Perth, WA 6000
Australia
About this event
ONE OF US?
COMPLICITY AND CRITIQUE AFTER THE CHRISTCHURCH MASSACRE
Presented by:
The School of Media, Creative Arts and Social Inquiry, Curtin University & The Museum of Freedom and Tolerance, WA
We, our, us, them are the most basic units of defining belonging and non-belonging. Prime Minister Jacinda Ardern chose to redefine these terms within her nation, claiming as kin the victims of the Christchurch massacre and disowning the killer. Yet, in other contexts, the killer was humanised, in line with his own self-representation as "an ordinary white man" -- someone who could be "one of us." In the case of the 2011 massacre in Norway, author Åsne Seierstad notes that descriptions of the killer emphasized qualities that made him appear less like "one of us."
Following the Easter bombings in Sri Lanka, we again face questions of them and us as national and global tensions play out in new configurations of violence and terror.
Who are "we"? Who is "one of us"? Who are we part of? Whose humanity do we recognise as akin to ours?
In this symposium, community members, academics and artists consider the fraught term, one of us, exploring questions of the normalization of racism, everyday Islamophobia, and the connections between various forms of othering – "us" and "them" – in Australia and elsewhere.
We consider our complicities with violence and explore ways forward. A QandA panel will address pre-submitted questions on how to recognize and resist the destructive identifications of us and them and the ways in which they are reproduced in our daily lives.
Featuring: Sky Croeser, Imam Yahiya Ibrahim, John Kinsella (video), Marilyn Metta, Marziya Mohammedali, Suvendrini Perera, Ayman Qwaider, Sabah Rind, Kim Scott, Rabia Siddique, Fadzi Whande, Yirga Woldeyes.
Convenors: Shaheen Hughes, Hannah McGlade, Marziya Mohammedali, Suvendrini Perera
For Speaker bios, additional information and readings, please check here.
Please check the updated program for the symposium.
REGISTRATION ESSENTIAL
We acknowledge the generous support of the State Library of WA