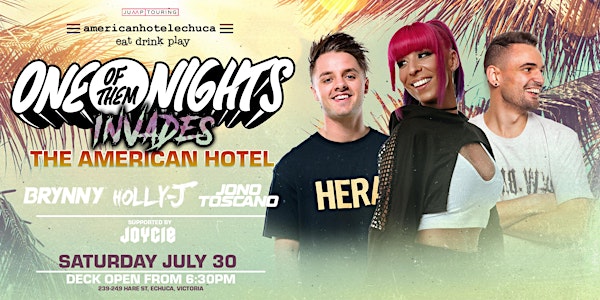 One Of Then Nights Invades American Hotel Ft: Brynny, Jono Toscano, Holly-J
Performers
Brynny
Jono Toscano, Holly-J
Location
American Hotel
239 Hare St
Echuca, VIC 3564
Australia
One Of Then Night Invades American Hotel Sat 30th July Feating Brynny, Jono Toscano, Holly-J, Joycie + (Special OG Secret DJ Set)
About this event
One Of Then Night Invades American Hotel Sat 30th July
The infamous OOTN Team is getting the band back together...
It's all about the party with the OOTN crew. shots with the crowed, MC Hyping the room, OOTN T-shirts and Hats given out through out the nights,, Photographer and videographer in the house.
When you go to work on Monday and people ask what you did you can say I definitely had "One Of Them Nights".