Sales Have Ended
Ticket sales have ended
Thank you for your interest in 'On landscape photography workshop with Dr Les Walkling'. Bookings have closed however you can visit http://www.leswalkling.com/ for a full list of all of Les's upcoming workshops around Australia.
Sales Have Ended
Ticket sales have ended
Thank you for your interest in 'On landscape photography workshop with Dr Les Walkling'. Bookings have closed however you can visit http://www.leswalkling.com/ for a full list of all of Les's upcoming workshops around Australia.
Description
On Landscape Photography Workshop
Monash Gallery of Art (Melbourne)
Les Walkling's On Landscape Photography
two day course
is a rare opportunity to receive specialist instruction in landscape photography through the work of one of Australia's greatest landscape photographers: Peter Dombrovskis.
MGA is thrilled to offer this workshop twice during the Dombrovskis: journeys into the wild exhibition.
• 30-31 March 2019
• 27-28 April 2019
Les spent ten months in the preparation, restoration, editing and exhibition printing of over 200 of Peter's images for the National Library of Australia's Peter Dombrovskis exhibition and accompanying publication 'The Photography of Peter Dombrovskis: Journeys into the Wild'.
The exhibition is now travelling to Monash Gallery of Art (MGA) in Melbourne from 9th March to 12 May 2019 and coincides with Climarte's Art+Climate= Change 2019 Festival. Read more about the exhibition here
Unique workshop highlights will include: the preparation, editing, publication, and printing of Peter's work along with a detailed analysis of Peter's camera craft, equipment, workflow, and photographic techniques. Various interpretations from the representational to the picturesque will also be considered, including mythical landscapes, poetic landscapes, politicised landscapes, and manufactured or altered landscapes.
---
Specific topics include:

The Art of Peter Dombrovskis:
• Seeing the light - feeling the moment
• Photographing beliefs and commitments
• Antecedence: The rise and domination of Modernism
• Peter Dombrovskis and environmental justice
• Land Matters - Landscape Photography, Culture and Identity
• Landscape into art - landscape and experience, landscapes of memory

Peter Dombrovskis and the NLA:
• The Peter Dombrovskis NLA Archive
• Journeys into the Wild - the book
• Journeys into the Wild - the exhibition
• Publication concept and design
• Exhibition strategy and design
• Collaboration, production, and pre press

Working in the Field:
• Lens selection and perspective control
• Tripods and stability - ball heads vs geared heads
• Measuring and evaluating light and dynamic range
• Setting up a pano-head and capturing multiple images
• Focus stacking - controlling depth of field
• Exposure stacking - controlling dynamic range

Processing and Editing:
• Backing up, cataloguing and processing in the field
• Increasing presence, depth and dimensionality
• Luminosity selections, highlight bump masks, shadow luminosity masks
• Processing focus, exposure, and panorama stacks
• Compositing images and how to drop-in skies
• Pre Press - file preparation and separation for publication

Exhibition Printing and Presentation:
• Fine art paper selection - matte/lustre, warm/cool, smooth/textured
• Printer and monitor colour management - the essentials
• Soft proofing vs hard proofing
• Print scale and aspect ratios
• Adapting images for matte surfaced papers
• Print lighting, viewing and evaluation

---
This course runs from 10.00am to 4.30pm on both days, and includes generous breaks for individual consultation. The workshop is presented through participation, discussion, demonstration and critical analysis, with the MGA's Peter Dombrovskis exhibition, and NLA publication Journeys into the Wild as its major case studies.
There is also an extensive workshop resource website with detailed course notes, videos, and test files.

What to bring?
Please bring all your questions, and any prints and/or files, and/or camera equipment, especially if you are having specific issues with any area of your workflow - from capture to processing, editing, and printing. While these are certainly not workshop requirements, do feel free to bring along anything that you think might be helpful. For example, intimately comparing your prints with Peter's prints can be a 'life-changing' experience.

About Dr Les Walkling
Les Walkling is a renowned artist, educator and art consultant. Les has been teaching specialised workshops since 1977, and was the Program Director of Media Arts (1993 – 2005) and a Senior Research Fellow in the School of Art (2006-2010) at RMIT University. In 2012, he was named a Fellow of the Australian Institute of Professional Photography, and also serves on museum boards/committees of management and cultural and technical advisory groups. As an artist, his work is exhibited and represented in many public collections including the Metropolitan Museum of Art (USA), the National Gallery of Victoria, the Art Gallery of NSW, and the National Gallery of Australia. In recent years his practice has expanded to include major collaborative projects with other artists including Peter Kennedy, Polixeni Papapetrou, Peta Clancy, Siri Hayes, and Bill Henson.

---
Cost: $495 incl. GST for non-members, $465 for Friends of MGA
Class Size: Maximum class size of 12
Course Duration: 10.00am - 4.30pm both days
Enquiries (Les): +614 38 59 00 93
Enquiries (MGA): +613 8544 0500
---
Watch as Dr Les Walkling provides a behind-the-scenes glimpse of the monumental task of preparing and printing the work of Peter Dombrovskis for exhibition.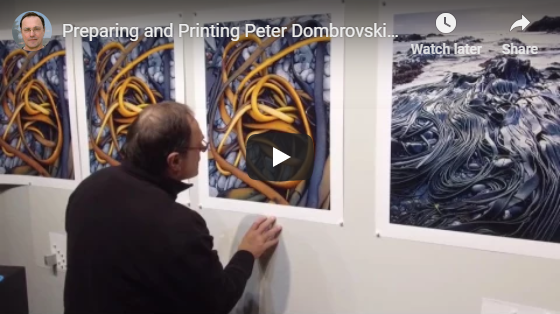 Organiser of On Landscape with Les Walkling