Join us on the first Tuesday of each month to discuss how to navigate the NDIS. In February we will talk about how to ACE your plan review.
About this event
Do you have questions about the NDIS?
Have you asked yourself how can I make the most of my NDIS plan?
Or are you supporting someone with NDIS funding and want to learn more?
Hireup are bringing together a panel of experts who work day in day out with individuals and families navigating the NDIS. This event will focus on NDIS plan reviews!
We'll chat through when does a plan review happen, what can you do to prepare, how can you advocate best during the meeting and where to seek support if you have questions about your review.
Our speakers are keen to answer your questions. Please send them prior to the event to: engagement@hireup.com.au
Details:
Tuesday 1st February
12pm-1pm (bring your lunch and join our session)
We look forward to seeing you there!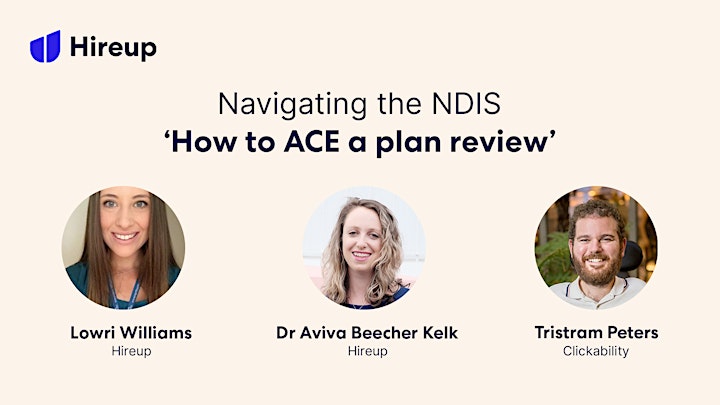 Meet our panelists:
Dr Aviva Beecher Kelk is the Independent Living Options (ILO) Exploration and Design Manager at Hireup, was one of the cofounders of Clickability and has been helping participants and providers connect and communicate with each other for over 5 years. In addition to having a PhD on choice and control in the NDIS (really!) she has a Masters degree in social work and undergraduate degrees in Arts and Fine Art. Aviva has worked with NDIS participants 1:1 in advocacy roles, community mental health and now in ILO Exploration and Design. She loves salsa dancing, and her least favourite household chore is laundry.
Tristram Peters is a writer, editor and disability advocate. He is the Head of Participant Engagement at Clickability, an online matching platform for NDIS participants and providers that allows people with disability to rate and review their services. In addition to this, Tristram co-hosts the Grow Bold with Disability and What Are You Staring At? podcasts. He's also an NDIS participant, has represented Australia at the 2017 Powerchair Football World cup, and recently achieved his life-long goal of living independently, through Specialist Disability Accommodation (SDA).
This panel will be facilitated by Hireup's Community Engagement Manager, Lowri Williams.