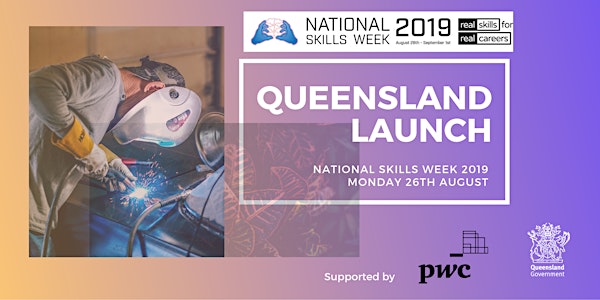 National Skills Week 2019 - Queensland Launch
Location
PWC Brisbane
Level 23
480 Queen Street
Brisbane City, QLD 4000
Australia
Description
Registration is closing soon! Join us for the official state launch of National Skills Week 2019, in Queensland.
The evening's festivities will be formally launched and there will be a celebration of the diversity and talent that can be found in Vocational Education and Training (VET). Included will be a panel discussion on how we enable our system in Australia to be responsive enough so that students are learning the right skills and employers are getting the right skills.
The event will include beverages and canapes, and will showcase the outstanding work of VET students in the trades and skills sector.
The launch will be hosted by PWC Brisbane - located at Level 23 480 Queen Street. Opposite Customs House. Please enter through the Queen Street entrance only for this event.