Description
The Muslim Youth Forum will feature a panel of five young Muslims of different backgrounds ready to discuss the most pressing concerns of Australian Muslim youth.
Muslim youth have chosen the topic they want to discuss through this survey. The topic of the evening is "misunderstandings between parents and children". While the main topic has been decided, we encourage attendees to can continue to vote on their topic of concern so we can share the results on the night.
This free public event is open to all. Due to limited space, registration is required: https://www.eventbrite.com.au/e/muslim-youth-forum-registration-27452507188
You may also share and join the Facebook event page.

Moderator: Del Irani, presenter on ABC News Breakfast
Opening remarks: Hamsa Farah, RMIT student and AIS volunteer

Panellists: Amet Balla, Cennet Koyu Osmani, Oussama Abou-Zeid, Rida Khan and Soreti Kadir. To learn more about our panellists, please click here for their biographies.

Closing remarks: Tina Hosseini, Youth Commissioner from the Victorian Multicultural Commission

Organised by the Australian Intercultural Society

Supported by the Victorian Government and Victoria University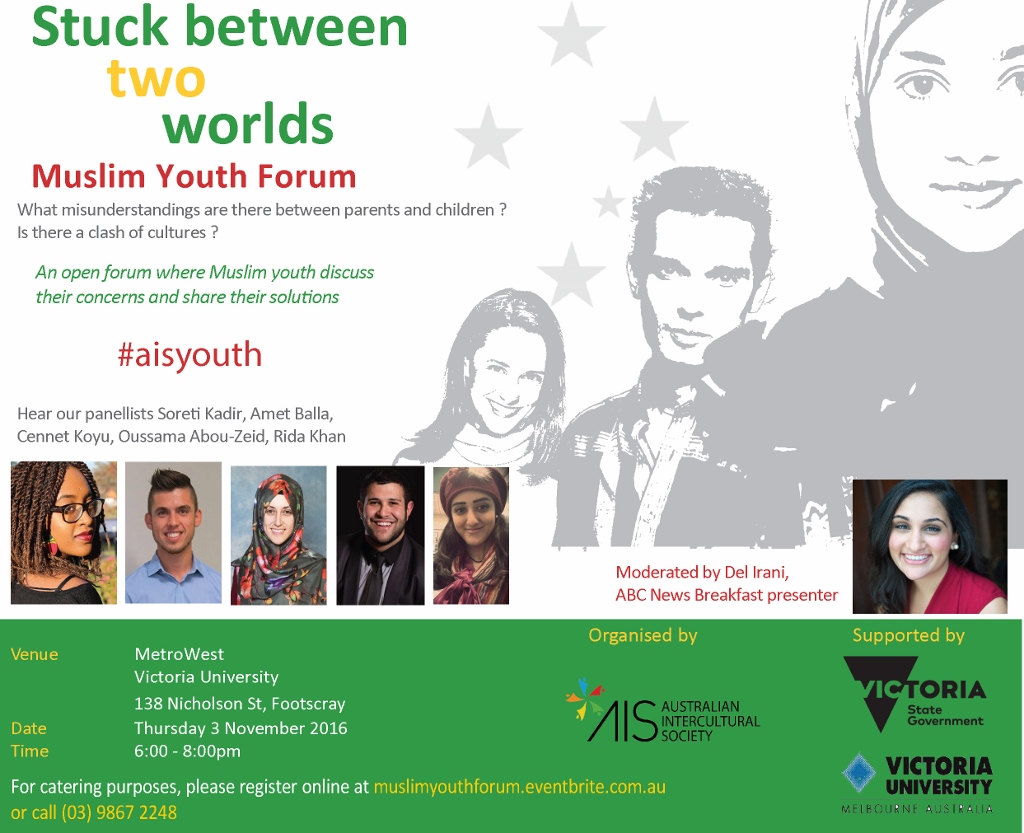 Moderated by: Del Irani
Del Irani is a warm and energetic multi-platform journalist, who's presented shows on ABC television and radio.
She was born in Mumbai and immigrated to Australia with her family when she was eight years old. She grew up on the lower north shore of Sydney but couldn't wait to travel and completed the final year of her degree on a scholarship at the University of California, Berkeley.
Del started her career in journalism as field producer, working on programs for Fox News, CBS and Channel News Asia, which involved travelling and living in many different countries including Bermuda, Panama, Belgium and Dubai.
She spent four years in India working for various news organisations including Thomson Reuters, Times Now and BBC World News. She was appointed Mumbai Correspondent for BBC World News in 2009 and also became the Presenter of India Business Report, a weekly show broadcast to 77 million people. During her time at the BBC, she provided live coverage of breaking stories, including the trial of the lone surviving gunman in the 2008 Mumbai Terror attacks.
Del Irani is currently Finance Presenter on ABC News Breakfast, which airs on ABC News from 6am - 9am daily. She's also one of the creators and presenter of award-winning talk show, #TalkAboutIt.
Organiser of Muslim Youth Forum
Australian Intercultural Society (AIS) is a not for profit organisation that has been operating in Melbourne since 2000 with the aims of promoting multiculturalism and fostering intercultural and interfaith dialogue. We believe in reaching out to all members of society by providing a platform for cultural and information exchange.
Since its establishment, AIS has organised international study tours, academic conferences, cultural exhibitions, Ramadan multi-faith iftar dinners and government sponsored projects, among other activities. Each event provides ample networking opportunities, so the circle of people wanting to build bridges with other communities and collaborate on projects with AIS grows with each program (www.intercultural.org.au).