Sales Have Ended
Registrations are closed
Tickets to the Music Composition Showcase are no longer available. For more great events, please visit www.qaci.eq.edu.au
Sales Have Ended
Registrations are closed
Tickets to the Music Composition Showcase are no longer available. For more great events, please visit www.qaci.eq.edu.au
Music Composition Showcase
About this event
Music Composition Showcase
2021 Graduating Cohort
Through the study of music, we are able to explore the similarities, differences and links in music from within our own culture and that of others across the world and over time. When sitar virtuoso Anoushka Shankar collaborated with the Berlin Philharmonic, she said that it is through pushing ourselves outside our comfort zones that we are able to grow. This is the essence of journey that QACI music students go on, and particularly in relation to composition. QACI musicians experience, compose and develop skills in a broad range of styles and mediums, before completing their Summative Creating Folio, where they have the flexibility to choose to compose or arrange however they like.
With the expert guidance of our composer-in-residence, Nicole Murphy, our graduating students have developed and applied their skills in the creation of a folio of two works. On Friday 30 July, we invite you to hear many of the Year 12s works for the very first time.
QACI Music would like to invite you to the Music Composition Showcase for the 2021 Graduating Cohort. The Composition Showcase provides our music students with the opportunity to share their work with a live audience, demonstrating the diversity of this cohort's musical interests. You will hear live performances of many pieces, ranging from solo piano, string quartets, pop ballads and jazz fusion pieces. We will also play snippets of some Music Technology pieces which will be available to listen to in full all week at a listening station in the Level 2 Gallery for all of Week 3, where Music Technology pieces can be enjoyed. The showcase will take place Friday 30 July July, 6.30pm in the QACI Theatre.
Tickets are complimentary however, booked within a limited context of availability.
Please join the QACI P&C in the Level 2 Foyer from 5.45pm where they will be serving light refreshments prior to the start of the music performances.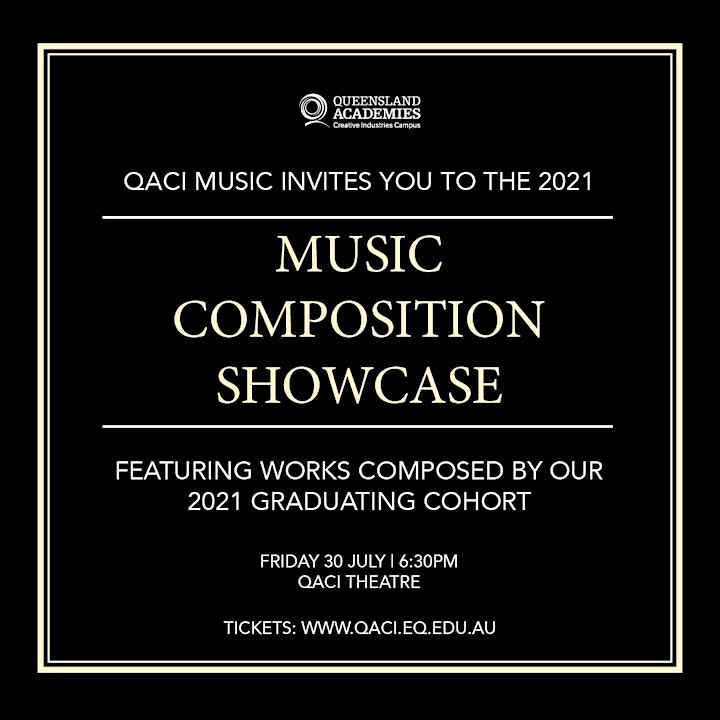 Organiser of Music Composition Showcase
The Queensland Academies are selective independent public senior high schools developing highly capable young people on their preferred academic pathways. Academies students study the International Baccalaureate (IB) Diploma which aims to develop inquiring, knowledgeable and caring young people who help to create a better and more peaceful world through intercultural understanding and respect.
The rigorous IB curriculum enables students to work towards achievements based on individual merit in a non-competitive environment, unlike the rank order structure of the OP. At QACI, students study the IB Diploma Program which incorporates their creative pathway, develops university research skills and enables opportunities for real life industry experience and involvement.
If you are a clever, creative learner who thrives on working with like-minded people in areas like Dance, Music, Theatre, Visual Arts, Design Technology, and Film then we welcome you to attend our annual Open Day or book into a Principal Tour of our facilities.

Call (07) 3552 9333 or visit qaci.eq.edu.au

61 Musk Avenue, Kelvin Grove Urban Village.