One day Business to Business sales focused event with a Jobs Area to assist people who have been impacted by Covid to find new employment
About this event
RECOVERY MORETON BAY REGION BUSINESS + JOBS EXPO
JOIN US TO GET LOCAL BUSINESS BACK ON ITS FEET
and MORE EMPLOYMENT OPPORTUNITIES FOR THOSE AFFECTED BY COVID 19
Brought to you by Moreton Bay Regional Council and MBRIT and Regional Development Australia with 10 local business industry groups and sponsors to help businesses get up and go and grow post Covid 19.
This expo is a managed business event and everyone is registered to attend thus creating a manageable track and trace environment.
We must work together to rebuild our local business community and get more people employed.
This event is the place to connect - promote - sell your products and services to local business owners.
To assist with the recovery of businesses and provide employment opportunities and up to date information.
The is BIG for small business and expect to increase our attendance this year -  Join us.
CELEBRATE SMALL BUSINESS WITH US
SPEAKER WORKSHOP PROGRAM - download here
https://www.businessmoretonbayregion.com.au/downloads/2020_Moreton_Bay_Business_Jobs_Expo_Program_Interactive.pdf
 We have had a tough time. This is a great opportunity to come together and celebrate our resilience and to look to the future.
Program - showcasing local businesses
✅ Find out about the hottest way to trade products + services by Qoin
✅ FREE TINAx Talks Panel Sessions - smashing out information + inspiration for Women in Business
✅ FREE Jobs Workshops
✅ FREE Head Shot Hub Photos for your social media + resume
✅ Innovate Precinct with special guest, Queensland Chief Entrepreneur Leanne Kemp
✅ FREE Mentor Hub by the Department of Employment Small Business and Training
✅ FREE Council advice for businesses
✅ Food Trucks and Live Entertainment
✅ 145 Expo stands to speak to
Need information? Email paulabrand@smallbusinessexpos.com.au 
 More opportunities for you to exhibit at our expos located at:
* Gold Coast
* Brisbane
* Redland Bay and Logan region
* Brisbane West - 2021
More infor can be found at www.smallbusinessexpos.com.au
 WHY ARE THESE FANTASTIC BUSINESS EVENTS? 
Develop business leads and new customers, build brand awareness and expand business
Discover new ideas and new technology to help solve business challenges.
Gain invaluable industry knowledge and insights into larger markets both in Australia and internationally.
Network with industry peers and connect with suppliers, service providers, industry experts and Government specialist departments.
Connect with potential venture capitalists and investors to potentially help expand businesses.
------------------------------------------
 Date:       Thursday 29 October 2020
Time:        10am to 4pm
Venue:     The Hope Centre, 18 Buchanan Street, Rothwell
Onsite parking by gold coin donation - funds go directly to Rotary for their community programs.
Now in its 3rd Year 
YOU MUST REGISTER TO ATTEND
COVID-19 SAFETY UPDATES
The Expo will comply with all government and health department regulations to ensure the safety of patrons, exhibitors and staff. Please maintain social distancing at all times. Check this page for updates before attending. All patrons attending the event will need to pre-purchase tickets online, registering their details for tracing purposes. We are using the under 1000 event Covid Safe checklist.
DO NOT ATTEND THIS EVENT IF:
You are showing signs of, or diagnosed with COVID-19You have been in contact with a person diagnosed with COVID-19 within the past 14 days.You have travelled overseas or from a hot spot within the past 14 days.All patrons are encouraged to download the Australian Government COVIDsafe App.
------------------------------------------
SPEAKER WORKSHOP PROGRAM
PRINCIPAL PARTNER - QOIN
 As the Principal Partner of all Queensland Small Business Expo's this year, Bartercard is proud to announce our continuing support for what we believe are the number one business expos in Queensland.
 This year, we will be profiling our new brand Qoin, the latest digital currency offering to the global market offering a new level of opportunity to all SME's. https://qoin.world/
"Our continuing commitment is testament to Paula Brand and her team's tireless efforts in bringing real economic outcomes to all small business' that attend these Expo's either as a buyer or seller, said Andrew Barker, Chief Marketing Officer for Qoin".
"We have had the pleasure of working with Paula and watching these events grow and also watching her continued support from local councils and business industry groups throughout South East Queensland."
"In 2020, we are excited to be bringing a brand-new opportunity to the Small Business community in Queensland and look forward to the opportunities to launch, educate and discuss our new digital currency with all business owners."    COME TO THE QOIN LOUNGE at the Expo to learn how QOIN can help your business.
 HELP US SUPPORT OUR LOCAL BUSINESS COMMUNITY
Moreton Bay Regional Council
Moreton Bay Region Industry and Tourism
Qoin
Innovate Moreton Bay
Regional Development Australia Inc, Moreton Bay Region
Moreton Bay Jobs
Department of Employment, Small Business and Training
Bartercard Brisbane
4Business Group
Outsource Safety Australia
The Hills & Districts Chamber of Commerce Inc.
HELP Employment and Training
BPW Northlakes and Caboolture
Samford Chamber of Commerce
AdMarketing Australia
TAFE Queensland
Key Business Network
Brisbane North Chamber of Commerce
WHAT HAS SMALL BUSINESS EXPOS ACHIEVED IN 6 YEARS
* 3,000 small ­­­business owners have booked exhibition stands and 20,000 visitors have attended. * Over $20 Million in new business revenue generated for our sponsors and exhibitors over the past 4 years. We use post expo surveys to quantify the results and we issue the results to all trade table holders after each Expo.* Engaged 300 top speakers providing Expo attendees with the latest and most up-to-date trends and information to help them grow their businesses.
* Delivered skills transfers through our ''How to Sell from an Exhibition Stand' Workshops to over 1,600 business owners.
* Supported 30 charities.* It is the largest business to business grassroots expo program in Australia.* Awarded an International Stevie Award in 2019 for Small Business Champion
* Awarded the 2019 Women in Business Small Business Champion - Finalist
QUESTIONS ?
 Contact the Small Business Expos Team
paulabrand@smallbusinessexpos.com.au   or   0475 411 793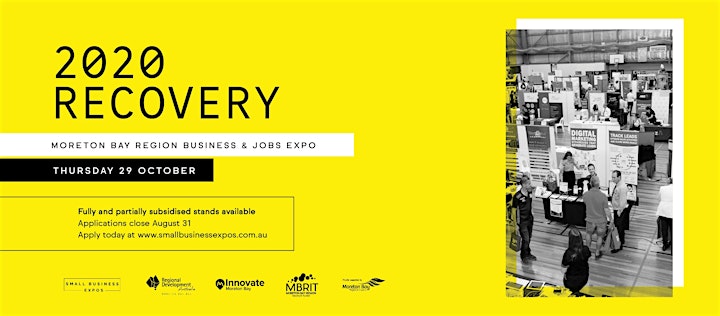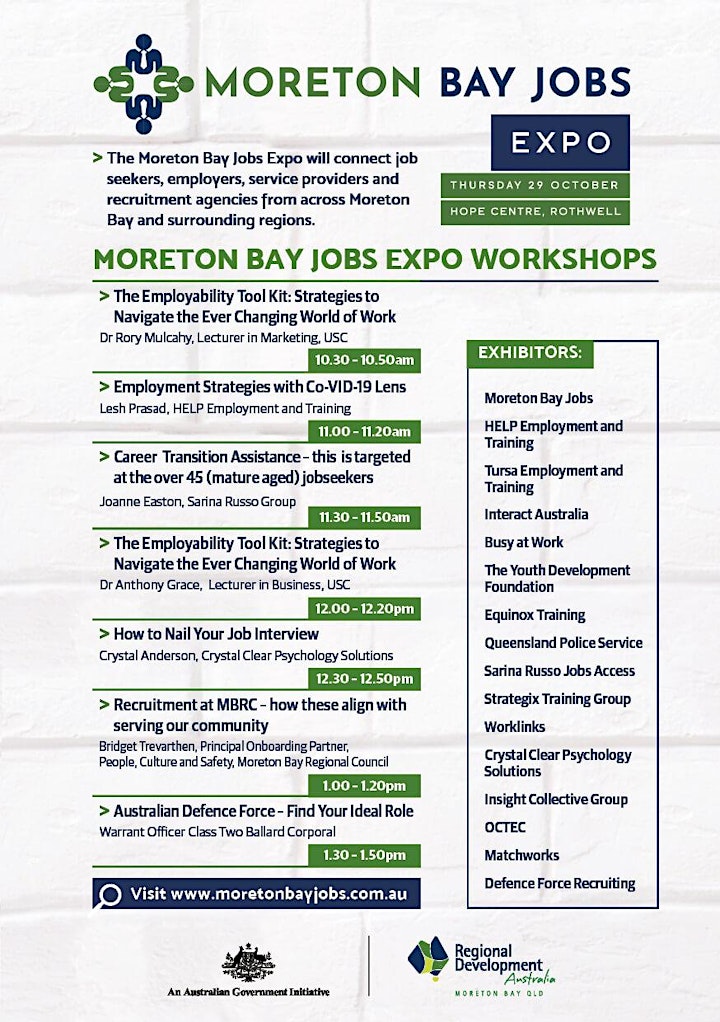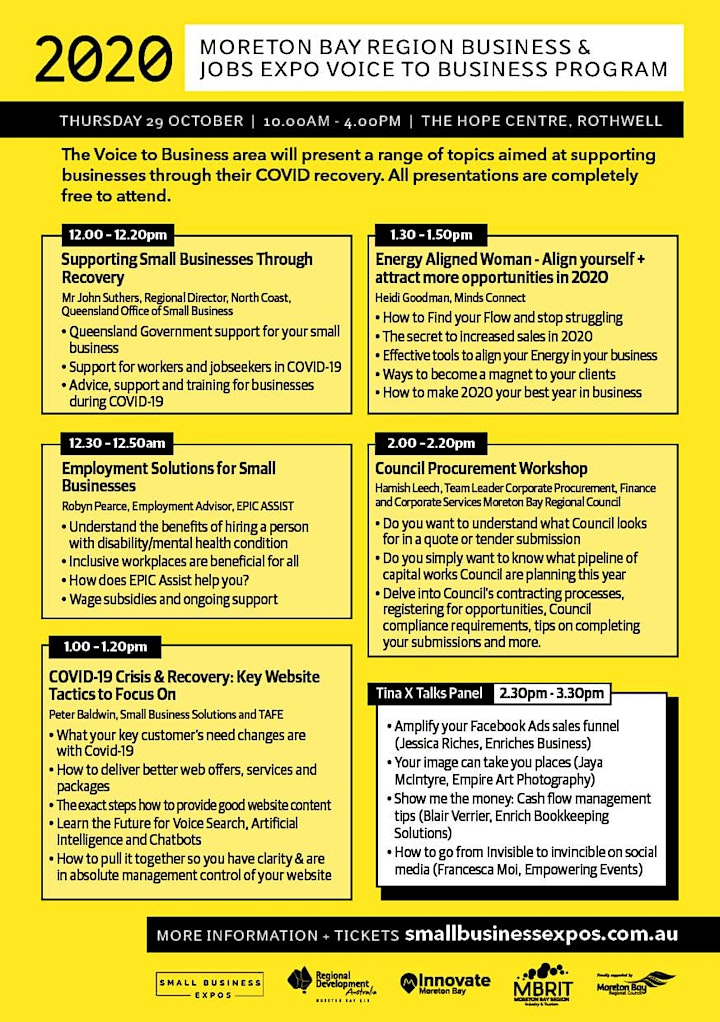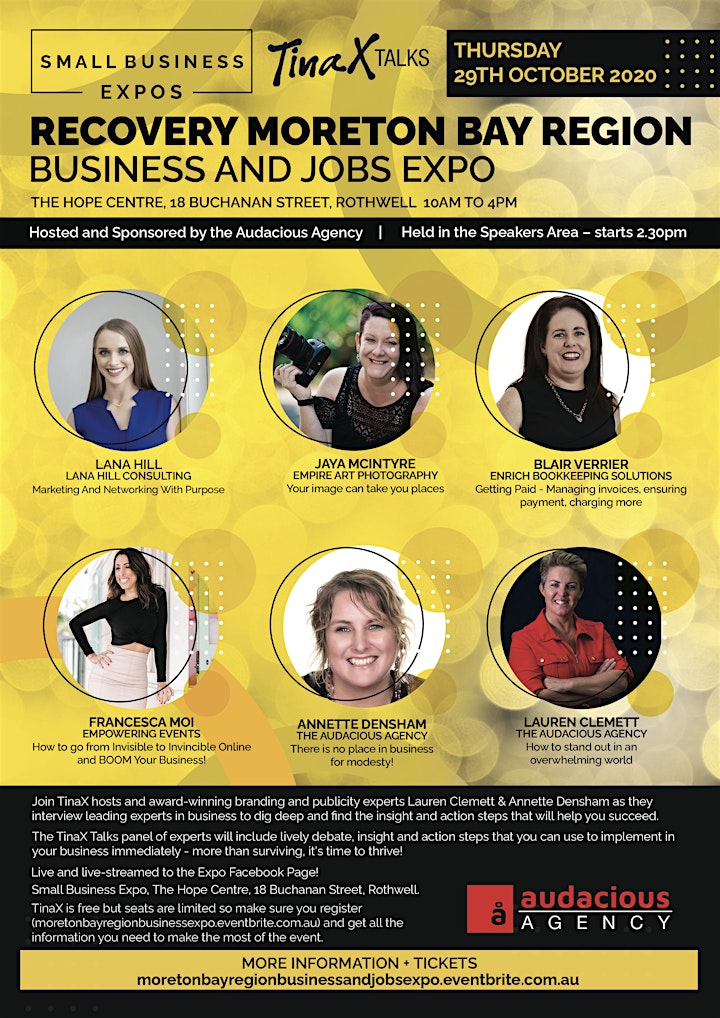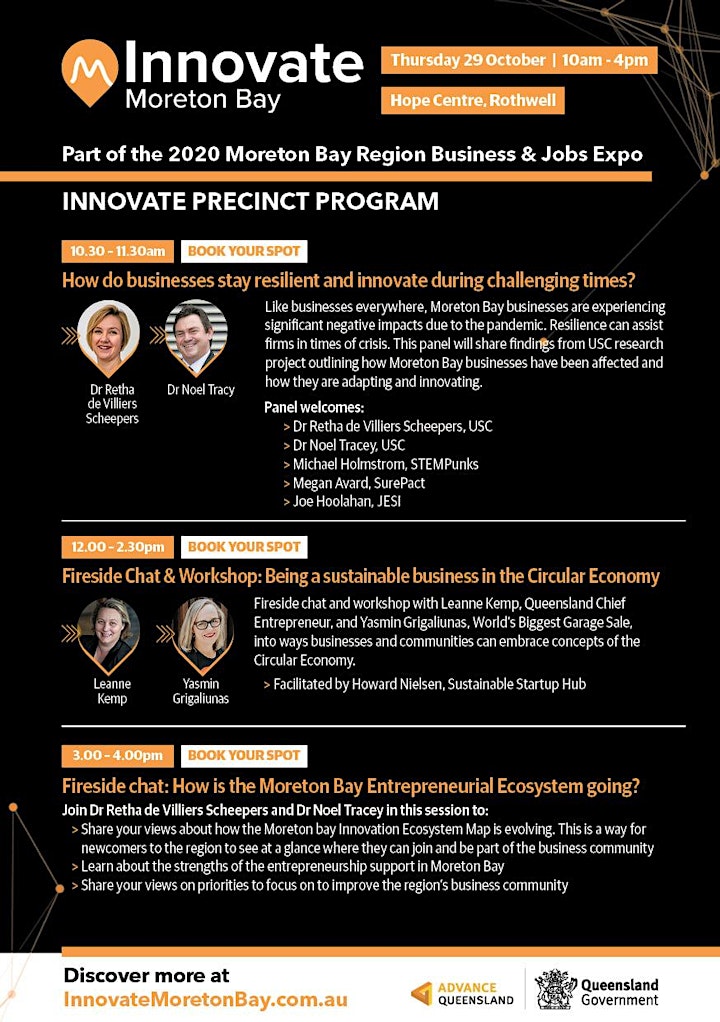 Check out the fabulous Gold Coast Business and Jobs Expo that was held on the 15th October with 170 expo stands and 600 attending. We had a fantastic day :)
Organiser of Moreton Bay Region Business and Jobs Expo