Location
Victorian Pride Centre
79-81 Fitzroy Street
St Kilda, VIC 3182
Australia
The Minus18 Young Leaders are proudly presenting an LGBTQIA+ Youth Panel in honour of IDAHOBIT – join us in person in St Kilda, or online!
About this event
It's time to celebrate queer excellence!
'More than a day: IDAHOBIT Youth Panel' is the very first event organised and created by the Minus18 Young Leaders.
Every year on May 17, we celebrate IDAHOBIT, the International Day Against LGBTQIA+ Discrimination. It's a chance for the whole community to build LGBTQIA+ inclusion.
It's a day all about celebrating and cultivating allyship, but let's be real: exploring questions about your identity can be exhausting, especially if you're a young person. So the Minus18 Young Leaders have decided to do the question-asking!
Join the Young Leaders and our panel as we explore what it means to be queer, and celebrate the everyday excellence of the queer community outside of sexual and gender identity.
This will be a low-touch, socially-distanced IN-PERSON event at the Victorian Pride Centre for young people (aged 12 to 19) to attend. It'll also be streamed online, for anyone to tune into, no matter their age or location.
In-Person
If you're aged between 12 and 19, please join us at our home at the Victorian Pride Centre! Hang out with your fellow LGBTQIA+ youth community, ask our handpicked panel of everyday LGBTQIA+ professionals their burning questions, enjoy friendship facilitation activities, and enjoy live music after the panel!
NOTE: All visitors to the Victorian Pride Centre must be fully vaccinated against Covid-19, or have a medical exemption.
Tickets limited – don't miss out!
Online
No matter where you might be, you'll be able to tune into this panel event via Zoom. If you're a young person, tune in to see the Minus18 Young Leaders explore identity with some everyday queer peeps doing extraordinary things.
And if you're an adult? Tune in to see just part of the impact of your donations, and your support of Minus18: a program cultivating the next generation of LGBTQIA+ leaders.
NOTE: The online stream will start at 2pm AEST, but the event discussion itself will begin at around 2.15pm.
Registrations vital to receive Zoom link.
Key Info
Saturday 28 May 2022
2:00pm - 4:30pm (AEST)
Victorian Pride Centre, St Kilda (IRL!) or via Zoom (online)
FREE event!
Registrations essential
What to Expect
This event will be emceed by Minus18 Young Leader, Emmanuelle!
We'll hear from local queer heroes; learn of the amazing work they do and how they got to where they are
Friendship facilitation and other fun activities hosted by Minus18 Young Leaders
Special live music performance from Ed Moon after the panel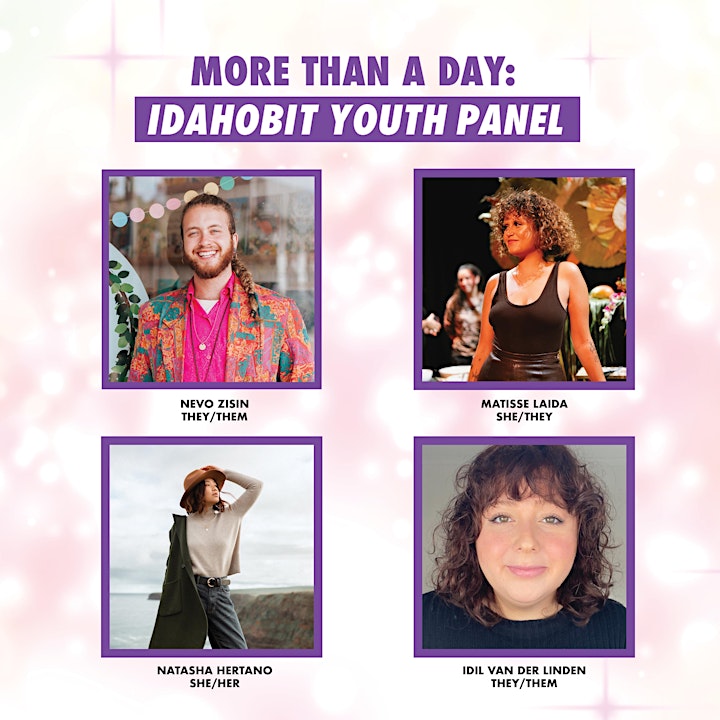 Meet the Panel
Nevo Zisin (they/them) is a queer, non-binary, Jewish writer, performer, activist and public speaker based in Naarm/ Birraranga / Melbourne. They run workshops in schools and professional development trainings in workplaces around transgender identities. Author of award-winning Finding Nevo (2017), a memoir on gender transition and The Pronoun Lowdown (2021) a useful guidebook on all things related to pronouns.
Nevo is one of Australia's very few transgender marriage celebrants and is strongly passionate about creating transcendent celebrations. They are a mentor for The Pinnacle Foundation, one of Out for Australia's 30 Under 30 for 2019, an ambassador for both Wear It Purple and the Victorian Pride Centre as well as a member of the Gender Euphoria cast - Australia's largest all trans & gender diverse show on a main stage.
Matisse Laida (she/they) is a 23 year old, queer, mixed race multidisciplinary creative with a cooking show and collaborative food platform @we.eatin.good.bitch.
They have experience in film, theatre, event curation, writing, podcasting and radio. Her podcast Braided (Produced by Artful Dodgers Studios), has appeared on ABC and 3RRR. Matisse is currently working on a play to be shown in June, a film to be screened in August, and starred in a queer documentary for DELL X PEDESTRIAN TV. She also works within the mental health sector as a QPoC youth advisor for organisations such as Orygen, TACSI and MSEI.
As an Afro-Mauritian and Venezuelan queer person , Matisse has a strong commitment to diversity and inclusion, and actively ensures that all spaces she works and creates in are as culturally safe as possible.
Natasha Hertanto (she/her) is a Chinese-Indonesian storyteller and dog-mom based in Naarm.
Her work can be found on Kill Your Darlings, ABC Everyday, Voiceworks, Archer, & more. Her novel-in-progress received the 2021 Hot Desk Fellowship and was highly commended for the 2022 Kat Muscat Fellowship. Her latest piece is part of an anthology titled 'Everything All At Once,' now out in bookstores.
Idil van der Linden (they/them) has worked as a youth worker for over 10 years with the last five years of their work aimed at delivering education on online behaviour and habits in young people.
Currently working in education and working towards a degree in Clinical Psychology, Idil has a passion for supporting young people and enabling them to have the power to make the right choices when navigating their lives online. They believe young people should have agency in their choices and work collaboratively to help young people achieve their goals.
Access
All attendees must be fully vaccinated against Covid-19 unless they have a medical exemption.
Auslan Interpretered event
Youth Workers will be available to provide support
Venue is wheelchair accessible
All gender bathrooms available
Further access information for the venue can be found here: Victorian Pride Centre Accessibility
Please note: the Victorian Pride Centre will be open to the public during this event. Only young people will be able to access our event space, but members of the public may be present around the venue.
COVID Safety
Please note: all attendees must be fully vaccinated and will be required to show proof of their COVID-19 vaccination status or medical exemption as a condition of entry.
If you're not feeling well, please stay home!

This event will be held on the lands of the Yalukut Weelam Clan of the Boon Wurrung people of the Kulin nation. We acknowledge their continued connection and contribution to land, water and community, and pay our respects to Elders past, present and emerging. Sovereignty was never ceded; this always was, always will be, Aboriginal land.