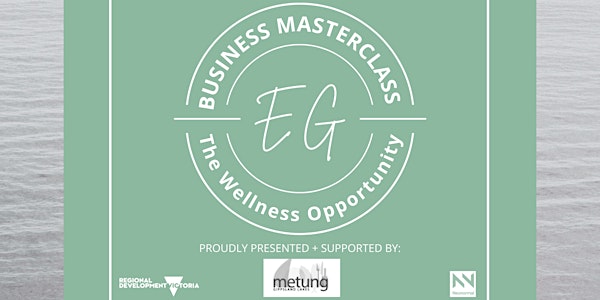 Metung Business Masterclass - The Wellness Opportunity
Location
Metung Hot Springs
73 Storth Ryes Avenue
Metung, VIC 3904
Australia
Inspiring action to adapt and thrive with practical ways for East Gippsland's traders to increase their wellness economy yield.
About this event
Our ambition is to create pathways for Gippsland traders to evolve and grow by capitalising on the wellness trends influencing visitors to our region.
Be inspired by regarded industry speakers; Charles Davidson Chairman of the Global Wellness Institute and Chairman of Peninsula Hot Springs, Alison Conroy from Destination Gippsland and Jo Surkitt, Wellness Educator and tourism experience commentator. Collaborate alongside business owners through co-design activities as you learn from the best.
"Wellness, hospitality and travel are converging in unprecedented ways. The wellness concept is transforming almost every aspect of tourism and lies at the intersection of two massive, booming industries: the $2.6 trillion tourism industry and the $4.2 trillion wellness market." Katherine Johnston and Ophelia Yeung, Global Wellness Institute Researchers.
Supported by Regional Development Victoria in conjunction with the Metung Business & Tourism Association and Neonormal brand engagement agency, this Masterclass is free to attend with limited capacity so book now.
Wednesday 22 June 2022
2.00pm - 5.30pm
Enquiries: office@neonormal.com.au