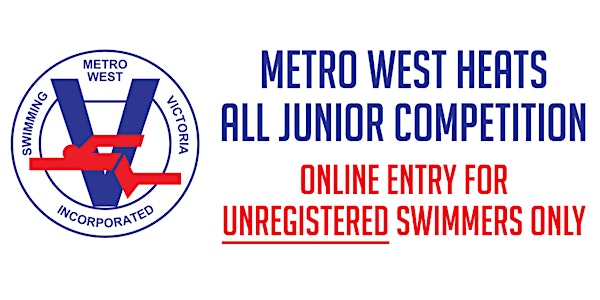 METRO WEST HEATS - SWIMMING VICTORIA ALL JUNIOR COMPETITION (2022)
This Online Entry Portal is for Unregistered Swimmers ONLY. All Swimming Victoria Registered Swimmers must enter via Swim Central.
About this event
The Metro West Heats of Swimming Victoria's All Junior Competition are being held on Sunday 27th February at the Broadmeadows Leisure Centre.
Unregistered Swimmers who wish to enter this competition can enter via this portal by clicking the TICKETS button above.
For full meet information, including the Meet Flyer, please visit the Metro West District website (www.metrowestvic.org.au).
Organiser of METRO WEST HEATS - SWIMMING VICTORIA ALL JUNIOR COMPETITION (2022)