Description
In the time of #MeToo, women's experiences of sexual harassment are finally being heard - but where to from here?
Join us for an evening celebrating International Women's Day as we consider women's rights and what action is being taken in our communities and the media to address gender inequality.
In a panel discussion with incredible women from across the community in politics, non-profits, law and activism, we will explore our collective power to challenge sexual harassment and sexism in all facets of our lives, and celebrate the breadth of our achievements thus far.
The evening will include:
A panel discussion with gender equality thought leaders

Nibbles and drinks provided by YWCA's social enterprise, Food for Futures

Prizes including sterling silver jewellery

Opportunity to network with like-minded people to support gender equality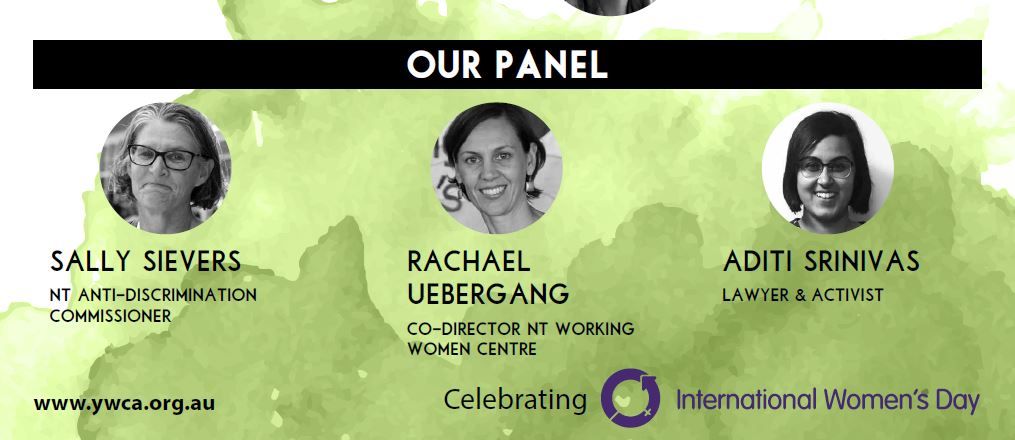 About the panel:
Laura Burfitt – YWCA Australia Young Women's Council (Moderator)
Laura Burfitt is a member on the YWCA's inaugural Young Women's Council and has a longstanding commitment to advancing the rights of women. Laura currently works in women's health policy for the Northern Territory Government Department of Health. Previously Laura worked with the Office of Gender Equity and Diversity in Territory Families where she helped develop the Northern Territory Gender Equality Framework.
Sally Sievers - NT Anti-Discrimination Commissioner
Sally Sievers has been a lawyer in the Northern Territory since 1988, practising within government, in private practice and as a Relieving Magistrate from time to time. She was appointed the Anti-Discrimination Commissioner for the Northern Territory in January 2013. As Commissioner, she has focused on the areas of race and disability discrimination and women's equality, in particular the impact of discrimination against women and families.
Rachael Uebergang- Co-Director NT Working Women Centre
As Co-Director of the Northern Territory Working Women's Centre (NTWWC), Rachael Uebergang is responsible for leadership and management of the organisation. The NTWWC delivers high quality industrial relations services to vulnerable women workers across the Territory and was winner of the inaugural NT Human Rights Award for Social Change in 2014.
Aditi Srinivas - Lawyer, Activist, Community Advocate
Aditi grew up in the Northern Territory and is eager to give back to the community that has given her so much. She is a lawyer specialising in Family law and Child Protection. Aditi has been a committee member of Ruby Gaea Centre Against Rape Inc. and is a cofounder of WHAT RU4 NT? the NT's largest prochoice lobby group that successfully advocated for law reform in 2017. She is a former board member of YWCA Darwin and is a passionate advocate of women's rights.
Trans and non-binary people are welcome at this event.
This event is wheelchair accessible.

**We acknowledge that this event takes place on the traditional lands of the Larrakia people. We pay our respects to elders past and present. Sovereignty was never ceded.
For more information:
Please contact Sulo Jahanath - sulo.jahanath@ywca.org.au