Series that brings Asia's HealthTech community online for discussion on innovation as we seek to scale new heights for health.
About this event
Topic for Upcoming Session
Mental Health Startups - On the Horizon
Mental health of societies and individuals has been brought to the fore with the extended impact of COVID-19, with the United Nations warning of a looming global mental health crisis. Meanwhile, over the past few years, investments in this area of need has been building up with Octopus Ventures' study showing that global venture capital investment in mental health technology increased almost five-fold between 2014 and 2019, to reach £580m in 2019. Mental health is proving to be an area of immense need and opportunity - even as we are awakening to it in mainstream discourse in Asia.
Join us for this session to discuss the emerging needs in mental health, how startups in Asia are rising to the demands, wherein lies opportunities for innovation and what are the challenges that need to be addressed.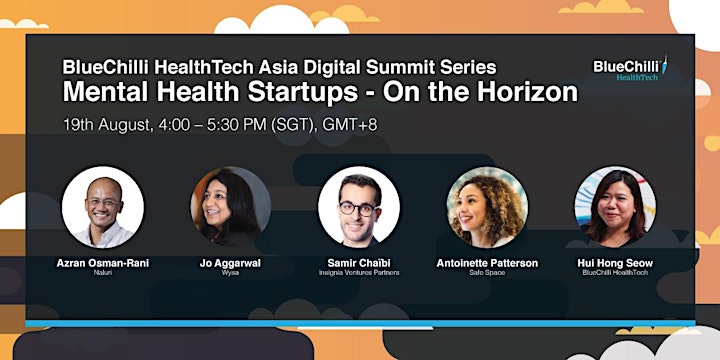 Speakers:
Antoinette Patterson, Co-Founder & CEO ,Safe Space
Antoinette Patterson, is the co-founder of Singapore-based digital mental healthcare startup, Safe Space™. With 10 years of startup experience and an avid mental health advocate, Safe Space™ combines her love for technology and positive social change.
Azran Osman-Rani, Co-Founder & CEO, Naluri
Azran Osman-Rani builds disruptive new businesses that challenge the status quo. His current venture, Naluri, is a digital health therapeutics startup looking to make chronic disease and mental health care more accessible and affordable.
He was previously CEO of iflix Malaysia, an internet television service for emerging markets, and founding CEO of AirAsia X, the first long-haul low-cost airline to go from startup to a US$ 1 billion revenue and a public listing.
Formerly an Associate Partner at McKinsey & Company, he holds a Masters degree in Management Science & Engineering and a Bachelors degree in Electrical Engineering, both from Stanford University.
Jo Aggarwal, Co-Founder & CEO, Wysa
Jo (Jyotsana) Aggarwal is the creator of Wysa, an empathetic AI coach for emotional wellbeing. Wysa is a leader in its field, with over two million users across 60 countries and is has won the NHS Impact Award in 2019 for its impact in adolescent mental health.
Jo has been the Managing Director of Pearson Learning Solutions in the UK and a part of the founding team of Silatech, a non-profit focused on youth empowerment in conflict zones in the Arab world. Her work on mobile employability post Arab-spring helped connect over a million young people to skills and jobs, and won the Silver at the Stevie Awards, as well as the Global Telecom Business Innovation award in 2013. She was recognized by the eLearning Center in the UK as one of the top three global thought leaders in education technology. She  is an advisor to edutech and assessment startups Edureka and Aspiring Minds. She has also served as an expert advisor to McKinsey & Co and National Skills Development Council. 
Samir Chaïbi, Principal, Insignia Ventures Partners
Samir Chaibi is a Principal at Insignia Venture Partners (IVP), a Southeast Asia-focused growth and venture investing fund with US $350M+ in AuM. Prior to IVP, Samir was a venture investor at STRIVE, a Tokyo headquartered VC fund deploying capital into seed rounds across Japan, Southeast Asia, and India.
Samir started his career in investment banking and private equity with Lazard (France) and Citigroup (UK) before transitioning to the Qatar Investment Authority (QIA), a US $400bn+ sovereign wealth fund. Samir also co-founded DocEx Legal, a legal technology startup, leveraging an experienced team of lawyers based in South Asia to solve the legal talent gap across the Middle East. Samir graduated from a three-year dual-degree MBA/MPA program at The Wharton School, University of Pennsylvania and Harvard University, John F. Kennedy School of Government with a focus on entrepreneurship, finance, and technology policy.
Seow Hui Hong, Business and Programme Director, BlueChilli
Hui Hong drives the delivery of the BlueChilli HealthTech Accelerator in Southeast Asia. She pulls together various stakeholders in the ecosystem and BlueChilli's in-house capabilities to see to a successful programme - building globally scalable HealthTech startups with founders and partners who are deeply relevant to problems worth solving. She had pursued innovation and entrepreneurship in diverse settings from building digital media startups to the founding of companies with public service character, SG Enable and Singapore Centre for Social Enterprise (raiSE), to enhance ecosystem support and scale impact from the ground up. She is an avid innovation practitioner who has designed and implemented service pilots with community and healthcare organisations and supported the development of early-stage startups using a human-centered design approach. Her stints in public policy making in the social and economic domains have developed her intuition in taking a systems approach to problem solving and building solutions to scale.
Hui Hong has also been active in the healthcare innovation space, working with a Singapore-based company to transform their active aging and senior care business for scale and collaborating with a Brisbane-based startup team to commercialise their medical device.
Agenda:
[1600 - 1610 hours]
Introductions by Mental Health Startups 
1. Antoinette Patterson, Co-Founder & CEO ,Safe Space
2. Azran Osman-Rani, Co-Founder & CEO, Naluri
3. Jo Aggarwal, Co-Founder & CEO, Wysa

[1610 - 1700 hours]
Q&A Discussion Panel

Antoinette Patterson, Co-Founder & CEO ,Safe Space
Azran Osman-Rani, Co-Founder & CEO, Naluri
Jo Aggarwal, Co-Founder & CEO, Wysa
Samir Chaïbi, Principal, Insignia Ventures Partners
Moderated by Seow Hui Hong, Business and Programme Director, BlueChilli
[1700 - 1715 hours]
Final Comments from Speakers and Closing
To Join the Webinar from a PC, Mac, iPad, iPhone, or Android device, please click this URL below:
https://us02web.zoom.us/j/88090842849?pwd=THJCWVlURTAwS1N6bVVlVHRkUXpkUT09
About the BlueChilli HealthTech Asia Digital Summit Series
Theme for 2020: Rising from Challenges Together
Purpose
With the ongoing COVID-19 pandemic, health providers and consumers alike have a more urgent impetus than ever to demand for more accessible, connected and distributed quality health solutions from diagnostics to disease management.
While we implement physical distancing and may be faced with various degrees of isolation, this is a time where we need to come together as a community to exchange knowledge, extend support and accelerate collaborations in order to rise from challenges of our time. This Digital Summit Series is our humble effort to provide a platform to convene discussions and facilitate such interactions across an open community of professionals and organisations that are actively working on health innovation and technology to address pressing needs in Asia. We intend to convene this event as a monthly virtual get together till at least the end of the year to provide some certainty and regular community support to look forward to in an exceptional time for all of us.
Let's turn adversities into a driving force for change and growth!
BlueChilli HealthTech Team
Who is this for?
Organisations and professionals who are actively working on health innovation and technology to address pressing needs in Asia, they include:
Executives from corporations and organisations implementing digital health strategies, who are looking at ways to meet their current supply gaps due to the challenges brought forth by COVID-19 pandemic as well as new growth opportunities
Startup founders and employees
Innovation ecosystem stakeholders (research organisations, policy makers)
Organiser of Mental Health Startups - On the Horizon