Meet the original King of Coffee Culture, Phillip di Bella - Inspiring Busi...
Description
Meet the Original King of Coffee Culture, Phillip Di Bella - Inspiring Business Event
Find out how Phillip Di Bella revolutionised the Australian coffee culture!
We've all experienced the disappointment that comes with an average cup of coffee, however Phillip Di Bella has made it his mission to change this.
Dissatisfied with the level of customer service and consistency within the coffee industry, Phillip started Di Bella Coffee.
His obsession with the perfect espresso has enabled him to build a coffee empire.
In the lead up to the Inspiring Business Event, Phillip shared with us how he turned his passion into a business.
EVENT DETAILS
Where: Inspire CA (Chartered Accountants) 32 Doggett st, Newstead.
Date: Wed 6th April.
Time: 5:30 pm - 8:00 pm
Cost: $50
Includes: UNLIMITED Food, Drink and Collaboration
Why: Because you're the average of the 5 people spend your time with, and your business is a reflection of you.
Limit: 50 #LoversOfBusiness
Cause: Remember 100% of the profits from an Inspiring Business Event, goes to Hummingbird House - QLD's only Children's Hospice.

Walk away with: Inspiration from 50x fellow #LoverOfBusiness and hear from a celebrated Entrepreneur, BRW performer and a disruptor of the coffee industry.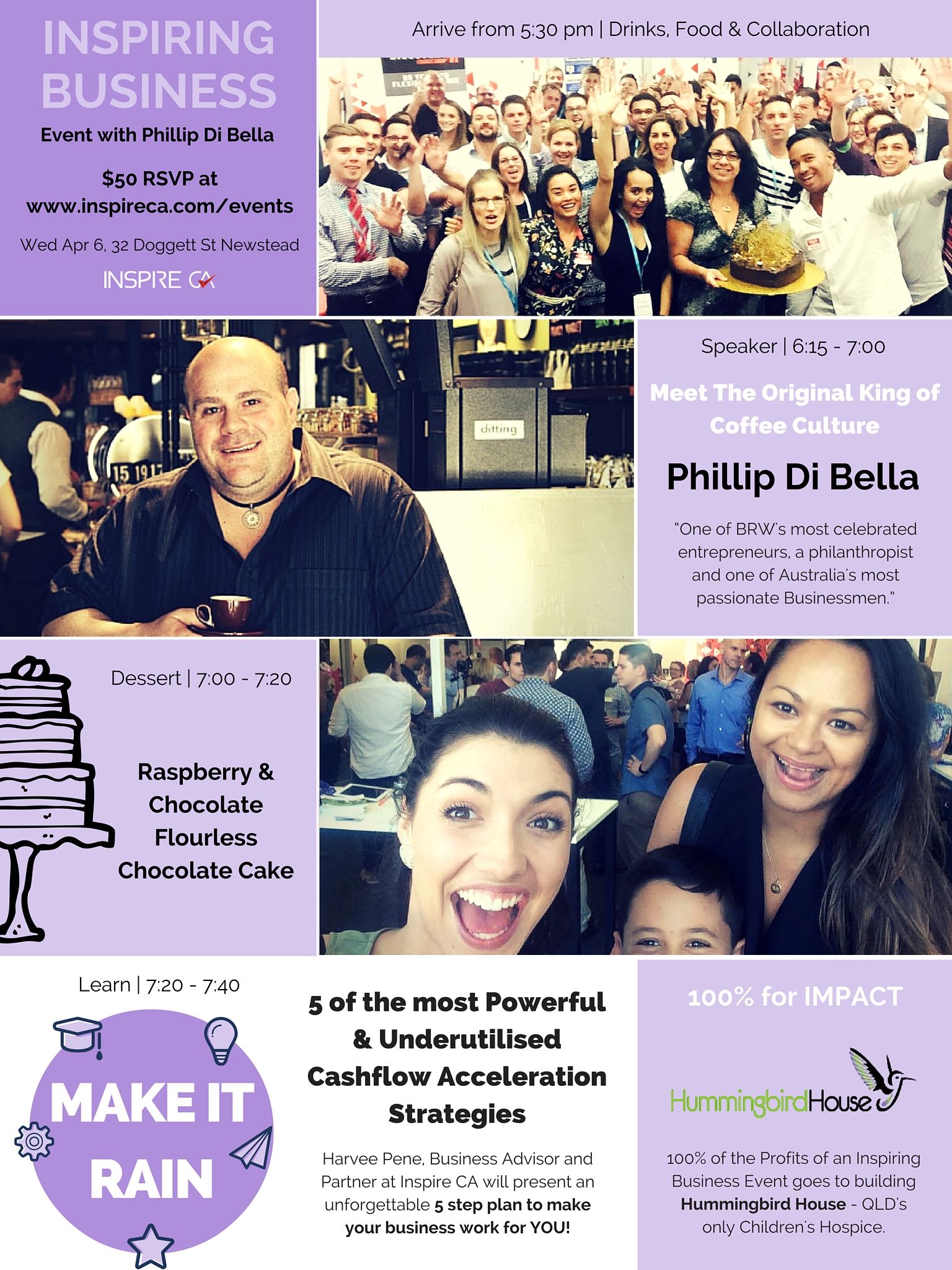 Organiser of Meet the original King of Coffee Culture, Phillip di Bella - Inspiring Business Event