Join us for a conversation with the artist Robin Hungerford as we explore some of the concerns in his work
About this event
Robin Hungerford is a Sydney based multimedia artist who is interested in the power structures which shape our lives and the narratives or fictions which uphold these structures and the general strangeness of the highly mediated spaces we find ourselves in.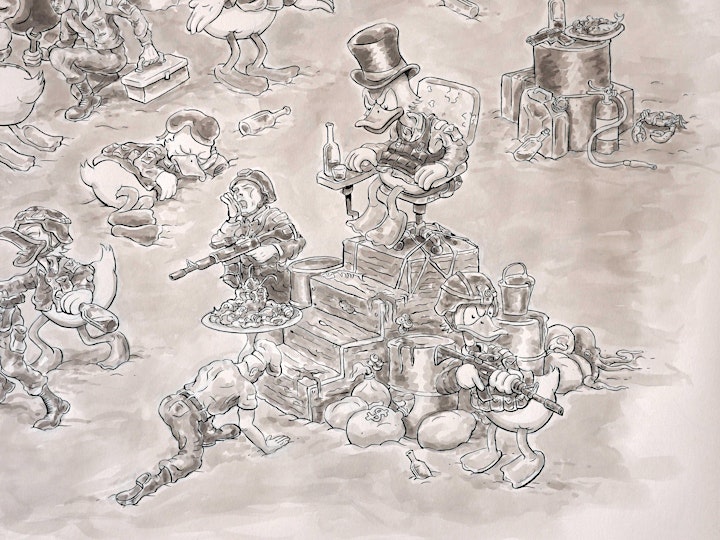 "Hungerford's chaotic spectacles subsume the viewer within the momentum they denote. Characterised by an unstoppable motion, his drawings require a movement of the body in order to survey the scenes in their entirety. In activating this human rhythm, Hungerford's practice takes us beyond spectatorship and into the cogs of the machine. The Wheel mobilises a scrutiny over the labour, inequity and exploitation of our contemporary world to question where within these systems we find ourselves and at what cost."
— from the exhibition text by Nikki van der Horst, 'The Wheel'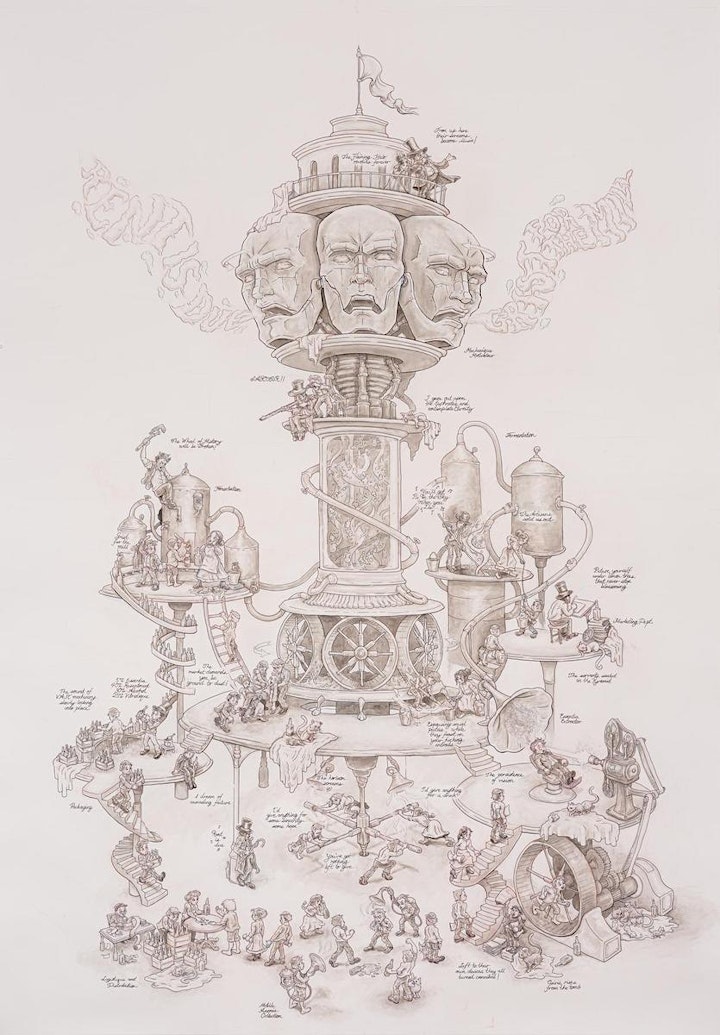 In his latest works Hungerford utilises the language of pre-digital illustration and animation as a means to explore and expose world- shaping fictions stripped of the obfuscating mesmerism and immersion of our contemporary digital universe.
In works such as The Wheel the artist references early film animation to convey the Sisyphean logic of our 'growth at any cost' society. The hypnotic loop in which we find ourselves trapped, a seamless and effortless illusion at first glance, may on closer inspection reveal itself to be powered by the exploitation of so many human hands. The artist mirrors this production process by displaying individual hand-drawn animation 'cels' alongside the video.
The artist talk event is in conjunction with a current solo exhibition, Robin Hungerford The Wheel, at Eden and the Willow, Sydney.
The Wheel, exhibition dates:
16 November – 4 December 2021