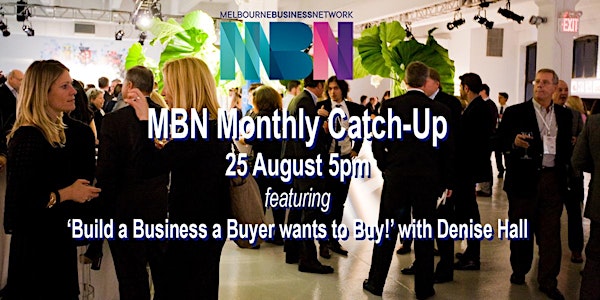 MBN Monthly Catch-up: 25 Aug | "Build a Business a Buyer wants to Buy!"
Location
Victory Lounge
416 Collins Street
Melbourne, VIC 3000
Australia
For this month's networking event, we'll learn about how to maximise the sale of your business, what buyers want, and how you can add value.
About this event
Welcome to the MBN August Monthly Catch-up!
This is your chance for members and friends alike to meet casually after work with fellow Melbourne based business people.
Our MBN Member and guest speaker for August is Denise Hall of Xcllusive Business Sales. She will present on the subject "Build a Business a Buyer wants to Buy!". Xcllusive is a national business sales, purchase and valuation business.
Denise will provide insights to many of the common questions and myths around selling your business:
What do buyers look for? Where could you be adding value?
Maybe exiting your business has been on your mind of late.
Maybe you think you're ready to exit tomorrow, or planning for 5 years' time.
The state of today's Business Sales Market from both the Buyers and Sellers point of view
Regardless, you'll be curious to know what potential buyers are thinking at the moment, before deciding on whether selling is an option and the tips on Building a Business a Buyer Wants to Buy.

About Our Presenter:
Denise Hall successfully built and operated her own consulting business over 14 years, which was strategically acquired in 2011 by another business in the same industry. Prior to that she had a professional career, including a 5 year stint as an international management consultant. As a result, she has worked across a broad range of industries including banking, mining, manufacturing, services, retail, education, HR and training etc. She has a Bachelor degree (in Training and Development) and is a member of the Australian Institute of Business Brokers and the REIV.
This event, held at Victory Offices' Victory Lounge, 416 Collins Street, is complimentary for MBN Members. Non-members will be charged $20 + GST and booking fee. Refreshments will be available at bar prices.
MBN MEMBERS: This session is free for members. Check your emails as you will be sent a link to access your complimentary tickets.
Not Yet an MBN Member? Become a member today and attend this event for free!! Details here: https://mbn.org.au/membership/
Please arrive from 5pm to network and mingle and formalities will commence from 5:45pm.
Lastly, have you heard about the MBN Business Awards? The Awards are now open and accepting applications: Click here.