Masterclass - Big Data Analytics for Financial Services Professionals (KL)

Thursday, 26 April 2018 at 9:00 am

-

Friday, 27 April 2018 at 5:00 pm (Malaysia Time Malaysia (Kuala Lumpur) Time)
Event Details
 The only purpose of Big Data is to produce "Actionable Tiny Data"!
Why You Should Attend:
Big data technology has become an important part of the financial services industry and will continue to drive innovation into the future. A number of organisations, such as Oversea-Chinese Banking Corporation, Securities and Exchange Commission (US) and Harley-Davidson, are already using Big Data to their advantage, offering unparalleled levels of convenience, returns and risk management.
This Masterclass is tailored specifically to the Financial Services industry. Attend the Masterclass and find the steps to take and leverage big data in your business. The Masterclass will allow leaders and professionals working in Financial Services organisations understand the benefits and opportunities of Big Data and become familiar with Big Data technologies, analytics and applications.
Since it was first defined in 2001, Big Data has made major advances into consumer lives and medium-to-large organisations. According to IDG, a global market intelligence leader, "From 2005 to 2020, the digital universe will grow by a factor of 300 to 40 trillion gigabytes", approximately the same as 625 Billion iPhone units.
This growth is driven by increasing connectivity for enterprises and by the business benefits Big Data can deliver. One example - substituting sampling with 100% analysis and automatic fraud detection performed by "Robocop", a US Securities and Exchange Commission initiative.
At the Masterclass delegates will study Big Data types, sources and major technologies and perform exercises using Big Data for pattern matching and analyzing datasets across business units.
Finally, at the end of Day 2, delegates will take part in an exercise, where they will prepare a Plan for a Big Data proof-of-concept project.
Download Masterclass brochure by clicking on the image below.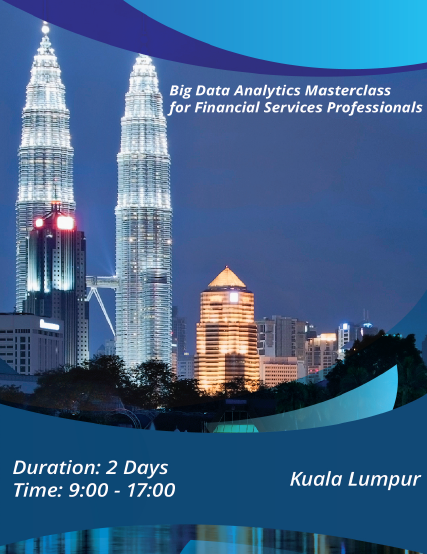 Major Benefits of Attending
 After completing this Masterclass, you will:
Understand

ways Big Data is used in Financial Services (FinServ), such as increasing financial and commercial targets, increasing cross-selling index, reducing management risk, increasing customer satisfaction index, provide better services to customers, such as strengthened security, etc.;

Use

types of Big Data sources within and outside FinServ organisations and ways to access them, such as Finance and Customer Relationship Management (CRM) systems, trading systems, Risk Management Systems and social media tracking systems.

Track data records from

Social Media feeds with customer comments and manage credit/reputation/liquidity/investment risk/equity, etc.

Know

four (4) modern Big Data technologies and be able to:

Understand

the application and functionality of each;

Evaluate

the benefits and weaknesses of each;

Receive

a step-by-step selection methodology.

Design and run

different types of Big Data analyses and visualisations, including:

How-to Build Artificial Intelligence (AI) models;
Using AI for specific tasks, such as identifying customer preferences or fraud;
Visualising the results of AI-based analyses.

Plan

easily for Big Data projects and understand success factors, potential roadblocks and required skills;

Take away

a fully functional Big Data environment, with four (4) Big Data technologies, Artificial Intelligence tools and datasets used for analysis;

Receive

full workshop slides and exercise instructions.
Who Should Attend

 

Investment Committee Members

Chief Investment Officers

Chief Risk Officers

Chief Customer Officers

Governance Professionals

Investment Analysts

Account Executives

Fund Managers

Fixed Income, FX and Derivatives Traders

Financial Planners and Advisors

Legal professionals

Data Scientists

Business Analysts

Fraud analysts

 
Masterclass structure:
The business drive for Big Data, including analysis of three (3) real-life case studies in Financial Services

Overview, characteristics and types of Big Data

Participant round-table discussion: State of Big Data in your industry/organization

Identifying and accessing Big Data sources
Four (4) key Big Data technologies

Functionality and applications
Analysis of benefits and weaknesses
Practical work: Performing analytics with each individual technology

Overview of Big Data Analytics, Artificial Intelligence and Visualization options: definition, types and applications
Key success factors in planning and implementing Big Data
Practical Work: Performing Big Data analytics; Planning for a proof-of-concept Big Data project
Download Masterclass brochure here.
Your instructor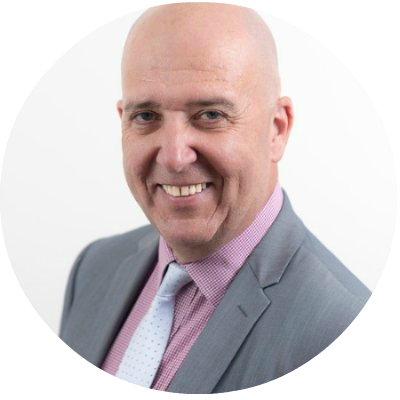 MARIO BOJILOV is a Certified Information Systems Auditor (CISA) and a Lecturer in Accounting Information Systems who has worked in the area of Data Analytics and Business Improvement since 1994. He has also delivered a number of industry training courses in Australia, UAE, Singapore and Malaysia.
Mario Bojilov holds a Master of Engineering Science Degree from the University of Queensland, a Graduate Diploma of Applied Finance and Investment from the Financial Services Institute of Australasia (FINSIA) and is currently a PhD Candidate with a research topic in the area of Using Artificial Intelligence for Cybercrime Detection and Prevention.
Mario founded Meta Business Systems in 2004 of which he is the current Chief Data Strategist. The company is focused on business improvement, performance monitoring and data governance. A number of Government and Higher Education organisations, such as Griffith University, Brisbane City Council, Queensland Urban Utilities and Queensland University of Technology have used solutions designed and implemented by Meta Business Systems. Projects managed and delivered by Mario Bojilov and his team covered a variety of key business processes, such as Payroll, Finance, Procurement, Revenue Management, Treasury, HR and others.
Mario Bojilov has co-authored the following articles: Privacy and Big Data and Continuous Auditing and Continuous Monitoring in ERP Environments: Case Studies of Application Implementations.
Check out Mario's LinkedIn profile at https://www.linkedin.com/in/mariobojilov/
Have questions about Masterclass - Big Data Analytics for Financial Services Professionals (KL)?
Contact MBS Academy
When & Where

Securities Commission Malaysia
3, Persiaran Bukit Kiara Bukit Kiara
Federal Territory of Kuala Lumpur, 50490
Malaysia

Thursday, 26 April 2018 at 9:00 am

-

Friday, 27 April 2018 at 5:00 pm (Malaysia Time Malaysia (Kuala Lumpur) Time)
Add to my calendar
Organiser
We are a training institution focused on providing Business and Technology related training events, delivered by experts. Our events have strong focus on practical work - scenarios, exercises, case study analyses. 
https://mbs-academy.com.au