Master Builders National Excellence in Building and Construction Awards
Description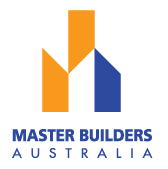 The prestigious 2016 Master Builders National Excellence in Building and Construction Awards will be presented at a dinner in the Great Hall, Parliament House, Canberra on Thursday 24 November.
Dress: Black tie
Reservations may be made for individuals or groups. A table consists of 10. If you do not know the names of all your guests, you can still proceed with your booking.
Guest names must be updated on your booking no later than 11 November.
Tickets are $245 each and you will automatically receive a tax invoice when your transaction is complete.
If you have any special requirements not covered in the registration process, please contact the organiser.
Registrations will close 4.00pm EST on Friday 11 November if not sold out earlier.
There will be no refund for cancellations after 11 November.