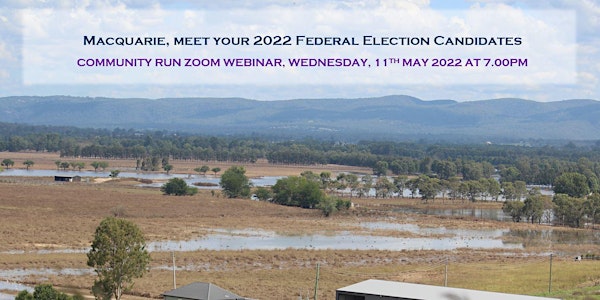 Macquarie Electorate Meet The Federal Candidates 2022
Community run candidate forum for the Macquarie electorate for the 2022 Australian federal election.
About this event
Macquarie is Australia's most marginal seat.
There are 8 House of Representatives candidates running for Macquarie in the 2022 federal election.
Make good use of your vote by finding out all you can about those candidates before you decide.
Our forum is being run via Zoom Webinar, hosted by 6 community groups and The Hawkesbury Post.
MC for the Forum is Tony Bosworth, Editor, Hawkesbury Post.
As at 8.30pm on Monday 9th May 2022, the candidates who have accepted the invitation to attend are:
Susan Templeman MP (Labor)
Tony Pettit (One Nation)
Sarah Richards (Liberal)
Greg Keightly (Animal Justice Party)
Nicole Evans (United Australia Party)
Tony Hickey (The Greens)
Candidate registrations will remain open until the day before the forum. The above list will be updated if there is any change.
Grab your free ticket, tune in and get a good look at your candidates.