Description
To recognise the 25th anniversary of the MABO decision the Don Dunstan Foundation present the screening of MABO
Please join us for light refreshments with special guest speakers followed by the screening of 'Mabo'. Entry is by a gold coin donation on entry but please book your place to avoid disappointment.
Starring Jimi Bani as Eddie Koiki Mabo and Deborah Mailman as his wife, Bonita Mabo, the film portrays the successful legal battle waged by Eddie Koiki Mabo to bring about native land title legislation.
In 1973 Eddie 'Koiki' Mabo was shocked to discover that the ownership of the land his ancestors had passed down on Murray Island in The Torres Strait Islands for over 16 generations, was not legally recognised as theirs.
Rather than accept this injustice, he began an epic fight for Australian law to recognise traditional land rights. Eddie never lived to see his land returned to him, but the name Mabo is known in every household throughout the country.
In January 1992, at only 55, Eddie died of cancer. Five months later the High Court overturned the notion of terra nullius. Underscoring this epic battle is Eddie's relationship with his wife Bonita. MABO is as much a love story as a document of one man's fight to retain what he believed was legally his.
The screening will be held at Braggs Theatre, North Terrace, The University of Adelaide. See the North Terrace Campus Map here.
---
You may also be interested in other events the Don Dunstan Foundation is hosting during National Reconciliation Week including:
---
Presented by the Don Dunstan Foundation, in collaboration with Reconciliation SA, Finders University, The University of Adelaide, BHP Billiton and the South Australian Government Aboriginal Affairs and Reconciliation Division.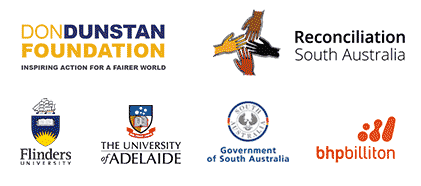 Organiser of Mabo Screening - Reconciliation Week Screening
The Don Dunstan Foundation is a thought leadership organisation established to inspire action for a fairer world and to build on the legacy of the late Premier Don Dunstan.
We are a registered charity and focus on social justice issues through public events, collaborative projects and research. Our current areas of focus, as set out in our 2016-2020 strategic plan, are:
 

Exploring new ways to address homelessness in particular with the focus on ending street homelessness in the inner city as part of the 

Adelaide Zero Project

.

Helping improve individual and community mental health primarily though a range of events and commissioning research.

 

Analysing the opportunities and challenges of migration by supporting a

Migration

 and Population Growth Network with the Committee for Adelaide and a Migration and Refugee Research Network (MARRNet) with a broad range of organisations.

 

Supporting Aboriginal economic empowerment by working with the Leaders Institute of South Australia and reconciliation though our annual Lowitja O'Donoghue Oration.

Growing the purpose economy in South Australia through the Thinkers in Residence Program that brings experts from around the world to help us develop a more purposeful economy that is able to achieve the highest levels of social, cultural and environmental impact.