Location
Lane Cove National Park
River Avenue
Chatswood West, NSW 2067
Australia
An educational saunter along three sections of the River Avenue Bushcare site in Lane Cove National Park (NSW)- a generation of restoration.
About this event
A pre National Tree Day (NTD) educational saunter along three sections of the River Avenue Bushcare site in Lane Cove National Park, highlighting the importance of long-term community involvement in successful regeneration projects and the logistics behind planning for NTD events which attract hundreds of volunteers.  The President of the Friends of Lane Cove National Park, Tony Butteriss, will be doing the talking and AABR members and supporters will be walking on Saturday afternoon, 16th July, 1-3pm.
The first section of the walk will be looking at a combination of community planting and regeneration over several years.
The second section will be observing the successful regeneration of Salt Marsh and other riparian areas.
Third section, the Fairyland walk, will present a comparison of outcomes in areas that had been burnt in both the 1994 and 2011 fires with the regenerated and planted areas.
The River Avenue bushcare site has received numerous grants including two from the Environmental Trust, DPI Fish Habitat and a recent Federal Government Community Environment grant. There is a mix of bush regeneration in areas that have good resilience and EECs and areas badly affected by past practices where the group has undertaken a program of community planting particularly utilising National Tree Day since 2019.
With the rallying cry of the UN Decade on Ecosystem Restoration 'What will you restore?' and a call to be part of the restoration generation, this explanatory walk will provide lots of lessons learned and highlight a critical element of this restoration project, a community drawn together for over a generation under the banner of The Friends of Lane Cove National Park , committed to the call and committed to restoration.
MEETING POINT
Opposite 114 River Avenue, Chatswood West.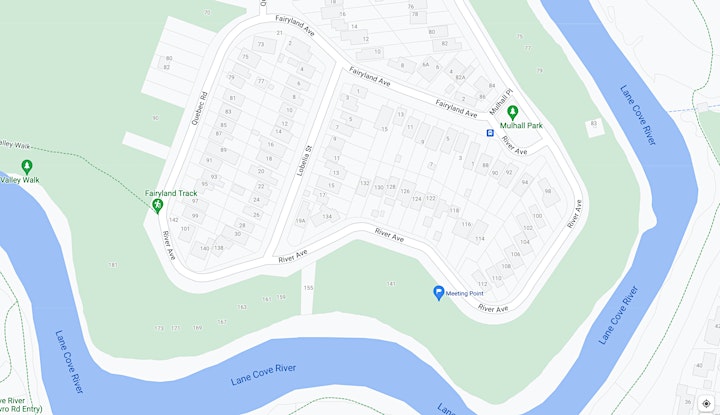 Keeping calm with COVID
AABR will continue to ensure all events are as COVID safe as possible, will comply with all COVID rules and will communicate all requirements prior to events.