Long Table Canapés 2018 Economic Update @ Macquarie Bank
Description
The SGLBA invites you to join us and presenting partner, Macquarie Bank, for the 2018 SGLBA Long Table Canapés economic update.
Now in its third year, this event continues to be popular amongst SGLBA members and guests as Macquarie Bank presents its outlook for the year ahead. For business owners, the global, social and political changes impact performance, growth and stability. As we approach both a NSW State election and Federal election in 2019, there's never been a more important time to hear what economic trends lie ahead for you and your business.
This year, we are delighted to be joined by event partner, the NSW Business Chamber, and look forward to welcoming members from the chamber, including its exclusive CEO Club.
Tickets are strictly limited. We look forward to you joining us and encourage you to take the opportunity to grow your professional network, as we connect Community to Business.
Refreshments and canapés will be served following the presentations.
Dress code
Business / smart casual
Agenda
5.45pm - Registration / Doors open
6.05pm - Welcome – Mark Haines, SGLBA
6.20pm - Economic update – Jason Todd, Macquarie Bank
6.55pm - Guest Presenter, Macquarie Bank
7.15pm - NSW Business Chamber update – Jo Spencer, NSW Business Chamber
7.25pm - Facilitated networking + Drinks and Canapés, Christopher Brooks, SGLBA
8.00pm - Event close
About Long Table

Canapés
SGLBA's Long Table Canapés is the Association's premium content-led networking event.
It is attended by entrepreneurs, business owners, and corporate employees, all looking to grow their business and attribute tangible return-on-investment to their networking activity.
Usually attended by between 40 - 70 people, it is an intimate, professional environment conducive to increasing one's professional network, promoting one's business, and gaining new insights.
Like all SGLBA events, we invite everyone to attend. It is open to members of the LGBTI community, and its allies.
This will be an exceptional evening, with a diversity of topics and speakers. We look forward to seeing you at the event.






---
Your presenters for the evening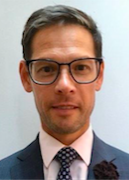 Jason Todd: Head of Wealth Management Investment Strategy at Macquarie Group
Jason's career started with JPMorgan New Zealand as their Equity Strategist in 1996. Whilst working with JPMorgan he spent time in Sydney, London and New York in a key Strategist role until 2007.
Following this, Jason joined Morgan Stanley New York as US/Global Strategist where he remained until 2010 before moving to Asia. Jason most recently was Regional Asian Strategist and Head of Hong Kong / China Equities with CIMB and Head of Australian Macroeconomic Research for Macquarie Bank.
Jason currently is a Division Director with Macquarie Bank Limited in their Banking & Financial Services Group and is Head of Investment Strategy Wealth Management. Jason is a Chartered Financial Analyst and based in Sydney.
Eoghan Trehy, Head of Business Bank Insurance.
Eoghan will be talking to digital disruption in the insurance industry and how companies are using this to drive opportunity and business resilience. Eoghan recently hosted a summit on InsurTech and the innovation technology presents for companies.