Description
Our education collaboration with Dyson aims to engage the minds of young children through STEM education using Dyson technology to demonstrate what's in the air.
During the workshop, educators will acquire skills in inquiry-based STEM learning to support children's natural curiosity and inquisitiveness in scientific research. The Dyson segment will bring an additional angle to the topic, by leading an exploration in air quality technology, encouraging educators to investigate what's in the air with the children in their service.
Following the workshop, participants will receive a complimentary Dyson Pure Hot+Cool™ purifying fan heater that can sense, capture, project, heat and cool you – with one fan allocated per service. You will be well resourced to illustrate what you've learnt and to help start your children's own journey of discovery.
In order to qualify for the complimentary Dyson Pure Hot+Cool™ purifying fan heater, services must register a minimum of two educators per booking.
This STEM learning opportunity will help you:
learn how early education can foster children's metacognitive development

uncover how communication, reflection and questioning enhance children's ability to think about their own learning

experience the effects of different prompts and questions on the learner

explore air through touch, sound and movement

benefit from the exchange with like-minded educators and reflect on your current practice

feel confident in unlocking the wonders of STEM.
You will also receive comprehensive materials with lots of STEM ideas and information about inquiry-based practices.
Good to know: This workshop provides educators and teachers with a variety of tools and educational concepts the aligns with the NQS and the EYLF.
Little Scientists is endorsed to provide NESA Registered Professional Development for teachers accredited at Proficient Teacher level. Each workshop counts as five hours and 30 minutes of PD.
Little Scientists workshops are TQI registered professional development. Attending a workshop will contribute to five hours of TQI Registered PD.
Date: Wednesday, 30 October 2019

Time: 9:15am for a 9:30am start. Workshop finishes at 4:30pm

Location: Taylors Hill Youth Centre, 121 Calder Park Dr, Taylors Hill, VIC 3037
Public transport: Bus routes 461 and 462 stop near Taylors Hill Youth Centre
Parking: Free parking is available within the vicinity of the venue
Further information: Wear clothing suitable for hands-on activities and experiments.

Cost: $230 for two participants*. Ticket cost includes morning and afternoon tea. Please BYO lunch.
*In order to qualify for the complimentary Dyson Pure Hot+Cool™ purifying fan heater, services must register a minimum of two educators per booking.
Who? This workshop is suitable for all educators and teachers and prior STEM knowledge is not required.

Facilitator: Jessica Murphy, Little Scientists trainer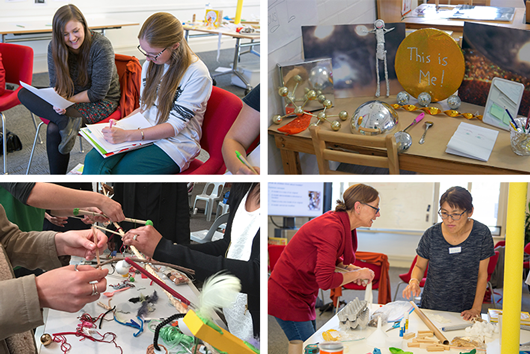 Bring a friend. We know from experience that people who come along with a friend or colleague tend to get more out of the workshop. If you know someone who'd benefit from this workshop, send them this link to find out more and join your workshop.
Please note: The workshop is for educators and teachers only and it is not suitable for children to attend.
Questions? Email us at workshops@littlescientists.org.au