Both Lithium and Hydrogen become leading technologies in the global drive to zero emissions. Do they compete, or complement each other?
About this event


Lithium and Hydrogen - Zero Emission Innovation Summit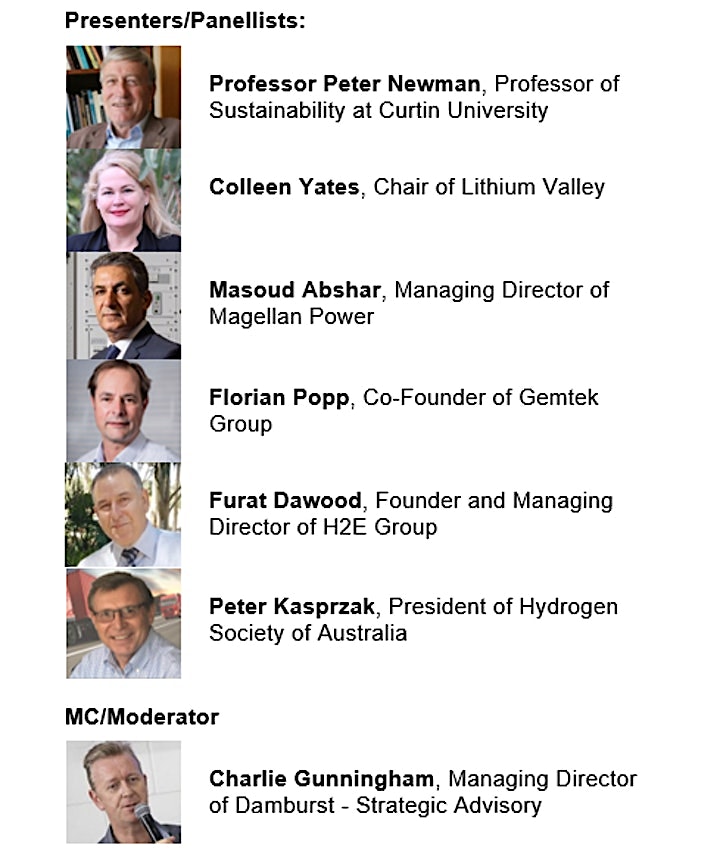 According to Business News, looking to the 2020s and beyond, WA is to remain a leader in autonomous mining, and embrace opportunities producing lithium and hydrogen for an anticipated green energy boom.
Two lithium-refining projects are under development in WA, with more planned. The Tianqi operation in Kwinana is the largest.
For hydrogen, research is underway at Hazer Group, and includes renewable hydrogen projects at the Gold Fields Agnew mine.
In the case of Electric Vehicles (EVs), both hydrogen fuel cell electric vehicles (FCEVs) and plug-in battery electric vehicles (BEVs) produce no direct emissions, and energy to power both types of vehicles can be generated domestically, from renewable sources such as solar, wind or biomass.
When it comes to energy storage and microgrids, T&D World magazine recently pointed out that uninterrupted power is key to virtually every aspect of mission-critical public operations and to maintaining civil and military services, especially in emergencies. Alkaline fuel cells extracting hydrogen to generate long-duration backup power to sustain mission-critical assets can play a significant role in an energy sector in which the distributed energy resource (DER) topology is increasingly common. As a result, it is simultaneously meeting two key objectives — on the one hand, fuel cells supply independent power for as long as the grid is not available and on the other hand, the stored energy in the fuel cell can instantly deliver power to the grid to avoid loadshedding and to support peak power demands.
Innovate Australia, hand in hand with Regional Development Australia-Perth, have been at the forefront of promoting lithium and hydrogen in Western Australia, organising together a number of events as well as being the driving forces behind respectively creating the Hydrogen Society of Australia and the Lithium Valley organisations.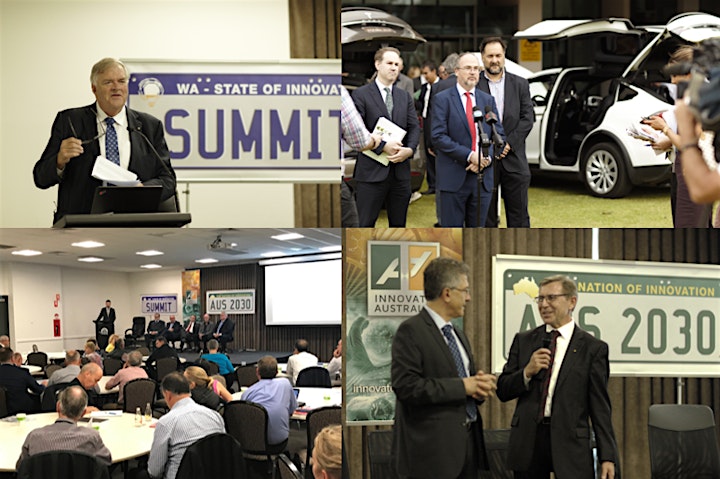 Above: The Honourable Kim Beazley AC, Governor of Western Australia, during the opening proceedings of Innovate Australia/Regional Development Australia-Perth's Advanced Materials Summit on 24 May 2018 in RISE, Maylands. Outside, with the background of two Tesla X EVs, the Hon. Bill Johnston MLA, Minister for Mines and Petroleum, Energy, Industrial Relations officially launching thhe Western Australian Taskforce to oversee Lithium and Energy Materials Strategy. Distinguished panel, including Phil Thick, General Manager of Tianqi Lithium Australia. Innovate Australia's tandem, Associate Professor Adam Osseiran and Peter Kasprzak.
Above: Senator the Hon Linda Reynolds CSC, Minister for Defence, at the Hydrogen Highway - Zero emission Highway project for heavy transport event. Bottom left: the first meeting of the Hydrogen Highway group. Bottom right: the recent Zero Emission Highway event by Hydrogen Society of Australia, co-sponsored by Innovate Australia and Regional Development Australia-Perth.
About Regional Development Australia
Regional Development Australia (RDA) is a partnership between the Australian, state and territory and local governments to support the growth and development of Australia's regions. RDA Perth, previously part of the area consultative committees, was established in 2012 to focus on the Perth region.
RDA Perth's mission is to focus on being an effective and respected collaborator within the community and across all levels of government. We aim to harness all opportunities through collaboration and partnerships, aligning ourselves with stakeholders and working together to achieve success that benefits all our communities.
About Hydrogen Society of Australia
The Hydrogen Society of Australia was launched in January 2018 by representatives of Innovate Australia, Woodside and Siemens. The Hydrogen Society of Australia is dedicated to promoting the significance of hydrogen as a clean fuel and energy storage solution and increasing the visibility and use of hydrogen.
Other activities include fostering international collaboration to drive the global growth of the hydrogen sector, encouraging collaboration between hydrogen industry stakeholders, engaging all levels of government, as well as scientists, academics, the business community and the general public, organising a wide range of hydrogen-related events and demonstration projects, developing effective strategic policies and initiatives to positively influence political processes and compiling and disseminating hydrogen industry information.
Lithium Valley is a concept and is an initiative driven by Western Australian companies that are dedicated to facilitating and enabling the development of secondary and tertiary processing of lithium and critical raw materials (such as cobalt, vanadium, graphite and rare earths) in Kwinana, just south of Perth.Located in the Western Trade Coast area, Kwinana is one of the most integrated, efficient and productive industrial estates in the world, servicing oil & gas, petrochemical, defence, resources and agricultural sectors for over 60 years. Lithium Valley offers a highly skilled work force, refining, fabrication, chemical, services and a vast support industry.

Supporters and Collaborators