Sales Have Ended
Registrations are closed
Thank you from Lip Sync Roulette! Performers: If you're unable to attend, be sure to refund/cancel your ticket so that we can give your spot to someone else! Details on how to access the event will be sent to you via email.
Sales Have Ended
Registrations are closed
Thank you from Lip Sync Roulette! Performers: If you're unable to attend, be sure to refund/cancel your ticket so that we can give your spot to someone else! Details on how to access the event will be sent to you via email.
Drag performers Lip Sync Battle in an online game show for REAL CASH PRIZES! Vote for a winner, and crown your fave; All free on FB LIVE!
About this Event
Welcome to Lip Sync Roulette!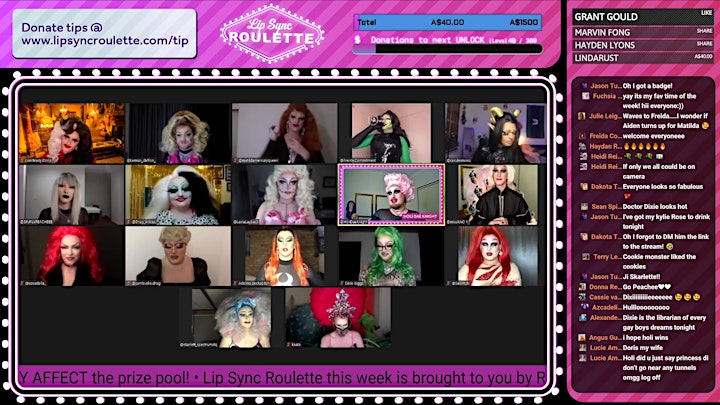 What is it?
Lip Sync Roulette is an amazing online social game, designed to test a drag performer's nerve, AND their improvisational skills, all broadcast live for your entertainment!
Players take turns battling it out in a online lip sync battle - But the catch? They don't know what song they're going to be performing, until it starts playing! The winner of each round is determined by your votes, and goes in the running to win ACTUAL money.
When and where can I watch?
We currently run a live game every Sunday from 7:30, broadcast directly on our facebook page here. That's where you can comment, vote, or follow our donations link to tip the show! You don't even need to buy a ticket, you can just like our page, and we'll send a notification straight to you just before we start!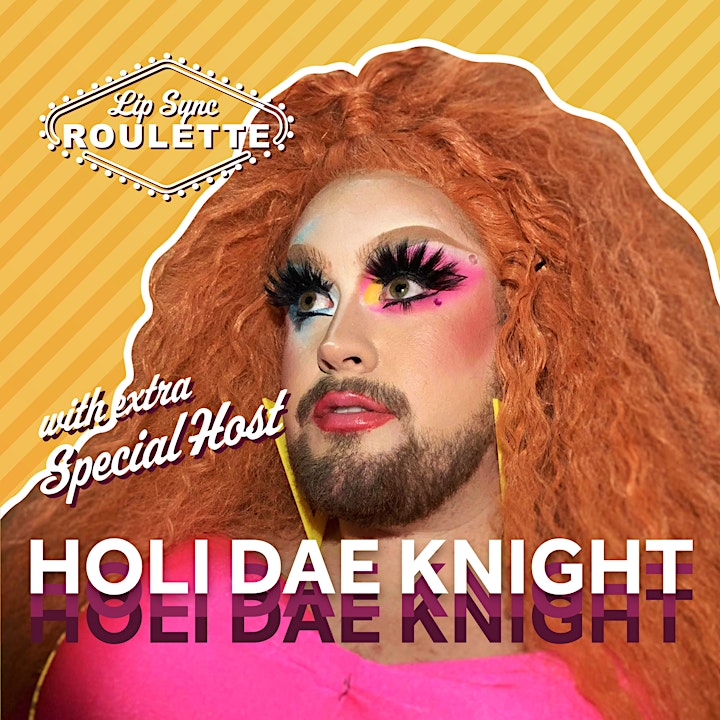 Do I need to reserve a ticket?
Ticket reservation is completely optional - You can just jump on our facebook page (facebook.com/lipsyncroulette/live) to watch our live broadcast from 7:30 each Sunday!
How much does it cost?
It costs just as much as any other drag show in the US - As much as you want it to!
Our performers compete for a share of the total Donations generated over the course of the show, so the total prize pool that is up for grabs is entirely dependant on the generosity of the patrons.
If you're still not sure how much to donate, just imagine you're at the bar and you wanna buy a performer a drink after putting on a STELLAR show! (or, to bolster their spirits after a complete flop!) That's usually a good point of reference.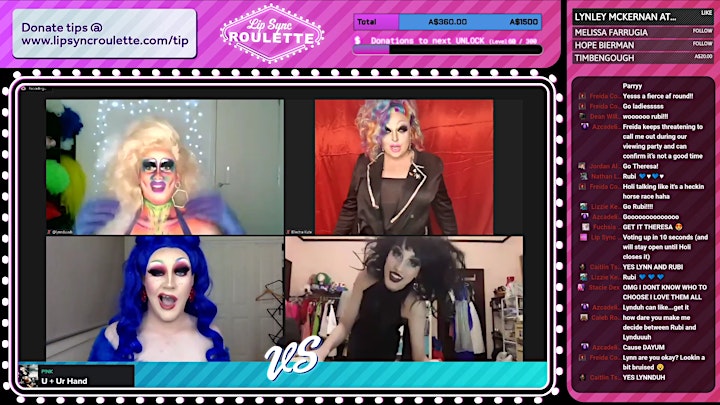 Are there any other fun features I should know about?
Of course there are! We have two added features that we use, just to spice things up a little! Both are designed to add an element of suspense and fun!
Lady Luck - has the power to re-shuffle a song in any round except the Finale. Once activated, Lady Luck will appear and performers will have to act quickly to adapt to the new song playing.
Every week the top five donors are shuffled and one is selected as Lady Luck for the following week. The donor is notified the Friday before the show and is kept private. Lady Luck's re-shuffle can only occur once per show, and only in the first 4 rounds. A donor selected as Lady Luck can also choose NOT to use this ability, but it will not bank (use it or lose it)
The Roulette Seat - We have decided to only make 14 seats available to the first performers to register for them, and we have decided to let fate decide who takes the 15th and final seat!
We found that as we were growing, our shows were starting to book out weeks in advance, forcing performers to wait longer and longer before they could even participate! So to combat that, we STRONGLY urge any player who won something in their show, not to register for the next one (except for first place of course - we reserve a spot for you next week! You gotta defend that crown!)
This allows us to Roulette off the final position to any and all players on the wait list! So next time you see that one of our shows is fully booked, be sure to register, and pray that it's YOUR name we're shouting on the Facebook page!
(The Roulette Seat will be drawn at midnight, 2 days before the show, so if you haven't registered by then, you'll miss your chance! You'll also receive an email when your ticket is available to register for!)
I'm a drag performer: Can I play?
ABSOLUTELY! If you're a drag performer and you'd like to play with us, register your interest by claiming one of the free tickets on this event! We will send you a link to a conference call to join at least half an hour before the show starts, so be sure that you're stage-ready and online by then!
(we utilise zoom.us for all of our streams. It's free and accessible from almost any web browser that exists! If you are having any technical issues, we're more than happy to help out during the pre-show meeting.)
First time playing with us?
Here's a few tips and tricks to get you started:
The Playlist (https://open.spotify.com/playlist/5bdHZZMxccdOFu3MZHloJF?si=VKJqoGBQRa6i6JgjeKHVwQ)
We have carefully constructed a playlist of roughly 30 tracks from pop music from all across the board! Some of our performers study it religiously - Some of them blatantly ignore it for the sheer thrill of the ride! The choice is yours! (though we do recommend at least looking at it, just once!) Once a song is played, it is shuffled OUT of active play for the next week, and will be shuffled back in at a later date.
Zoom: (https://www.zoom.us/)
It's conference calling, for free, from almost any web browser you have access to. We'll send you a link, and a unique password for the week to access the showroom. Feel free to play with virtual backgrounds, multiple camera inputs, etc. The Zoom platform is at your disposal.
Reserve your ticket
This is a very important step - If you don't take a ticket for the show you want to compete in, you may not be able to participate! We have a maximum capacity of 16 performers every week, so once 14 tickets have been reserved, you'll need to join the wait list and hope you spin up on the Roulette Seat!
(Of course if you're just watching, you don't need to grab a ticket - you can just jump on our Facebook page when the event is starting, and watch the broadcast for free!)
And just remember..... You got this!
Don't be nervous! The idea of roulette is that it levels the playing field! No performer knows what song is coming up, so nobody expects you to know what you're doing! It's a great way to develop your improvisational skills, as well as your stage presence!
Any of our previous winners will tell you - the secret to a spectacular show is owning it. Make the audience love you, good show or bad, and you'll find yourself snatching first place in no time!