Description
Join me for our 8-Week LinkedIn update webinar
LinkedIn is undergoing huge changes with their platform.
These changes will greatly impact our businesses...
Especially if you use LinkedIn for lead generation or content marketing.
To become Influential in your industry you need to stay ahead of the game by aligning your content strategy to meet LinkedIn's new requirements.
THIS IS VERY IMPORTANT.
If you understand "WHY" or at least have the desire to understand exactly "HOW" to become a LINKEDIN POWER USER and become a respected INFLUENCER in your industry...
This training is for you.
I'll show you how to apply our proven methods throughout the training that will help you achieve results like these: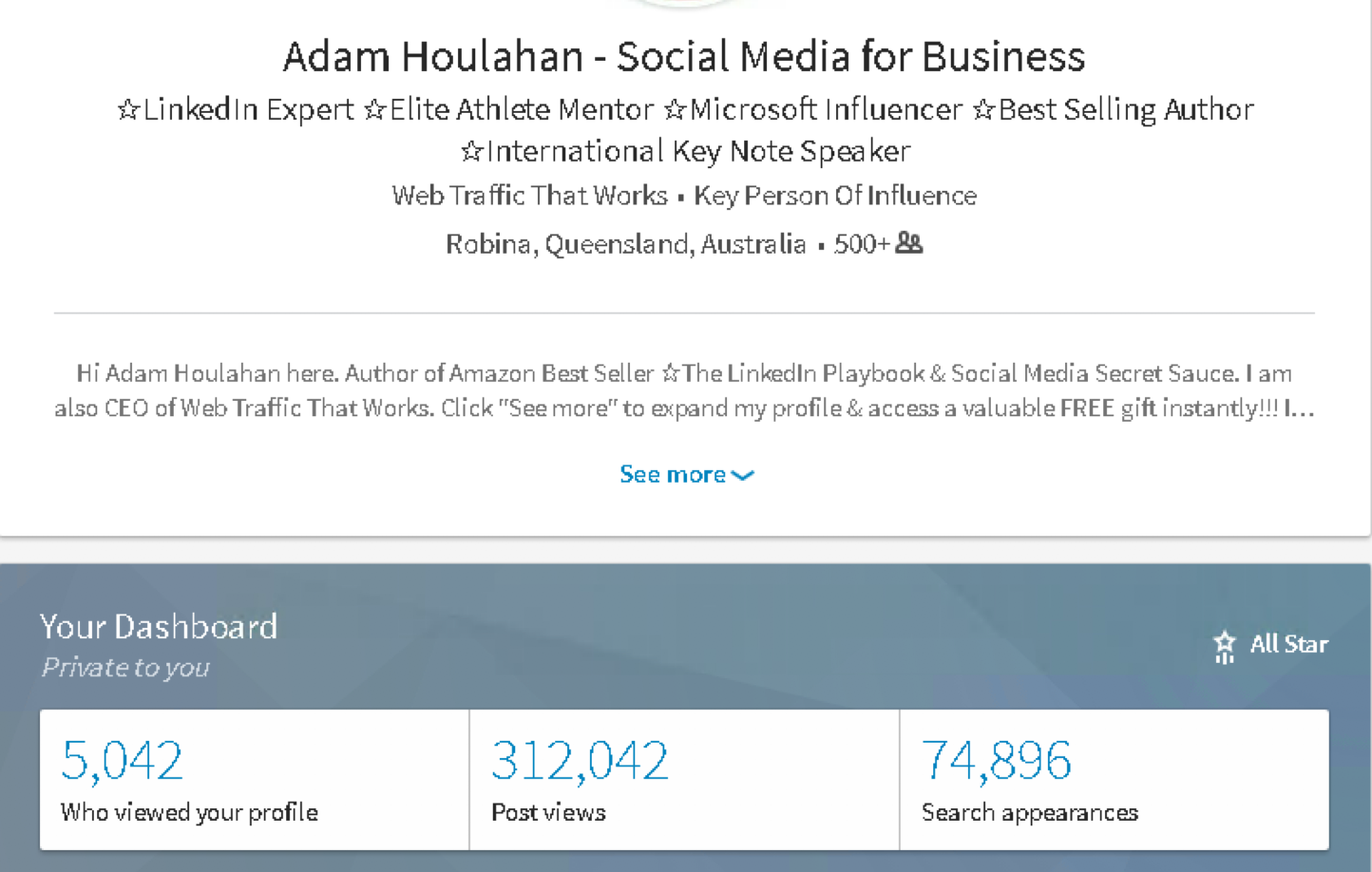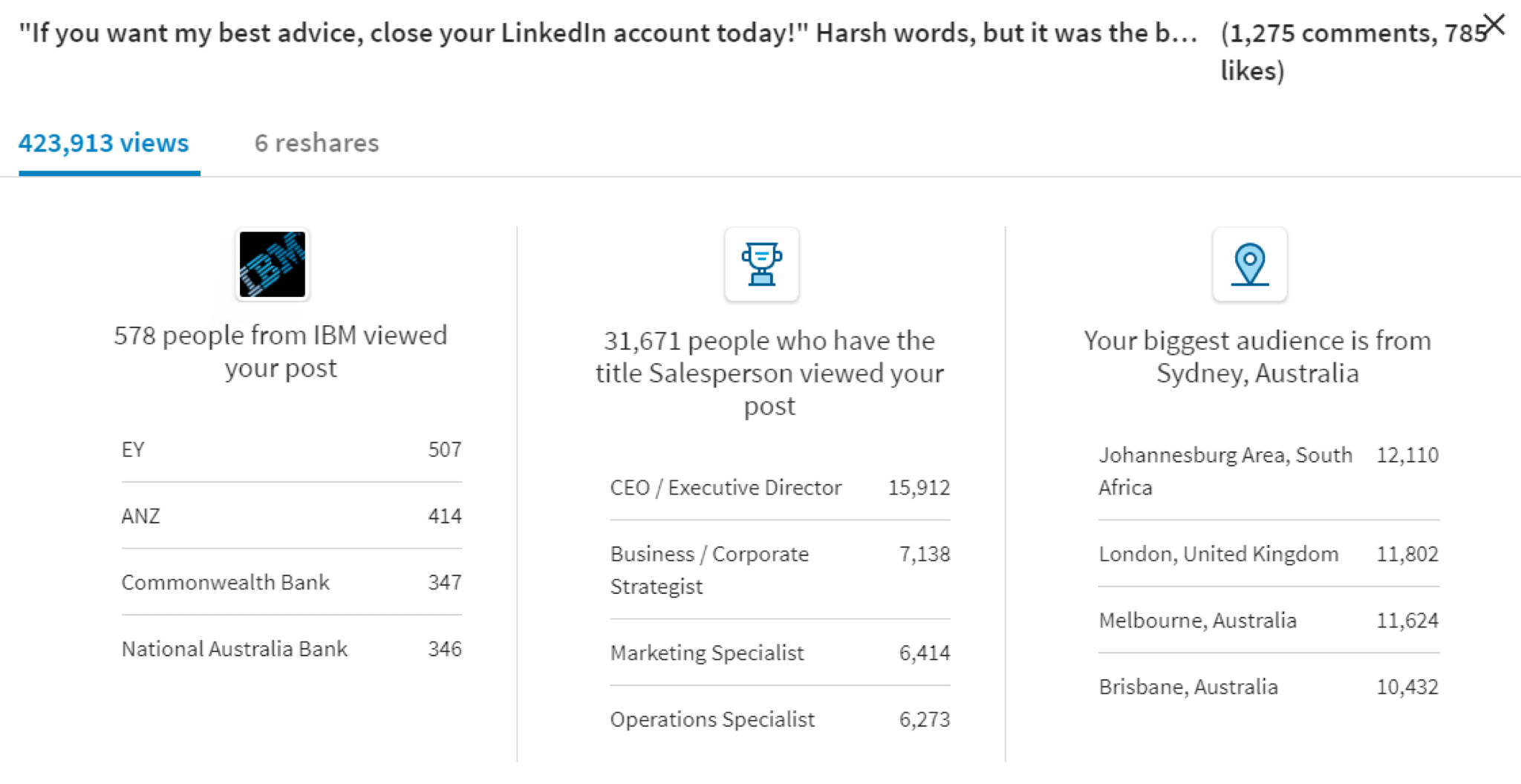 During this 60-minute web event, I'll be sharing with you:
How to maximise your content engagement, and 10 X your results with LinkedIn's new requirements
What's new and noteworthy LinkedIn features

1 simple strategy we use every December that generates thousands of dollars in revenue in January
How to get your content out of LinkedIn jail (if you have been using non-compliant content)
The 9 step process to becoming an Influencer in 90 days
Location:
The webinar will take place online using Zoom video conferencing, which means you can watch from the comfort of your home.
Date:
Tuesday 27th November 7.00pm AEST (8.00pm Sydney/Melbourne time)
To register for this free web event:
Simply register for your free ticket, add your details, and you will receive an email confirmation with the Webinar link and additional emails over the coming days.
I look forward to sharing an impactful hour with you on November 27th.

Adam Houlahan
ps. If you have not already please view my LinkedIn profile here: https://www.linkedin.com/in/adamhoulahan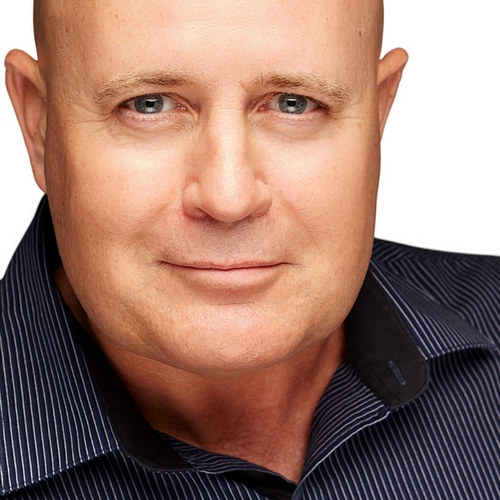 Organiser of LinkedIn Influencer Online Training (with Adam Houlahan)
Adam Houlahan is an International Keynote Speaker specialising in LinkedIn marketing.
He lives in Australia's iconic tourist destination the Gold Coast Queensland and is considered to be one of Australia's leading experts in harnessing the power of LinkedIn for business.
Thousands of people globally have sought his skill and insights to leverage the power of LinkedIn for their business.
He is the author of three Amazon best-selling books Social Media Secret Sauce, The LinkedIn Playbook and the recently released latest book Influencer.
He believes real and meaningful change comes through the world's entrepreneurs. His purpose is to provide their businesses with powerful tools to grow and accelerate their global footprint. And that together we can make an important impact!
Through his Lifetime Partnership with the Global Giving Initiative B1G1 www.B1G1.com he is on a mission to impact the lives of 12 million people in need.