Learn to Code & Build Web Applications! Ruby on Rails Programming (Beginners+)

Monday, 24 July 2017 from 4:00 pm to 8:00 pm (AEST)
Event Details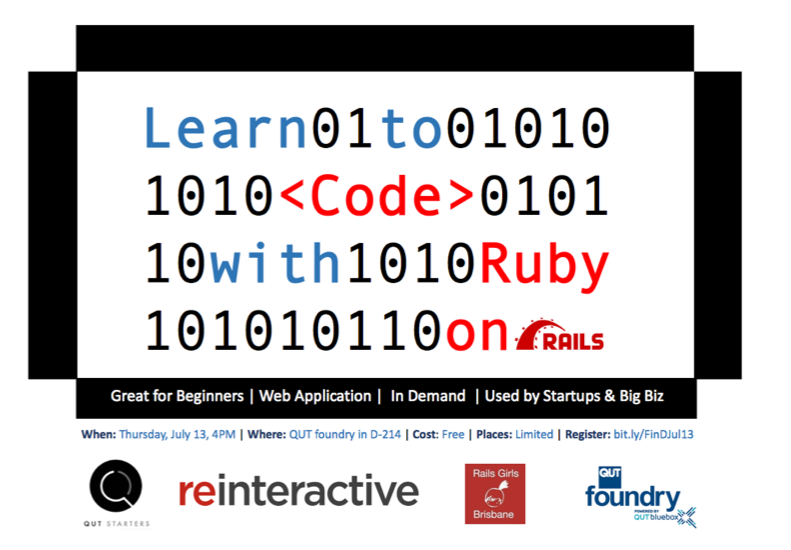 Learn to Code & Create Web Applications
Beginner & advanced programmers: you're invited to attend the Ruby on Rails InstallFest, a training workshop by reinteractive teaching the popular progamming language Ruby on Rails (aka 'Rails'), in a relaxed and friendly atmosphere at the QUT foundry entrepreneurship hub.
What You'll Gain From Attending
By attending this event, you can:
learn how to code, with help from industry experts, in Ruby on Rails - a programming language that's both beginner friendly, powerful, and in-demand 
get help setting up your laptop so it's ready to develop Ruby on Rails applications
meet industry mentors/developers who use Ruby on Rails in business, working with startups to scaled businesses
develop a web application using a helpful framework (we can get you building a blog at the event so that by the end of the night it's online and published - then we'll get your published blog personalised, with Javascript, CSS and headers and footers)
become familiar with a tool useful for founders/startups doing prototyping, startups & scaleups
meet others in the vibrant Ruby on Rails community
Freebies including delicious pizza (the good stuff) and drinks & vouchers to various training tools and sites
Workshop Program
4:00PM - 4:10PM: Welcome
4:10PM - 7:10PM: Ruby on Rails Workshop led by experienced trainers
7:10PM - 8:00PM: Network over free (gourmet) pizza and drinks
Who Should Attend
Whether you're an absolute beginner new to programming, or you have coding skills and want to learn a useful and popular new language, this workshop will suit you. People who may benefit include:
Entrepreneurs

Programmers

Website / web application designers/developers

Marketers

Bloggers

Anyone wanting a practical introduction to coding
Limited Workshop Spaces - Registration Essential
Places are strictly limited, and past events have quickly reached capacity, so we recommend you register now. 
Important Note: If you do register, and later cannot make it, please free up your registration at the earliest opportunity so that someone else may attend.
Things to Bring & Do (Pre-Event) 
Please bring your own laptop (Mac or PC).
For Mac Users
If you're planning to work from your Mac, please visit the itunes store to download and install Xcode installed before the event. If you have any questions about this, please contact Contact Community Manager Rachelle LeQuesne: community@reinteractive.net.
Sponsors

Reinteractive are Ruby on Rails Developers, Ops, UX & Design experts based in Australia creating custom web, mobile & social apps that return real value for our clients. It's a focus that drives our entire company and we are proud to be Australia's largest Ruby on Rails focused development shop. einteractive has become a thought leader in the Industry creating free community training initiatives and have introduced hundreds of new developers to the language at the InstallFest. Visit the reinteractive website to learn more.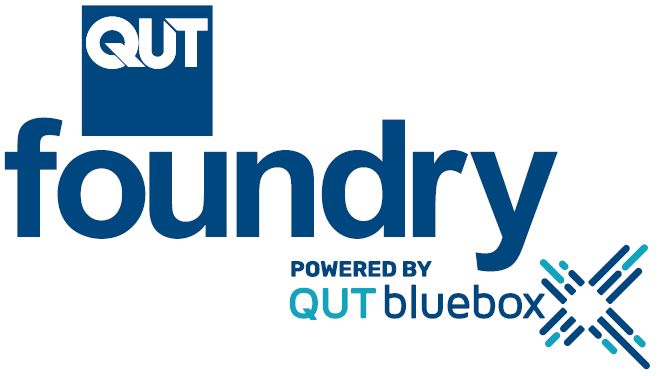 QUT Foundry exists to inspire and enable students, staff, researchers, graduates and alumni to be founders and social change agents and to help build, grow, and scale startups and social enterprises.  For more information visit the QUT Foundry website.
Other Groups/Events You Might Like
If you're interested in coding and/or entrepreneurship, here are some great local groups running excellent events: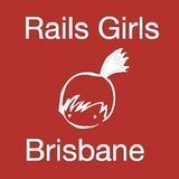 Rail Girls Brisbane aims to breakdown barriers to technology and make it more accessible for women. Rail Girls is an international community dedicated to introducing women to software development in a safe and inclusive environment.  Our aim is to empower women to take the initial steps to conquer the online world. View details of the upcoming Rails Girls Brisbane event on 21 and 22 July 2017.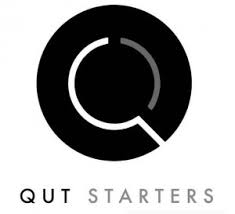 QUT Starters is a student run society supporting students from all disciplines who have interest in discovering their inner entrepreneur. We do this through connecting with the local start-up community, industry, running workshops and hosting events. Our doors are welcome to anyone who is interested in entrepreneurship or innovation, regardless where you come from. Visit the QUT Starters website.  Want to participate in a program to learn how to be an entrepreneur? Then apply to QUT Starters' Startup Hatch program which launches July 19.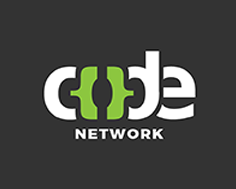 QUT Code Network
QUT Code Network aims to help produce the best developers on the planet. Collaborate, practice and develop skills in creating quality software, and meet and network with professionals and academics. We host hackathons, industry sponsored events, weekly meetups and workshops! We are also heavy participants in the Brisbane startup scene. Build whatever, as long as it is awesome. Visit the QUT Code Network: Website; Facebook page; Github; and Twitter.  QUT Code Network's flagship event is the famous Code Network Winter Hackathon, held this year August 10-11, at QUT Gardens Point campus. 
Have questions about Learn to Code & Build Web Applications! Ruby on Rails Programming (Beginners+)?
Contact QUT foundry
When & Where

QUT Foundry in D-214
QUT Gardens Point Campus, Room D-214
2 George Street
Brisbane, QLD 4000
Australia

Monday, 24 July 2017 from 4:00 pm to 8:00 pm (AEST)
Add to my calendar