Description
A storytelling workshop on how to communicate big ideas and pitch disruptive innovation. Participants learn a 3-step methodology for how to craft and present a narrative that inspires and influences in the face of deep resistance.
Storytelling is more than theatrical performance or telling good anecdotes. It's about communicating with context, empathy, relevance, imagination, and truth – in an authentic way that makes a profound connection. You have a big story to tell. It's complex and world-changing. Yet hard to explain. If only you could translate the message, people would benefit immensely.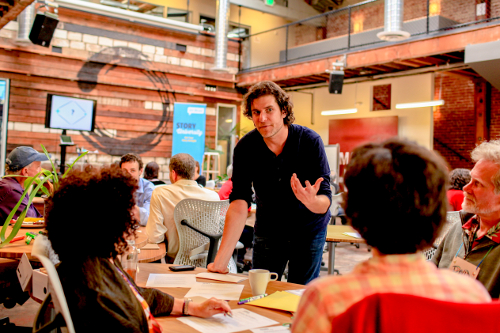 Who is this for?
LeanStory is a proven storytelling approach for pitching any breakthrough idea, product, or message. Specifically designed for innovators and change-makers who challenge the current model of reality. Learn how to get others to believe in your story.
Our program receives reviews at Google, Deloitte, and NASDAQ among other places. The methodology equally works with audiences of entrepreneurs, executives, enterprise sales leads, engineers, and social change-agents. LeanStory is a game-changing framework for anyone with a big story to tell.
Takeaways
• Learn to how to craft a compelling and authentic pitch
• A 3-step framework for presenting complex, disruptive innovation
• How to capture the imagination and personalize your story
• A Jedi mind trick to create relevance and make any idea stick
• How to turn dry facts and data into a compelling narrative
Some Praise:
"Seriously awesome + powerful teachings. I've already used your storytelling techniques in a marketing deck & a 2 minute video pitch!" - Jenn Choi, Founder, Bon Intent, NASDAQ Entrepreneurs Bootcamp

"Every leader should attend this workshop. The role-plays gave me the opportunity to practice and to get instant feedback to see what resonates. The recommendations were huge." - Mark Taylor, Vistage Chair, ChairWorld 2016 attendee

"Thank you again for the class. Michael truly coached me to get unstuck on a number of entrepreneurial efforts." - Dan Becker, Venture Partner, Velocity Venture Capital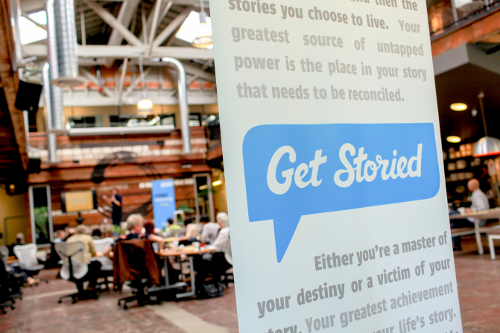 Prerequisites & Preparation
A desire to make a difference in the lives of those you serve. You will have the opportunity to hone in on the pitch of your product, service, or message, so come with something you are passionate to work on.
You will leave with a new working outline for your presentation, having practiced the pitch, along with real-time feedback from your peers and our facilitator. Bring a notebook/pen or digital device to take notes with.

Sponsor
This event is sponsored by Donkey Wheel House Events.
Organiser of LeanStory - Storytelling for Innovators, Disruptors, and Change-Agents
Events by Kinfolk is where people do business differently.
Every dollar you spend supports Kinfolk's unique volunteer program and 100% of our surplus is distributed to our charity partners - The Asylum Seeker Resource Centre and Cathy Freeman Foundation.
Hosting an event or workshop with us makes a positive difference with your events and catering budget. Our spaces are ideal for workshops and team meetings, conferences, presentations, product launches and private events.  

When you host an event with us, you can be sure we've done the hard work to make a difference with your dollars.