Delve into leadership, resilience and recovery with Resilience NSW Commissioner, Shane Fitzsimmons.
About this event
Join Commissioner Shane Fitzsimmons in conversation as he discusses his experience leading the NSW Rural Fire Service through the 2019-2020 Black Summer Bushfires and as the inaugural Commissioner of Resilience NSW.
Leadership in ACTion, presented by UNSW Canberra, aims to provide a platform for learning and discussion around the topic of leadership. This year Commissioner Fitzsimmons will explore leading with resilience.
We invite you to join us for what promises to be a captivating and profound conversation with Commissioner Fitzsimmons, who has proven himself to be a resilient and impressive leader throughout his career.
This event will be livestreamed. If you cannot join us live on the night, please register anyway and we will send you the full recording of the discussion following the event.
-------------------------------------------------------------------------------
Speaker
Commissioner Shane Fitzsimmons AFSM - Commissioner, Resilience NSW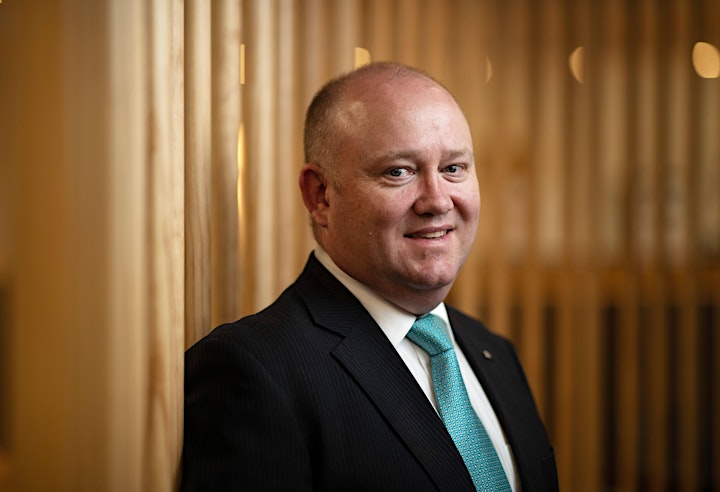 Shane Fitzsimmons was appointed as the inaugural Commissioner for Resilience NSW and Deputy Secretary, Emergency Management with the Department of Premier and Cabinet from 1 May 2020.
He is currently the chair of the State Emergency Management Committee (SEMC), the State Recovery Committee (SRC), Board of Commissioners (BOC) and the National Emergency Medal Committee (NEMC).
This appointment followed a distinguished career with the NSW Rural Fire Service of over 35 years, serving as both a volunteer and salaried member. In 1998 he was appointed an Assistant Commissioner with the RFS and has held portfolio responsibilities for Operations, Strategic Development and Regional Management. In 2004, he was appointed the inaugural Australasian Fire Authorities Council (AFAC) Visiting Fellow to the Australian Institute of Police Management (AIPM) for a period of 12-months, developing and delivering programs in management and leadership.
During the period of September 2007 - April 2020 he was the Commissioner of the NSW Rural Fire Service and was also the Chair of the NSW RFS Bushfire Coordinating Committee and the Rural Fire Service Advisory Council. He was also a member of the NSW State Emergency Management Committee and the NSW State Rescue Board (SRB) and was Chair of SRB from 2008 to November 2015. In July 2012, he was appointed a Board Member of the NSW Government Telecommunications Authority.
He was appointed a Director of the National Aerial Firefighting Centre (NAFC) in March 2008 and was the Chair of the NAFC Board from 2009 to 2013. He was a Director on the Bushfire Co-operative Research Centre from 2009 to 2014.
He was a member of the Australasian Fire and Emergency Services Authority Council from 2007 and was a member of its Board from November 2016 to November 2019 and held the position of Deputy President upon retirement from the Board.
In January 2016 he was appointed as a Councillor of the Royal Humane Society of NSW Inc. Additionally, he is a patron of two charities – Kids Xpress and Coffee 4 Kids.
Commissioner Fitzsimmons has been awarded the Rural Fire Service Long-Service Medal for more than 30 years, the National Medal in recognition of more than 35 years, and the Australian Fire Service Medal (AFSM). He has also been acknowledged with a Paul Harris Fellow and a Paul Harris Fellow Sapphire through Rotary Clubs of Berowra and Sydney. He has most recently been announced as the 2021 NSW Australian of the Year, and the Australian Father of the Year 2020 through The Shepherd Centre.
-------------------------------------------------------------------------------
Contact
For event enquiries or to discuss your access requirements, please call the UNSW Canberra External Engagement Team on (02) 5114 5279 or email events@adfa.edu.au.
Organiser of Leadership in ACTion with Commissioner Shane Fitzsimmons
Working at the intersection of a leading university and a military academy, UNSW Canberra at the Australian Defence Force Academy has been educating defence leaders for over half a century.  UNSW Canberra graduates shape Australia, the region and the international community as leaders in defence, government, and industry.