Description
DIVERSE SCREENS SOUTH WEST SYDNEY
Maria Tran, Ali Mousawi, Roxie Vuong and Thuy Nguyen launch their short films exploring themes of cultural diversity in the creative sector. Through documentary and mockumentary, these South West Sydney filmmakers tackle themes of inclusion, exclusion and cultural diversity in the arts and screen sectors.
Emcee: Pearl Tan, Pearly Productions
You can also RSVP by emailing to info@diversityarts.org.au or phone 02 9734 9300, www.diversityarts.org.au
An initiative of Diversity Arts Australia (DARTS) with support from Liverpool City Council and Fairfield City Council. DARTS receives core funding from the Australia Council for the Arts
* In conjunction with Beyond Tick Boxes: Cultural Diversity in the Arts in Sydne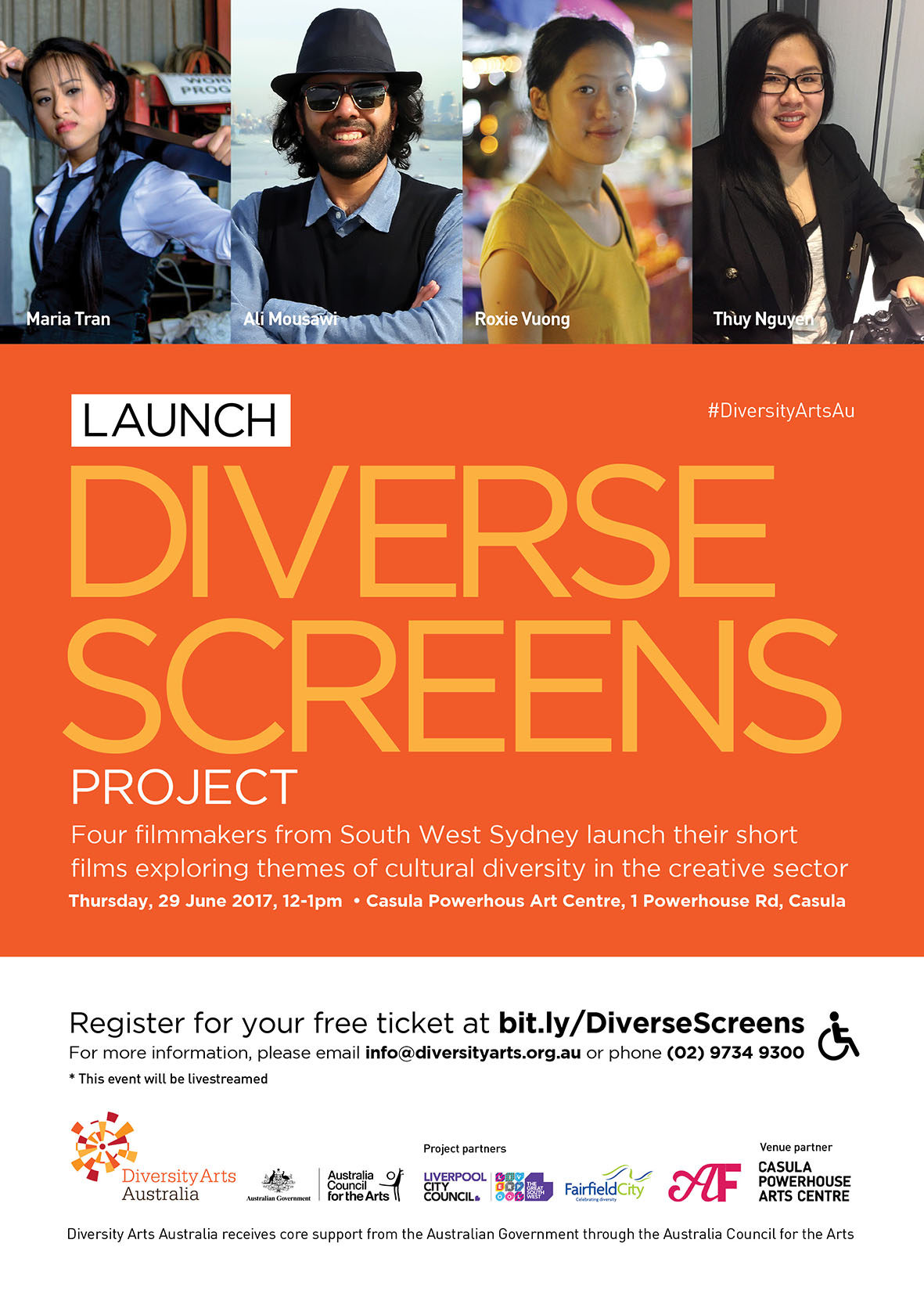 PEARL TAN (emcee)
Pearl Tan is the director of Pearly Productions, creating independent films and producing videos for businesses and arts organisations. Her work focuses on diversity, with 10% of profits pledged to diversity in the arts. She is the creator behind the award-winning YouTube series 'Minority Box', is Co-Chair of the Equity Diversity Committee and sits on the National Performers Committee for Actors Equity. She graduated from the NIDA Acting course in 2005. She also holds a Communications degree majoring in Media Studies from Edith Cowan University. In 2009 she received a Mike Walsh Fellowship to attend the New York Film Academy. In 2013 she received a Business Leader Postgraduate Scholarship from the University of Sydney to undertake a Master of Commerce, specialising in Strategy, Innovation and Entrepreneurship. She teaches filmmaking and screen acting at NIDA, Actors Centre Australia and is on the Industry Advisory Board for the International Screen Academy.

MARIA TRAN
Maria is a filmmaker, actor and community facilitator and has worked in the Australian film and television industry for the last ten years in various capacities. In 2012 Maria worked for Screen NSW's Development and Production Unit as a producer placement and was NSW State Champion at the 2011 National Film Pitching Competition. Maria was working on ABC's TV series Maximum Choppage as an Associate Producer, stunt double and extras casting coordinator. She has recently finished working on another ABC1 documentary by academy award nominee David Bradbury's "Battle of Balmoral" and finished producing China co-pro "Take Me to the End of the Earth" and awaiting the release of Vietnamese action movie "Truy Sat | Tracer" in both Vietnam and Australian cinemas in May, 2016. In her spare time, she teaches at guerrilla filmmaking, screen acting and fight choreography/ stage combat at AFTRS as well as her own weekly classes of Screen Action Fight Essentials in Western Sydney.

ALI MOUSAWI
Ali Mousawi is a filmmaker and photojournalist living in Sydney, Australia. Ali recently arrived from Ahwaz, Iran. Ali was the First Assistant Director for the feature 'Revawathaye Natamam' and Cinematographer for the feature 'Qalamranj' both shot in Iran. He has made 3 documentaries in Ahwaz and 3 films in Australia including 'Man in the Mirror' which premiered at the Arab Film Festival, 'Scourge in Darkness' and 'The Journey of Fire'. Ali has recently been engaged as a cinematographer on projects for the Museum of Contemporary of Art, the Art Gallery of NSW and Camden City Council. He has over 14 years experience in Ahwaz - Iran working for a variety of news agencies, including as Main Photographer for Fars News Agency (Ahwaz/Tehran) from 2011 to 2013, Group Manager and Photographer for Ahwaz News Agency and Editor in Chief and Photographer at Bejwak Newspaper (Ahwaz) in 2012. Ali won first prize in Photography at the City and Media Festival, Ahwaz, 2010, and first prize in the Festival of Journalism in Bandarabas (Southern Iran) every year from 2008-2011.

ROXIE VUONG
Roxie Vuong is a filmmaker who lives and works in South West Sydney. Her passion for telling stories stems from an insatiable fascination with people and the things that they do. She co-founded Left of Centre Content with her partner, Rudge Hollis in 2013 and together, they create video packages for clients such as Uniting, TAFE Online and The University of Sydney. She won the TropWest Scholarship and and went on to make her first short film Punch Drunk in 2009. In 2011 she won Best Script for her documentary, My Cambodian Aunt, at the Biennial UTS Golden Eye Awards. She graduated from a Bachelor of Arts in Communication (Media Arts Production) the following year. She is currently working on a few scripts, one of which is inspired by her love of flamenco dancing.

THUY NGUYEN
Thuy is fashion film creative based in Western Sydney. Her proudest achievement to date is curating the annual event WSFF (Western Sydney Fashion Festival), a fashion runway featuring fashion designers from culturally diverse backgrounds. She has worked on community film/tv projects such as Cancer Council's "Change of our Lives" and SBS's "Once Upon a Time in Cabramatta". In her final year at film school Thuy produced a 3 part mini documentary series "Art Through Movement" which received an award at Fairfield's Short Cuts Film Festival. Thuy currently works as a social media video marketer for online fashion brands.
HOW TO GET HERE
1 Powerhouse Road
Casula, NSW (Entry via Shepherd Street Liverpool)
Please note: the Casula Road crossing is now permanently closed.

TRAIN
Disembark at Casula Station on the T2 Inner West & South Line or T5 Cumberland - first stop after Liverpool (from Sydney) or Glenfield (from Campbelltown). www.131500.info Please note the T2 Airport line is different from the T2 Inner West/South - if coming from City Circle via airport, please change at Glenfield.

CAR AND BICYCLE
From Parramatta or Campbelltown way (without tolls)
Take the Hume Highway going towards Liverpool. Follow it all the way into Terminus Street, Liverpool and turn right into Pirie Street. Follow the signs to the Casula Powerhouse Arts Centre, Shepard Street Entrance.

From the M5/City (with tolls)
Take the M5 to Liverpool. Exit at Moorebank Avenue and drive towards Liverpool turning left at Newbridge Road. Turn left into Speed Street and follow the signs to Casula Powerhouse Arts Centre.

ACCESS
Visitors with restricted mobility can enjoy all public areas of Casula Powerhouse Arts Centre. The theatre is fitted with a hearing loop, and has provision for restricted mobility access. Guide and Hearing Dogs are welcome.

FREE Onsite Parking
Organiser of Launch of Diverse Screens South West Sydney Project
Diversity Arts Australia is Australia's key organisation and national voice promoting cultural diversity in the arts. We create conditions in which creators, producers, leaders and audiences reflect the complex rich diversity of our local and global community. We support a creative, inclusive, and socially cohesive Australia. We advocate for greater exposure for artists from diverse backgrounds.
Diversity Arts Australia receives organisational support from the NSW Government through Create NSW, and Information & Cultural Exchange.