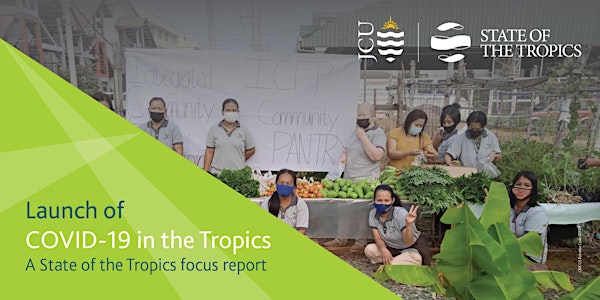 Launch of COVID-19 in the Tropics: A State of the Tropics focus report
Location
Building 142 The Science Place, Room 111 , JCU Townsville, Bebegu Yumba campus, Douglas.
1 James Cook Drive
James Cook University, QLD 4811
Australia
Join us for a special event to celebrate the International Day of the Tropics and launch the focus report COVID-19 in the Tropics.
About this event
2020 was a pivotal moment in history with the emergence of SARS-coronavirus-2 (COVID-19).
COVID-19 affected almost every aspect of human life, directly through infection and indirectly through border closures and community lockdowns. The race to develop effective vaccines against the disease required a global effort and global resource diversions. For tropical communities, which represent the vast majority of the extreme poor, the pandemic presented another burden to their lives and well-being.
Two years on, we are in a position to look back and begin to understand how far reaching some of these impacts have been. Join with us and others from around the world to launch the 2022 State of the Tropics focus report, and reflect on how COVID-19 has impacted lives in the Tropics.
Speakers include:
Professor Simon Biggs - Vice Chancellor & President, James Cook University
Professor Emma McBryde - Professor of Infectious Diseases Modelling and Epidemiology, AITHM, James Cook University
Dr Shelley Templeman - Project Manager, State of the Tropics and Principal Research Scientist, TropWATER
Ms Ann Penny - Executive Officer, Research, James Cook University.