Ladies Who Sing Leonard Presented by FOJAM, in partnership with 3RRR
LADIES WHO SING LEONARD is a tribute to Master Leonard Cohen. Honouring the four years since his death, we pay homage to his song and story
About this event
'Ladies Who Sing Leonard' is a tribute to Master Leonard Cohen. 
Saturday 7 November, 8.30pm - 10pm AEDT
Honouring the four years since his death, we pay homage to his song and story.
Sixteen artists. A towering figure. All forces in their own right - these dynamic women will weave Leonard's words around their own narratives.
This is a tribute unlike any other - we aim to present a captivating show, that not only allows you to celebrate the immense power that was and is Leonard Cohen, but to weave your own threads around the songs and bathe in your own memories.
Ninet Tayeb (ISRAEL), Kate Ceberano, Katie Noonan, Deborah Conway, Kylie Auldist, Emily Lubitz, Anita Lester, Gabriella Cohen, Emma Donovan, Kee'ahn, Loretta Miller (Jazz Party), Melody Pool, Imogen Clark, Alma & Hettie Zygier, Tamara Reichman (Tamara & the Dreams), and Sophia Tuv
Where: Globally via Zoom
***Ticket holders will be sent a link to a recording of the event (approximately 1 week after the show), so you can view it at your leisure.
Tickets: Pay as you can
Presented in partnership with 3RRR
To make this a special evening, we encourage you to dress in white, light some candles, and are very excited to announce a selection of take-home food and drink packages for all our Melbourne and Sydney attendees, courtesy of respective food partners, Six Braid and Lox Stock & Barrel. Check them out and see you on Saturday.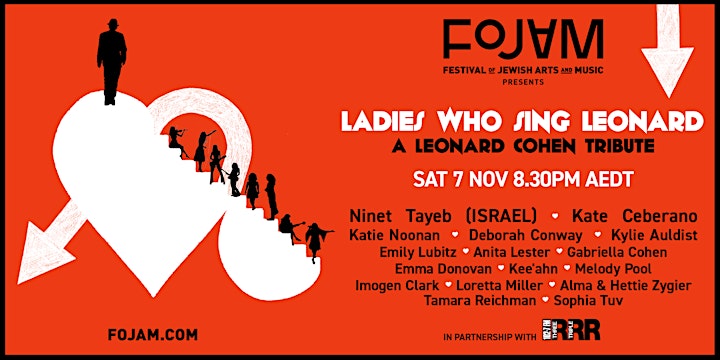 Organizer of Ladies Who Sing Leonard Presented by FOJAM, in partnership with 3RRR