Description
For over sixty years, Yayoi Kusama has worked obsessively on her paintings, drawings, sculptures, fashion, experimental films, installations, writing and 'happenings'. Flower obsession 2016-17, is a new participatory artwork created by the eighty-eight year old artist especially for the NGV's Triennial this summer.
There is no doubt that Kusama holds a significant place in the history of Abstraction, with her work influencing several generations of contemporary artists. However, there is also a great deal of interest in the psychology and biography of the artist.
The La Trobe University Art Therapy public lectures and masterclasses brings together experts from La Trobe University's Art Institute and Master of Art Therapy program to explore connections between Kusama's life and practice and the practice of art making more generally. From the perspective of the arts and health, participants will gain a deeper understanding of Kusama's work and the role of art in mental health, wellbeing and in therapy. Participants can attend individual lectures, or register for both days to attend workshops, exclusive exhibition access, lectures and an expert panel discussion.
The full schedule of Art Therapy lectures and workshops is shown below;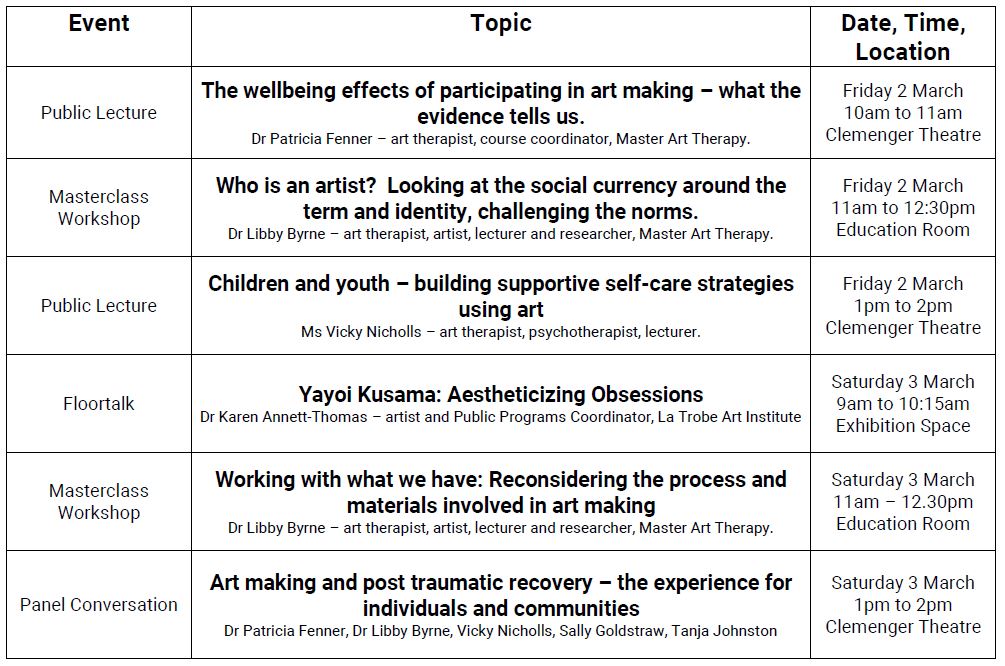 Click on the Schedule above to read the full schedule of events.
Access to the Floortalk is only available to people who purchase tickets for the Masterclass Workshops.
Tickets are available to each Art Therapy event, with limited tickets available for Masterclass Workshops.