Description
I N V I T A T I O N
---
We have the most amazing venue lined up for our Summer Art Exhibition. Bigger and better than ever before, the new City Beach Surf Life Saving Club is pure beachfront. Enjoy bubbles, sundowners and beautiful art.

Champagne Opening celebration on Thursday 2 November at 6pm - RSVP essential.
View an excellent showcase of new artwork from the award winning JUST 10 artists.
Open every day Friday 3 to Sunday 5 November. Visitor registration is required for day entry.
Follow the street banners and footpath signs. Easy access and free parking. All welcome.

SPECIAL EVENT
FLORAL DESIGN, ART AND INTERIORS DEMO - We have an exciting floral design demo by Floral Army on Friday morning at 10am. This dynamic duo will be talking about design trends and their unique take on pairing artwork, interiors and flowers. Booking essential.
---
We are proud to be partnering with 3 Drops for our wines, a five star rated winery. All the wines come from their family vineyards at Mount Barker in the Great Southern - And our lovely bubbles will be Bunkers Sparkling from Calneggia Family Vineyards.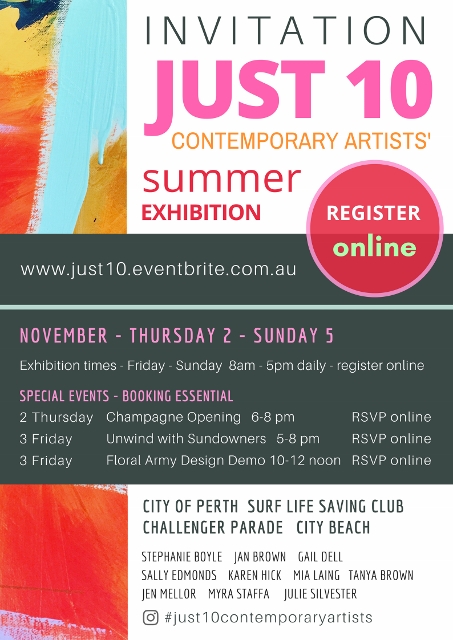 JUST 10 CONTEMPORARY ARTISTS
We are a group of award winning Perth artists who wanted to incorprate an exercise routine into our busy studio based schedules. Gail Dell put a call out on social media for like minded artists who were at the same stage in their careers and waited for a response. Nine artists responded and our story began as an early morning walking group. It gave us the break from the studio we were looking for. Time to discuss our practice, new developments in the industry and upcoming shows. It's a practice development meeting on the move. We walk and talk art, get fit, plan, motivate and support each other.