Location
Runnymede Farm
183 Runnymede Rd
Binningup
WA 6233
Australia
Description
Joel Salatin calls himself a Christian libertarian environmentalist capitalist lunatic farmer. Others call him the most famous farmer in the world, the high priest of the pasture & the most entertaining, informative & passionate speaker on innovative farming they have ever heard.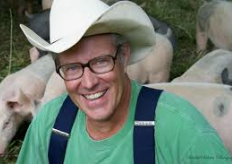 With debating prowess, ten published books, and a thriving multi-generational family farm, he draws on a lifetime of food, farming and fantasy to entertain and inspire audiences around the world. He's as comfortable moving cows in a pasture as addressing CEOs in a Wall Street business conference.
On the 4th of March at Runnymede Farm, Binningup join Joel for a one day MasterClass that explores the how-tos of his farming model, Polyface. Designed to inspire you with practical ideas around setting up a thriving, profitable & ethical farming business.
Topics include multi-speciated pastured livestock, water, fertility, infrastructure design, leasing land, the people component, memorandums of understanding rather than employees, performance-oriented compensation packages, shared risk partnerships, building fiefdoms, marketing, whys and wherefores, on-farm, restaurants, electronic aggregators, metropolitan buying clubs & more!
The MasterClass is taking place at Runnymede Farm, a regenerative pastured egg & grassfed beef property where you will sit in comfort under shady trees on green lawns whilst listening to Joel speak as well as stroll to different sites on farm to explore aspects of Polyfaces innovative yet simple techniques. You will enjoy a relaxed environment where regular Q&As are encouraged so that you leave with understanding, confidence & inspiration on how to work towards your farming goals.
Bring your favourite picnic rug, cushions or camping chair.
Morning tea & a scrumtious, local, omnivirous lunch provided, please inform of any dietry requirements.
Childeren 16 & under attend with a ticket holding adults free of charge - please RSVP in ticketing for catering purposes.
Camping available at nearby Binningup or Myalup Camping Ground - be quick limited space due to the long weekend!
Tickets are limited to 80 places, secure your spot now!
For enquiries please phone 0431 257 237