Description
Welcome to Jane Austen Festival 2018 - our 11th festival being held in Canberra from 12-15 April 2018!
See videos of 2017 festival activities at http://janeaustenfestival.com/jafa-2017/
Season and Day/Evening Tickets provide you with entry to the festival workshops, morning and afternoon tea talks, promenade & picnic and the evening balls from Thursday to Sunday.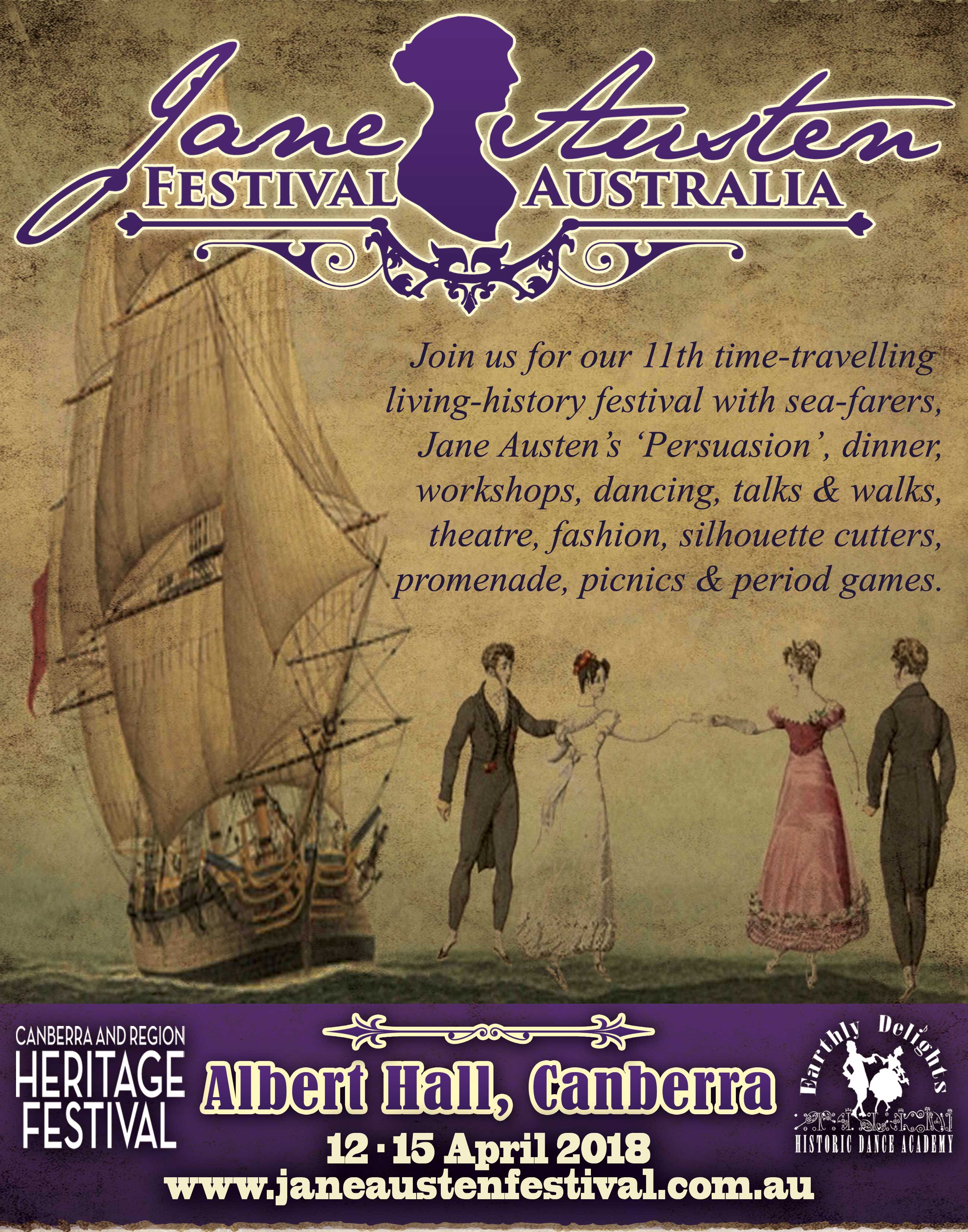 TICKET DISCOUNTS
Children under 5 - free
Children under 17 - 50% discount
Please note that these discounts apply to tickets on sale at the time of purchase.
Session Registrations will open in January 2018 for limited attendance daytime talks, workshops and special additions ie. croquet classes and maybe even a buffet dinner. Some of these extras will have additional costs for materials and kits provided by our guest presenters. Those who subscribe and become a 2017-2018 Festival Friend will be invited to register into sessions a week before general ticket holders so do watch out for an email from orders@eventbrite.com
Lunches will be available for sale on Friday and Saturday. You are invited to bring your own lunch or picnic basket on Thursday and Sunday. Complimentary tea and coffee is available each day. You are welcome to bring your own lunches to the Albert Hall but there is no space in our fridges for storage.
Festival Themes:
Thursday is pre-festival 1/2-1 day workshops + special Opening Night Theatre Surprise! (extra costs for materials in workshops and dinner in the evening)
Friday: Georgian (18th Century - extra costs for materials in workshops. Supper provided in the evening)
Saturday: Regency (1800-1817- extra costs for materials in workshops. Supper provided in the evening)
Sunday: Romantic Era (1820-1840- extra costs for materials in workshops. Pancake breakfast & Afternoon tea provided.)
When you purchase a ticket to Jane Austen Festival Australia you will always receive a confirmation email with your ticket details. If you do not receive this you may have made a mistake typing in your email address. Contact us at registration@eventbrite.com.au so we can correct this and you do not miss out on important pre-festival communications on when you can register into your sessions.
ALL TICKETS PURCHASED ARE NON-REFUNDABLE BUT TRANSFERABLE AND THAT SHOULD THIS EVENT BE CANCELLED ALL TICKETS SOLD WILL BE REFUNDED.
PLEASE BE AWARE THAT BY PURCHASING THIS TICKET, YOU CONSENT TO YOUR VOICE, NAME, AND/OR LIKENESS BEING USED, WITHOUT COMPENSATION, IN FILMS AND TAPES IN ANY AND ALL MEDIA, WHETHER NOW KNOWN OR HEREAFTER DEVISED, FOR ETERNITY, AND YOU RELEASE JANE AUSTEN FESTIVAL AUSTRALIA, EARTHLY DELIGHTS AND ITS SUCCESSORS, ASSIGNS AND LICENSEES FROM ANY LIABILITY WHATSOEVER OF ANY NATURE.
How are you planning to get to the event?
Join other attendees from your area and ride together
Find a ride