Description
Topic
WHAT'S NEW IN RANSOMWARE?
Ransomware has impacted organisations large and small around the globe for some time now. Gurdip Singh, Manager, Cyber Security and Technology Risk Advisory at BDO, will provide an update on what's new with Ransomware globally, and steps organisations can take to help mitigate the risks of ransomware attacks and reduce impacts to business operations and reputation.
Presenter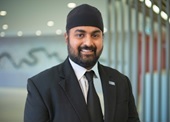 Gurdip is an experienced ICT consultant specialising in cyber security and technology risk advisory services. Over the past 9 years, Gurdip has undertaken various roles in cyber security, green computing, and ICT infrastructure implementation. Gurdip's consulting experience spans across a number of industries in the public and private sector.
He has designed and implemented security infrastructures with resilience and recovery capabilities, improved the energy-efficiency of data centres, and has serviced clients in Australia and South East Asia.
Venue
BDO
Level 10, 12 Creek Street Brisbane QLD 4000
Date
Wednesday, 27 September 2017
12:30pm-1:30pm
Members and non-members welcome
Catering
A light lunch will be provided. Please advise if you have any special dietary requirements for catering purposes.