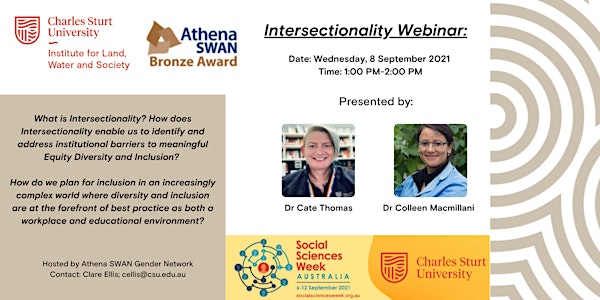 Intersectionality Webinar - Dr Cate Thomas & Dr Colleen Macmillan
Join Dr Cate Thomas and Dr Colleen Macmillan in their Webinar to develop an understanding of intersectionality
About this event
What is Intersectionality? How does Intersectionality enable us to identify and address institutional barriers to meaningful Equity Diversity and Inclusion? How do we plan for inclusion in an increasingly complex world where diversity and inclusion are at the forefront of best practice as both a workplace and educational environment?
Join Dr Cate Thomas and Dr Colleen Macmillan to develop an understanding of intersectionality. Learn how to use an Intersectional lens in planning frameworks for recognition of strengths and challenges in diversity and community engagement to enhance equity and develop skills enable greater inclusion of diversity in practice.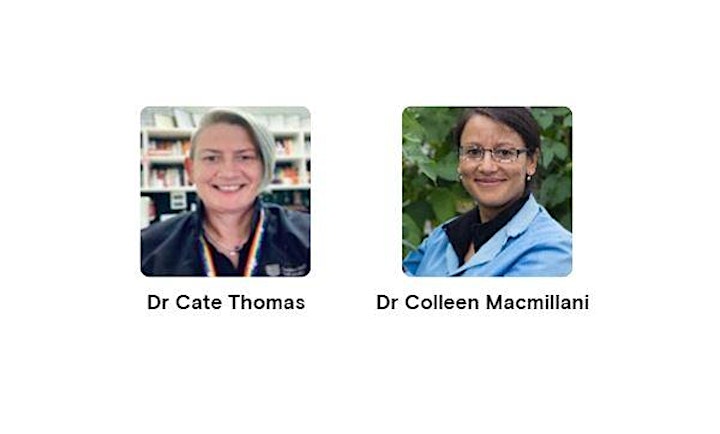 Dr Cate Thomas has a diverse working and academic career in health, human services, leadership and management which is reflected in her qualifications in the human services, education and business/management areas. Cate is a dynamic leader and strategic thinker. She has demonstrated leadership and influence in the academic, government, and non-government arenas holding key positions such as Manager Research to Practice in NSW government, has worked as a private social policy consultant, and delivers keynote addresses. Cate is an inaugural and long-standing member of the Charles Sturt Athena SWAN SAT and Convenor. She has championed equity, diversity and inclusion at the University and works collaboratively with CSIRO, ANU, UC and SAGE to assist organisations to be more inclusive to harness the true talent of workers through an intersectional approach. Cate has received a number of awards including a Social Media Presence Award in 2016 from the Australian and New Zealand Social Work and Welfare Education and Research (ANZSWWER) for raising awareness and debates around inclusion, advocacy and social justice issues, and the following year received the ANZSWWER 2017 Social Work Educator of the Year Award. Most recently she received one of the inaugural 2021 HERDSA Hero's in High Education Awards. Dr Cate Thomas Visiting Fellow – Trinity College Dublin, University of Dublin; Convenor Athena SWAN - Charles Sturt University; Co-Convenor - Social Equality, Intersectionality and Inclusion Research Email: cthomas@csu.edu.au
Dr Colleen MacMillan is the inaugural CSIRO Agriculture and Food Inclusion and Diversity (I&D) Initiative Lead. The I&D initiative was launched in 2016, with a specific focus of inclusion of diversity for science, impact, and people. She has led the creation and implementation of an I&D strategy, and underpinning actions, together with an I&D leadership team. She is also an inaugural and a long-standing member of CSIRO's SAGE Self-Assessment Team, and the SAGE ACT Regional Network. Colleen completed a PhD in crop molecular biology and physiology through the University of Melbourne (2004). Since then she has researched agricultural crop secondary cell walls and their uses for biodegradable renewable plant-based industries and commodities. She is a Senior Research Scientist in the CSIRO Cotton Biotechnology Group, based in Canberra. Email: colleen.macmillan@csiro.auWeb: https://people.csiro.au/M/C/Colleen-Macmillan Twitter handle: @colleenmac3

The Social Sciences are key to understanding humanity, society and the institutions which govern our daily lives.
Social Sciences Week is a week-long series of events held across Australia each September offering insight into the impact of the social sciences on our lives.It is an initiative of several of Australia's Social Sciences associations and is coordinated by the Academy of the Social Sciences in Australia.
Hosted by Athena SWAN Gender Network
Organisers/collaborators: Dr Clare Ellis & Dr Colleen P. MacMillan (CSIRO Agriculture & Food)
Contact: Clare Ellis
E- cellis@csu.edu.au