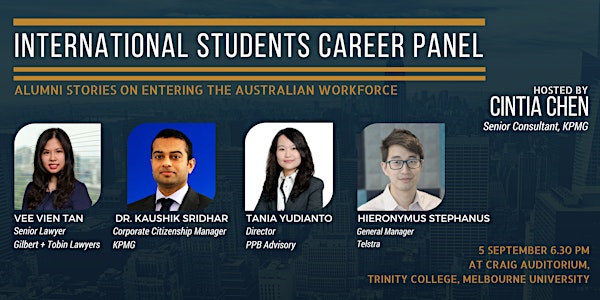 International Students Career Panel: Entering the Australian Workforce
Location
Craig Auditorium
Trinity College, University of Melbourne
Tin Alley
Parkville, VIC 3052
Australia
Sales Have Ended
Registrations are closed
Thank you for registering for the event. We look forward to seeing you there!
Description
International students career panel, featuring:
Hieronymus Stephanus, General Manager at Telstra
Vee Vien Tan, Senior Lawyer at Gilbert + Tobin Lawyers
Tania Yudianto, Director at PPB Advisory
Dr. Kaushik Sridhar, Corporate Citizenship Manager at KPMG
Cintia Chen, Senior Consultant / Associate Manager at KPMG (Host)
Are you an international student looking to enter the Australian workforce after you graduate? This is one careers panel you won't want to miss.
Made up of international student alumni that have "made it" in the professional world across cultural backgrounds, education pathways, industry and professional experience - this diverse panel will share the lessons they have learnt along the way, as well as advice on achieving career success.
While there's no guaranteed way for achieving one's personal and professional aspirations, what this event will help you do is gain insights into what has and hasn't worked for others, and how you can leverage and apply these learnings to your own journey of transitioning into the workplace and building your own career pathway.
Vee Vien Tan is a Senior Lawyer at leading Australian law firm Gilbert + Tobin Lawyers, a Board Director of the Stephanie Alexander Kitchen Garden Foundation and a Board Member of Edmund Rice Camps (Victoria).
Vee was born in Malaysia and moved to Australia when she was 19. She has a BCom (Dean's Honour List) / LLB (First Class Honours) from the University of Melbourne and is a Trinity College alumnus. She ranked first in four subjects and was awarded the Dean's Honour List in Bachelor of Commerce (2007) and Norton Rose Prize for being best in year in Contract Law (2009).
Today, she works at a leading law firm, having accumulated extensive experience acting for commercial and government clients across a wide range of areas, conducting investigations and running proceedings in courts and private arbitration. In April 2017, Vee spoke as one of four experts on a panel of senior employment and litigation lawyers for the University of Melbourne. She is also an author of the Australian chapter of "The Art Collecting Legal Handbook" published by Thomson Reuters and was previously a finalist in the "Lawyers Weekly" Annual 30 Under 30 Awards.

Dr. Kaushik Sridhar is the Corporate Citizenship Manager at KPMG Australia, Board Member at Bioregional Australia, and Adjunct Lecturer at the University of Melbourne and RMIT.
He moved to Australia in 2008 to do his post-graduate degrees, and today is a PhD and MBA graduate from the Macquarie Graduate School of Management. He is an Assurance Practitioner of Certified Sustainability Assurance Practitioners (CSAP) and certified Project Management Professional (PMP).
Today, he works at KPMG, driving a number of key environmental and social partnerships and initiatives nationally whilst maintaining a continued focus on the broader Corporate Citizenship response. Prior to KPMG, he worked at EY, Net Balance, Macquarie University and Unisys Australia. He has published over 30 academic and professional papers/articles on sustainability in international peer-reviewed journals, sustainability publications as well as presented academic papers at international management conferences in Auckland, Bangkok and Paris.

Tania Yudianto is a Director with a global management consulting firm Litmus Group / PPB Advisory and a Director of Operations of the Association of Business Process Management Professionals for Melbourne Chapter. In the last 12 years, she has helped many organisations around Australia and Singapore to execute their strategies and transform their businesses.
Tania was born in Indonesia and moved to Australia when she was 18. She completed her Bachelor and Master in Information Technology at Queensland University of Technology (QUT) in Brisbane. She also has a Graduate Certificate in Accounting from UTS (Sydney) and recently completed the Management Accelerated Program with INSEAD (Singapore). In 2010, she worked with over 20 organisations in Australia to develop an Energy Industry Model for electricity and gas. She presented the model at the 2012 Energy Networks Association conference.
These days she divides her time between family and advising her clients on how to best use technology to deliver value and customer outcomes while looking after her teams' career development. Above all, her greatest passion is in helping others to develop and realise their full potential. She hopes that by sharing her stories, she can inspire others to grow a bit bigger and reach a little higher.

Hieronymus Stephanus is General Manager, Strategy at Telstra's Fixed Products division. Fixed Products is a 6+ billion dollar business, providing millions of homes and small businesses with fixed broadband and landline voice, across nbn, adsl and cable technologies). Stephanus is the senior leadership team member responsible for setting the medium to long term strategy for Fixed Products.
Stephanus was born in Indonesia, and moved to Malaysia at the age of 10. He then moved to Australia at the age of 15 to commence foundation studies at Trinity College. He has a BCom (Honours) from the University of Melbourne and successfully completed the Chartered Financial Analyst (CFA) Program. He was the top student in third year BCom and Finance Honours.
He started his working life in Australia by tutoring Economics to Bachelor and Masters students at Melbourne University. Following graduation, he joined the Group Strategy team at ANZ, where he worked on a number of M&A projects across Asia Pacific, such as ANZ's acquisition of ING Australia's wealth management business and RBS' operations across a number of Asian countries. Stephanus then spent the next chapter of his career in Telstra, starting in the Mobile Strategy team. He then moved on to a role within Pre-Paid Mobiles running the Strategy and Operations team, before moving to his current role in Fixed Products a few months ago.
This event is hosted by Cintia Chen (KPMG) and brought to you by Meld Magazine, City of Melbourne and Trinity College (University of Melbourne).
The panel starts at 6.30pm sharp. Drinks and nibbles will be provided.