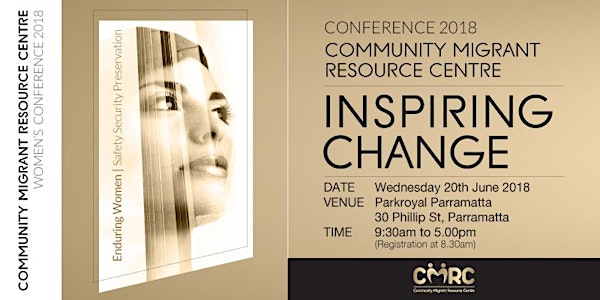 Inspiring Change Women's Conference 2018- SAFETY – SECURITY – PRESERVATION
Event Information
Location
PARKROYAL Parramatta
30 Phillip Street
Parramatta, NSW 2150
Australia
Description
INSPIRING CHANGE WOMEN'S CONFERENCE 2018
SAFETY SECURITY PRESERVATION
Australia has a high rate of violence against women. In recent times, policy and public discussions on violence against women in Australia have had a strong focus on family and domestic violence, in particular intimate partner violence.
A Personal Safety Survey conducted in 2012 by the Australian Bureau of Statistics found that 5.3% of women had experienced some form of violence in the last 12 months, and 40.8% had experienced some form of violence since the age of 15.]A 2016 study by Australia's National Research Organisation for Women's Safety (ANROWS) found that intimate partner violence accounted for 5.1% of the disease burden amongst women aged 18 to 44 years — more than other any other risk factor.
Sexual harassment, particularly in the workplace, remains a significant problem in Australia. Women who experience greater intersectional inequality due to race, disability, age, sexual orientation, gender identity or socio-economic status often experience higher rates of domestic violence and face additional barriers to seeking help and support.
For women from migrant and refugee backgrounds, cultural values and immigration status can enhance the complexities of family and domestic violence.
Women from migrant and refugee backgrounds are generally less likely than other groups of women to report family and domestic violence, and may face additional barriers to safety for these women (for example, due to limited support networks in Australia or lack of knowledge of Australian law).
Expert presenters will share, models on Prevention, Protection, & Preservation of Women. Expert panelists will present International engagement of women & girls, gender based violence, equal access, equality and safety. Speakers will emphasize the direct link between conflict prevention and gender equality, and why the need for establishment of gender sensitive institutions, legislation and policies, as well as mechanisms to enable women's meaningful participation with all sectors.
Women leaders and change makers will inspire you and share their personal journey on addressing these issues and complex social challenges.
Speakers will share with you their life-changing and thought provoking experiences, providing professional and personal development by combining unconventional methods within empowering, and stimulating discussions.
The conference presents dynamic individuals who will collaborate, influence, advance change and impact!
Participate & engage in the dialogue on challenges affecting women locally, nationally and globally
MEET THE SPEAKERS
Hosted by Melissa Monteiro, CEO- Community Migrant Resource Centre
Setting the Scene- Louise Olliff, Senior Advisor – Policy and Community Engagement Refugee Council of Australia
Keynote Address
Professor Kristy Muir, CEO- Centre for Social Impact

Keynote speaker/ In Conversation with
Dr Anuradha Mundkur, Associate Director Gender Consortium Flinders University

Keynote Speakers
Nicole Brooke, Aged Care Expert CEO - Cabrini Care

Amanda Tattersall- Host at ChangeMakers Podcast
PANEL MODERATOR:
Professor Jane Ussher- Western Sydney University
PANELISTS:
Dr Astrid Perry, Strategic Policy Manager - Settlement Services International
Judy Foster, State Manager for NSW & ACT Philantrophy Australia

Linda Lemon, Caseworker- Lisa Harnum Foundation
Navanita Bhattacharya, Global Expert- Plan International Australia
Sue Tsigaros, CEO- IRIS Group Coaching
Terrisa Murray- Safe Heart
Date and time
Location
PARKROYAL Parramatta
30 Phillip Street
Parramatta, NSW 2150
Australia
Refund policy